Nitish Kumar rubbishes Kangana's 'bheekh' remark on Independence as 'useless'
He reacted when asked about Ranaut's statements on the sidelines of his 'janata durbar' in Patna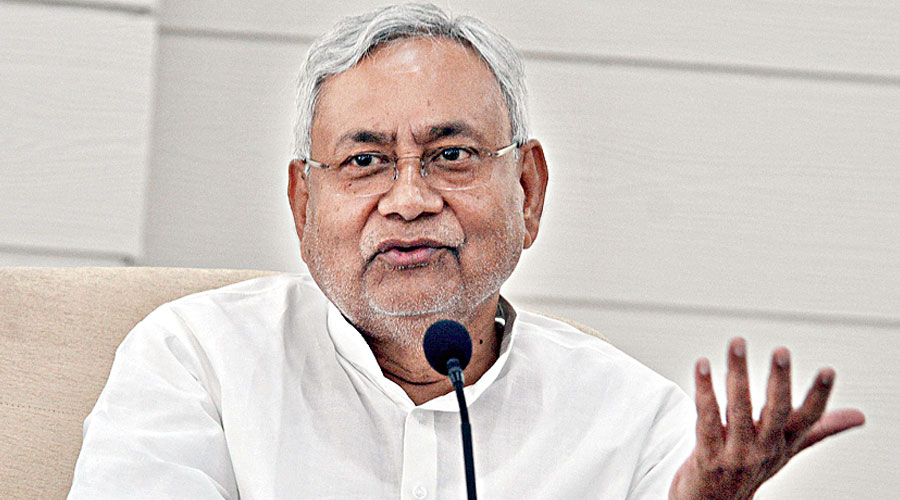 ---
Patna
|
Published 16.11.21, 02:41 AM
|
---
Bihar chief minister Nitish Kumar on Monday termed movie actor Kangana Ranaut's remarks about India getting Independence in bheekh (alms) in 1947 as "useless" and asserted that statements of such persons should not be given importance.
"This is useless. I am surprised how anybody published the comments of such a person. Is there any meaning or importance of such talk? Should we take notice of such things or pay attention to them," Nitish reacted when asked about Kangana's statements on the sidelines of his 'janata durbar' in Patna. "Who does not know when we achieved freedom? Anybody has anything else in her mind has no meaning. Such remarks should not have been given any importance. They should have been made fun of completely. I don't pay attention or take notice of such people."
Kangana, an actor with right-wing opinions and a self-proclaimed 'bhakta' (devotee or fan) of Prime Minister Narendra Modi, had recently claimed in an interview to a news channel that the country achieved Independence in 2014 (the year he became the Prime Minister) and what it got in 1947 was bheekh (alms).
The comments sparked a huge outcry across the country with various sections of the society demanding that she should be booked for her anti-national comments and insulting the freedom fighters.
Nitish also asserted that prohibition will continue in Bihar and the government will make all the arrangements for its more intensive and extensive implementation, including campaigns to spread awareness against liquor and action on those conniving to flout it.
"We cannot tolerate any compromise in the implementation of prohibition. We will make arrangements for its intensive and extensive implementation, awareness campaign against liquor and action against those compromising the ban. We need to publicise that if you will die if you drink," Nitish said.
The chief minister iterated that he would review the implementation of prohibition on Tuesday at a high-level meeting with all the ministers, senior officials, district magistrates and superintendents of police.
Nitish imposed prohibition in April 2016, though the flow of liquor never stopped in the state. He had been reviewing the steps to enforce it every year, but has been forced to do so after around 50 deaths in half a dozen hooch tragedies in various districts.
"We have earlier held several meetings on prohibition. This time we will discuss what happened to the steps that we had decided to take, how people are drinking, how spurious liquor is being available and why people are dying," Nitish said.
He also refused to accept that the incidence of crime in the state has increased in recent times despite prohibition. He countered by asserting that such incidents and road accidents have decreased after liquor was banned.