Nitish Kumar's caste census push has BJP in a bind
Chief minister calls an all-party meeting over the weekend in Patna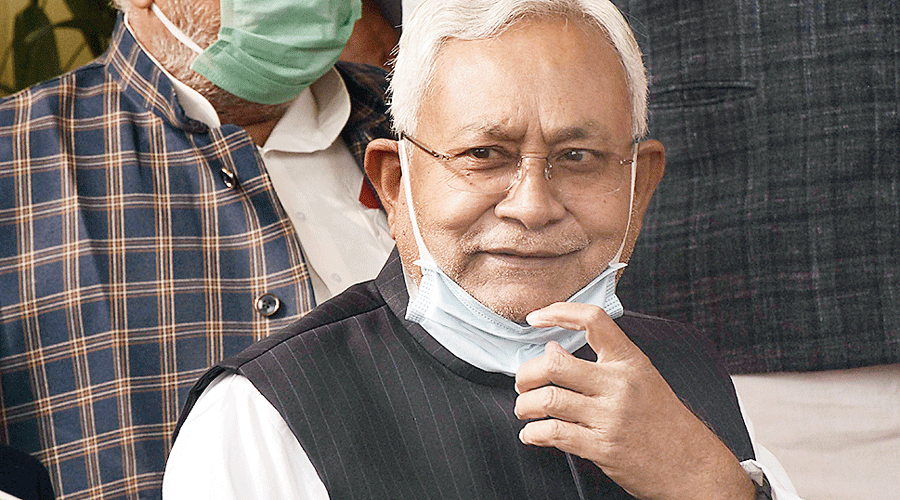 ---
New Delhi
|
Published 25.05.22, 01:26 AM
|
---
The BJP leadership feels Bihar chief minister Nitish Kumar is using the caste census push as a "bargaining tool" but doesn't want to oppose the move, wary of its ally's intentions.
Nitish has called an all-party meeting over the weekend in Patna, appearing determined to get the state cabinet's nod to undertake a caste census in Bihar.
The JDU boss's fresh drive on the tricky matter has come after the Centre's refusal to conduct a countrywide caste census and just ahead of the President's election, putting the BJP in a bind.
"We are aware that Nitishji is using the caste census to bargain as we need his support for the upcoming presidential election," a BJP leader said, refusing to disclose what Nitish was bargaining for.
"The central government has rejected a countrywide caste census on technical grounds. It's not that the BJP has any ideological opposition to the move," the leader said, indicating that the Bihar BJP may go with Nitish's move to have a caste census in the state.
The Bihar BJP has still not confirmed its participation in the all-party meeting called by Nitish. Deputy chief minister and BJP leader Tarkishore Prasad has said the Bihar unit will state its position clearly after receiving "guidance" from the central leadership.
Sources in the central BJP said they were trying to ascertain the "real intentions" of Nitish.
"A caste census is not untouchable for us. We had supported a resolution passed in the Bihar Assembly in the past," a BJP leader said. "The issue is what Nitishji is up to," the leader added.
Nitish's renewed push has come against the backdrop of rumours that the four-time chief minister was keen to exit active politics with a stint as President or Vice-President.
The BJP leader rubbished the rumours. "Nitishji is a seasoned politician. How can he ask for something that he knows very well the BJP can't give him?" the leader said.
Nitish has been called "paltu ram" by the Opposition after he first left the BJP to join hands with the RJD and then return to the BJP. Sections in the BJP fear that Nitish could once again switch sides, feeling squeezed by the dominance of the saffron party.
This wariness and "lack of trust" in Nitish has only increased with the veteran politician's public bonhomie with the leader of the Opposition, Tejashwi Yadav of the RJD.
Many in the central BJP feel Nitish's move to make the caste census a political issue can be punctured if the party supports him.
The RSS-BJP is opposed to a caste census fearing that it would open a Pandora's box and lead to a fresh wave of Mandal politics with demands for increased quota.