Nitish Kumar to take oath, suspense on deputy chief minister
Sources in the Janata Dal United said he wanted parity in the number of cabinet berths with the BJP, which was seeking proportional representation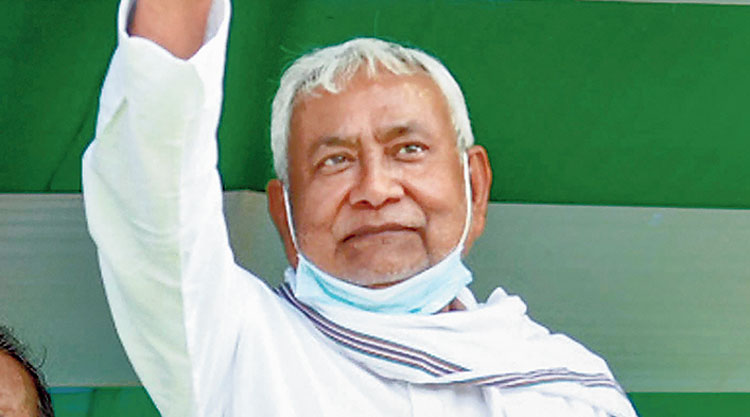 Nitish Kumar
File picture
---
Patna
|
Published 16.11.20, 12:59 AM
|
---
Nitish Kumar is to be sworn in as Bihar chief minister on Monday after being unanimously elected leader of the NDA legislature party, but senior BJP leader Sushil Kumar Modi appeared to have lost his job as deputy chief minister.
Soon after the NDA reposed faith in him on Sunday, Nitish met governor Phagu Chauhan and staked claimed to form the new government. He will become chief minister for the seventh time since 2000, when he held the position for a week.
Nitish said he would be sending to Raj Bhavan the names of the cabinet members to be sworn in on Monday. He said Sunday's NDA meeting had not discussed the new Speaker of the Assembly.
Sources in the Janata Dal United said Nitish wanted parity in the number of cabinet berths with the BJP, which was seeking proportional representation. The BJP has won 74 seats to the JDU's 43.
Nitish also wants to retain party colleague Vijay Kumar Choudhary as the Speaker, they said.
Defence minister Rajnath Singh flew in to Patna as an observer for the NDA meeting, indicating the BJP was willing to accept Nitish's demands to ensure smooth government formation.
A tweet from Sushil saying he would "discharge whatever responsibility is given to me" and that "nobody can snatch the position of a karyakarta (party worker) from me" fuelled speculation that he would no longer be Nitish's deputy in the government.
Nitish and Rajnath ducked queries about the next deputy chief minister. However, BJP sources suggested the post could go to Tarkishore Prasad, elected as leader of the BJP legislature party — a position Sushil held after the 2005 and 2010 poll victories.
Some suggested that Renu Devi, deputy leader of the BJP legislature party, could share the post with Tarkishore.
"The governor has nominated me as chief minister. The oath-taking ceremony will be held tomorrow (Monday) afternoon," Nitish said.
"We'll have to work in a better manner because the people of Bihar have given us another opportunity to bring about further development. We'll work together and ensure that no area or segment of society suffers from any deficiency."
Sushil congratulated Tarkishore for his unanimous election as leader of the BJP legislature party and tweeted in Hindi: "In the 40 years of my political life, the BJP and the Sangh parivar have perhaps given me more than anyone ever got. I shall discharge whatever responsibility is given to me in future. Nobody can snatch the position of a party worker from me."
The tweet, especially the use of the word "snatch (chheen)", appeared to buttress the impression that Sushil had been dropped as deputy chief minister.
Rajnath, asked who would be deputy chief minister, said: "They all will sit and decide about the deputy chief minister."
To the same question, Nitish said: "You will get to know in some time."
Sources in the BJP said Sushil may have paid for his perceived closeness to Nitish and his lack of qualms about playing second fiddle to him, which allegedly kept the party on the backseat of governance and obstructed its growth.
However, a senior BJP leader said Sushil could be given a Rajya Sabha seat and a Union cabinet berth.
"Sushil Modi has been an educated, well-read, well-informed and articulate leader. It will be tough to replace him. However, the final decision is always taken by our central leadership," the leader said.
Tarkishore, 64, a four-time MLA from Katihar constituency, studied till Class XII and is close to the RSS. Being from the Baniya (trading) community, he is an OBC like Sushil.
Renu, 60, too is a four-time MLA, from the Bettiah seat in West Champaran and studied till Class XII. She belongs to the Nonia (salt makers) community, one of the Extremely Backward Castes, and comes from a family of alleged "bahubalis" (toughs).
Tarkishore and Renu denied having been sounded out about any government post.