Nitish Kumar quashes speculation over alliance with BJP
Bihar CM says he would prefer death over a tie-up of the saffron party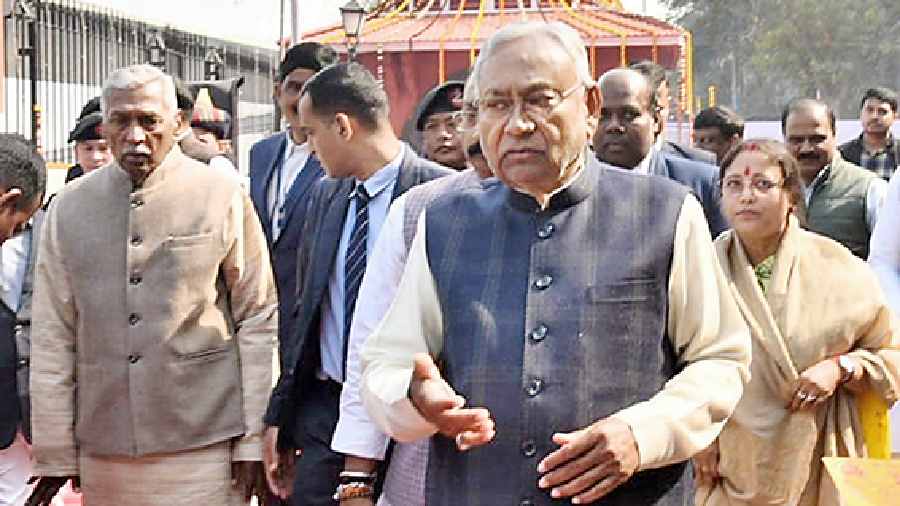 Nitish Kumar with governor Phagu Chauhan at Gandhi Ghat in Patna on Monday.
Sanjay Choudhary
---
Patna
|
Published 31.01.23, 02:59 AM
|
---
Bihar chief minister Nitish Kumar asserted on Monday that he would prefer death rather than joining hands with the BJP.
He lambasted Prime Minister Narendra Modi-led government at the Centre and its penchant for renaming things, stressing that the BJP would not get any seat in Bihar in the 2024 Lok Sabha elections. 
"Sawal hi nahi paida hota hai. Mar jana kabool hai, unke saath jaana humko kabhi kabool nahi hai. Ye achchi tarah samajh lijiye (No question of going with them. I will prefer death, but will never go with them (BJP). Understand this clearly," Nitish told reporters after offering floral tributes to Mahatma Gandhi on Martyrs' Day. 
His statement came on the heels of the BJP Bihar in-charge Vinod Tawde's claim at their state executive in Darbhanga on Sunday that the party's national president J.P. Nadda and Union home minister Amit Shah said that there wouldn't be any alliance with Nitish or his Janata Dal United (JDU).
Several senior Bihar BJP leaders, including Rajya Sabha member and former deputy chief minister Sushil Kumar Modi, also asserted the party's resolve not to align with Nitish again, as he has become a liability after losing his credibility and the power to transfer votes. 
Reacting further to the comments of BJP leaders, Nitish said: "They all are speaking nonsensical things because they are extremely worried that they will not get anything here. Just wait and watch the results of the 2024 general elections… They just talk bogus about winning 36 (out of 40 Lok Sabha seats). They will not get anything in the state."
The chief minister's statement put to rest the speculations about another somersault by him, at least in near future. He had asserted with the same intensity in 2015 and 2016 that he would prefer dying rather than joining hands with the BJP and the RSS, only to ally with them in 2017.
The BJP around that time between 2015 and 2017 had also made similar statements about not aligning with Nitish ever.
Sources in the ruling Grand Alliance said that the BJP's latest statements about not aligning with Nitish or the JDU could be a move to incite the Rashtriya Janata Dal (RJD) to put more pressure on him to step down from the chief minister's post and hand over the reins to deputy chief minister Tejashwi Prasad Yadav.  
Talking further to reporters on the sidelines of the state function, Nitish said that his government was working to propagate the thoughts of Gandhi and was also using the new communication technology to relay them to the younger generation, as it would help social reform and foster unity among the people.
"Efforts by some to make the people forget Bapu will not be successful. Those on the top (read Centre) are indulging in many things these days. Can we forget the history of the freedom movement? You are renaming things! Forgetting these things is impossible. Everything will remain," Nitish said. 
"We were with Atal Bihari Vajpayee. He was very good. Then we left. The BJP then requested us continuously to come together in 2017. We went with them but realised our mistake. What did they do in the 2020 Assembly election? I did not want to become the chief minister because the BJP had got more seats, but they forced me to accept it. However, I saw that instead of working nicely like previous times, they (the BJPleaders) started indulging in unwanted things," Nitish added.
The chief minister pointed out that the BJP is not a party of Vajpayee and Lal Krishna Advani anymore and has become a new party after the arrival of the new people.