Nitish govt to administer mass oaths for abstinence from liquor
The BJP has upped the ante on the liquor ban with two of its legislators demanding its withdrawal because of its 'harmful impact' on society and the state's coffers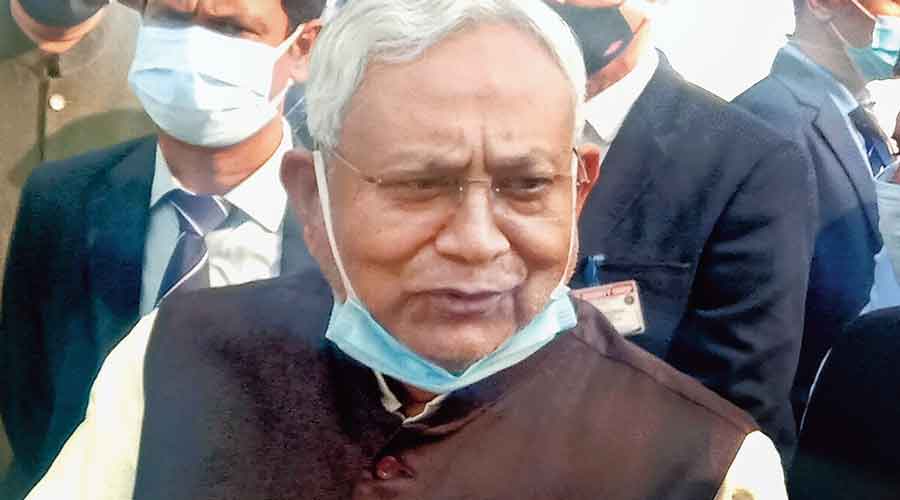 ---
Patna
|
Published 26.11.21, 12:46 AM
|
---
The Nitish Kumar government in Bihar is preparing to administer mass oaths for lifelong abstinence from liquor to all its employees at a time the dry state is beset with hooch deaths, but ally BJP has demanded an end to prohibition.
The oath will be administered to around 9 lakh government employees, including schoolteachers and police personnel, at their respective offices on the occasion of Prohibition Day on November 26. They will also have to submit a signed pledge to adhere to the liquor ban.
This is not the first time that Bihar government employees are being administered such an oath and told to give an undertaking. It has been done four times since Nitish imposed prohibition in April 2016 by bringing a law, considered "draconian" by legal experts for having harsh punishments such as the death sentence.
However, the difference this time is that the oath will be to never drink or indulge in related activities till death. The signed pledges will be stamped by the head or in-charge of the respective offices and kept as records.
Several government employees wondered how the oath would help curb rampant smuggling, manufacturing, trade and consumption of illicit liquor in the state when it did not have any impact earlier.
"The chief minister has some mercy left, so he did not ask us to make our family members also take the oath against drinking. But who knows, he might do it next year. Repeated oaths have been administered but liquor proliferation has only increased. We have even seen police officers selling liquor from police stations or their houses," a senior government official told The Telegraph on the condition of anonymity.
Another official pointed out that the need to administer repeated oaths was proof of the failure of prohibition.
The BJP has upped the ante on the liquor ban with two of its legislators demanding its withdrawal because of its "harmful impact" on society and the state's coffers.
"The liquor ban law should be withdrawn just like the farm laws have been taken back. Whatever Nitish Kumarji had thought about the 13 crore people of Bihar has gone wrong. The enforcers and protectors have become thieves and robbers. The common people — engineers, doctors, teachers, students and hardworking men — are going to jail for consuming liquor but the mafia who sell it are not," BJP lawmaker from Bisfi, Haribhushan Thakur Bachaul, said.
Bachaul suggested alternative measures such as selling liquor legally at five times the normal rates because prohibition has only resulted in "lakhs of people and their families suffering after being arrested or implicated in cases for flouting the ban".
"The police and other enforcement agencies are in a nexus with the liquor mafia. I request the government to take back prohibition," the MLA said.
Just when leaders of Nitish's Janata Dal United (JDU) returned fire on Bachaul by reminding him about Prime Minister Narendra Modi's appreciation of prohibition in Bihar, another BJP MLA, Kundan Kumar from Begusarai, came out against the liquor ban.
"The mafia have roped in children for 'home delivery' of liquor in the state. An entire generation is getting destroyed. The state is also losing revenue. Use of narcotics has also skyrocketed since prohibition. A large number of people with links with the liquor mafia contested panchayat polls this time," Kundan said.
The Begusarai MLA asked why liquor was illegal and criminalised in Bihar when no such action had been taken in neighbouring Bengal, Uttar Pradesh and Jharkhand.
He urged Nitish to review the ban.
Bihar has been losing Rs 5,000 crore in revenue every year because of prohibition and another Rs 20,000 crore due to the consequent fallout on allied activities, which has left a large number of people unemployed.