Newly constructed bridge collapses in Bihar
Incident raises questions about quality of construction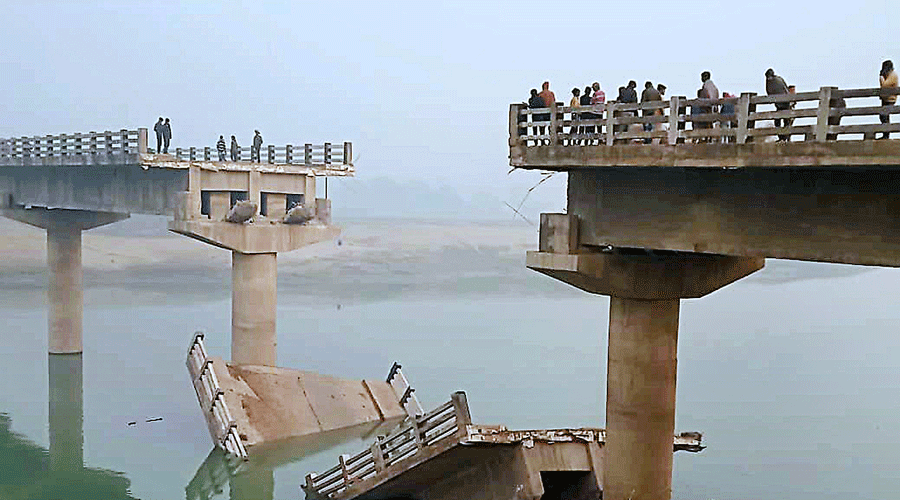 The bridge over the Burhi Gandak river that collapsed in Bihar's Begusarai on Sunday.
Sanjay Choudhary
---
Patna
|
Published 19.12.22, 03:35 AM
|
---
A newly constructed bridge on the Burhi Gandak river in Bihar's Begusarai district collapsed on Sunday, raising questions about the quality of construction.
The bridge was built under the chief minister's Nabard scheme at a cost of around Rs 14 crore in the Sahebpur Kamal area.
One Maa Bhagwati Constructions was the firm that executed the project.
Nobody was killed or injured in the incident. Though the bridge was constructed in 2017, its approach road was yet to be built.
This rendered it virtually unusable for a majority of people in the area.
However, some people in the area, tractors and motorcycles had started using the bridge with the help of an earthen road leading to it.
Sources said that its approach road has not been built due to issues related to the acquisition of private land for it.
"The incident occurred early in the morning when nobody was using the bridge. A few people could have died had it happened a couple of hours later. Many tractors pass over it.
"The fact that it was a Sunday also helped as there was less traffic," said Subodh Yadav, the mukhiya of Vishnupur Aaho panchayat.
The bridge had developed vertical cracks on one of its 25-metre-long stretch a few days ago.
The state rural works department (RWD) sent a team of specialists to probe it. However, the stretch collapsed and fell down into the river before any remedial measures could be taken.
"Our team of experts had examined the bridge and found that poor quality concrete was used in the construction.
"The steel rods used in it were not properly lapped over each other, and a vibrator machine, which ensures that the fresh concrete settles down well without any internal gaps or spaces, was not used," a senior RWD officer told The Telegraph on the condition of anonymity.
The officer added that the construction firm had some disputes with the local villagers and the latter threw its road roller into the river. "The firm had installed three cranes on the stretch that broke and pulled out the 10-tonne road roller from the river.
"This was also one of the reasons behind the damage to the bridge," the RWD officer revealed.
Meanwhile, sources said that the RWD officials were in the process of initiating action against the construction firm and registering a case for the poor quality of work. They are also trying to get it repaired, if possible.