New coronavirus variant sparks fear among health authorities
It has stirred concern among scientists across the world because of its unusually large count and class of mutations and speed of spread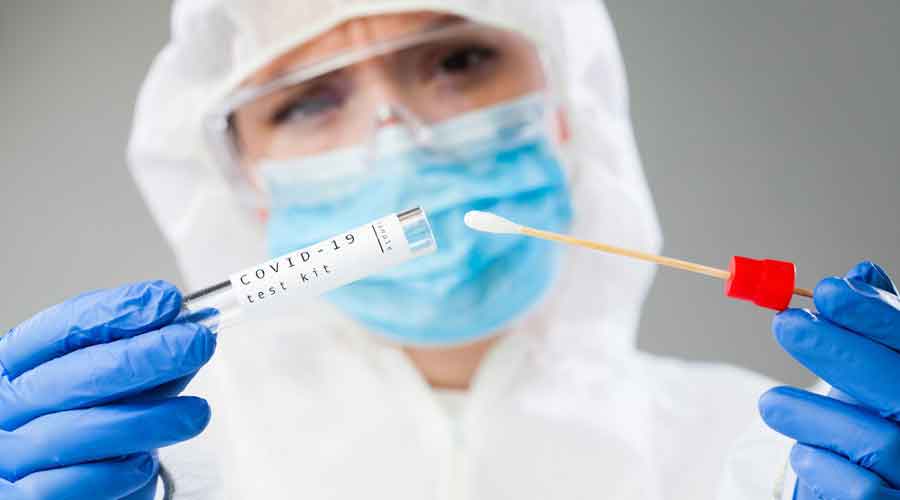 The variant has prompted countries worldwide, including India, to announce stricter border controls in different ways.
File photo
---
New Delhi
|
Published 27.11.21, 01:37 AM
|
---
A new coronavirus variant first detected in Botswana earlier this month has stirred concern among scientists and health authorities across the world because of its unusually large count and class of mutations and speed of spread.
The variant designated B.1.1.529 — and expected to get a Greek letter tag from the World Health Organisation — has mutations that appear to make the virus stronger against the human immune system than earlier strains, researchers said.
Amid the emergence and global spread of multiple Covid-19 variants — alpha, beta, gamma and delta — over the past year, scientists have been speculating whether the coronavirus could mutate sufficiently, making itself fitter and stronger — something like a supervirus.
Over the past two weeks, B.1.1.529 has also spread in South Africa frighteningly faster than earlier variants, including the delta variant that was first spotted in India last year and had fuelled the country's deadly second wave, while simultaneously spreading worldwide.
Botswana's health authorities have said four cases of the B.1.1.529 variant detected in the country earlier this week had been fully vaccinated against Covid-19, an indication that the variant can cause breakthrough infections.
The variant has prompted countries worldwide, including India, to announce stricter border controls in different ways. The Indian health ministry had on Thursday asked states to ensure rigorous screening and testing of travellers arriving from all "at-risk" countries.
In just two weeks, the proportions of B.1.1.529 among genomes sequenced in South Africa have shot up from 0 per cent to more than 75 per cent, suggesting that it is outcompeting delta, which had caused a devastating third wave in that country.
Scientists have documented over 50 mutations in B.1.1.529's whole genome, including 30 in its critical spike protein that the virus uses to enter human cells and that is also the target for several Covid-19 vaccines.
Among the 30 spike mutations, 10 are on the so-called receptor binding domain that the virus uses to dock with molecular gateways on human cells. In contrast, the delta variant had two mutations in the receptor binding domain.
"We know some mutations (on B.1.1.529) can impact transmissibility and immune evasion, but many others have been rarely observed until now and are not well characterised," said Tulio de Oliveira, director of the Centre for Epidemic Response and Innovation, South Africa.
"So the full significance is uncertain," he said during a media briefing on Thursday.
Researchers caution that the full impact of the mutations seen on B.1.1.529 remains unclear.
"Disease severity is what is most critical from the public health standpoint — and nothing is known for B.1.1.529 yet on this," said Vinod Scaria, a doctor turned genomics researcher at the Institute of Genomics and Integrative Biology, New Delhi. Scaria and his colleagues have for over a year been cataloguing mutations on the coronavirus, including those associated with immune escape capabilities.
But many virologists believe that B.1.1.529 is very worrying. "It is the most heavily mutated version of the virus we have seen to date," said Lawrence Young, a virologist at the University of Warwick in the UK.
"Some of the mutations that are similar to changes we've seen in other variants of concern are associated with enhanced transmissibility with partial resistance to immunity induced by vaccination or natural infection," Young said.
Reports from health authorities in Botswana, Hong Kong and Israel suggest that B.1.1.529 "can indeed cause" breakthrough infections, Scaria said on Twitter on Friday. Evidence from India has shown that the delta variant too can cause breakthrough infections.
But researchers caution that it is too early to forecast the implications of B.1.1.529 on the current vaccines.
Ravindra Gupta, a professor of clinical microbiology at the University of Cambridge in the UK, said in a tweet that he believed "there will be vaccine protection", though it would depend on an arm of the immune system involving so-called T cell immune response.
"This needs to be tested experimentally and will take some weeks. Still need to vaccinate and boost, now with added urgency," he wrote, referring to the need for fully vaccinated people to be administered booster shots.
But health experts say that first and second doses to the eligible populations should be the priority over booster shots. India, where about 45 per cent of adults have been fully vaccinated so far, has not yet announced a policy on boosters.