Nepal calls out India's double standard
Kathmandu says New Delhi deferring engagements while carrying out talks with other countries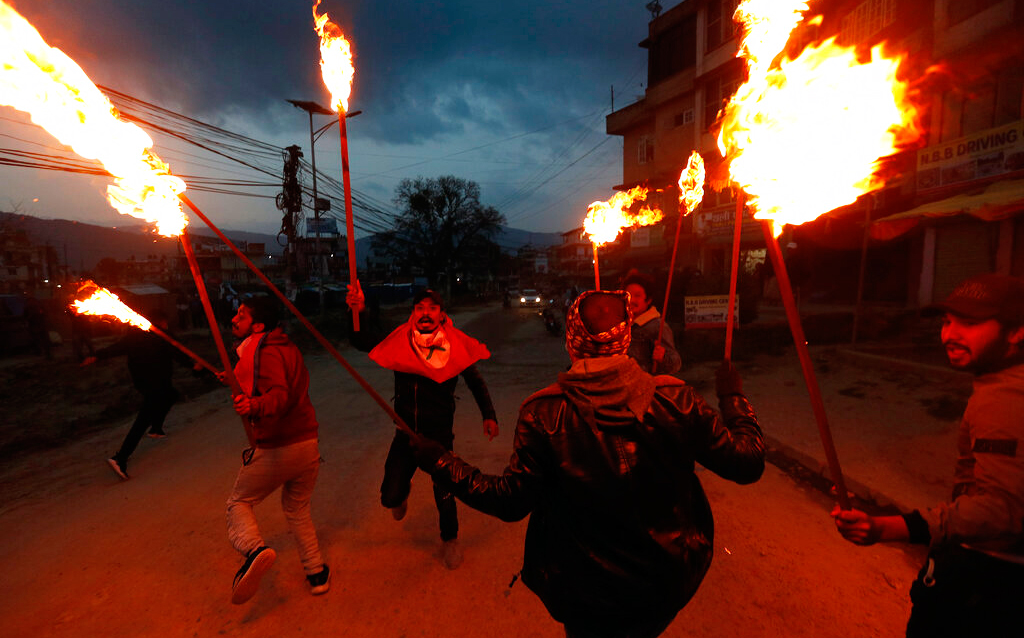 Students affiliated with Nepal Student Union light torches during a protest amid lockdown in Kathmandu, Nepal, Monday, May 11, 2020. The protest was held against the Indian government Friday inaugurating a new road through a disputed territory between India and Nepal.
(AP)
---
New Delhi
|
Published 07.06.20, 11:12 PM
|
---
An influential Nepal politician on Sunday questioned India's perceived double standard on bilateral dialogue, pointing out that New Delhi has had a summit-level engagement with Australia and border talks with China during the pandemic but was using the Covid crisis to delay a meeting of the foreign secretary-level boundary mechanism with Kathmandu.

As Nepal's parliament is set to vote on a constitutional amendment to formalise the inclusion of three territories in dispute with India in its new map, deputy chief of the department of foreign affairs and central committee member of the Nepal Communist Party, Bishnu Rijal, tweeted: "Indian & Chinese military commanders met & discussed on border dispute. Indian & Australian PM held virtual summit & inked on 7 agreements. But, India is extending condition of end of Covid-19 & to create environment to talk with neighbouring Nepal!''
He was referring to the position India took last month when Nepal reiterated its demand for a meeting of the foreign secretary-level boundary mechanism after the dispute over Lipu Lekh was prised open with the inauguration of a road by India in early May to facilitate the Kailash Mansarovar pilgrimage.
India, in its response to Nepal's demand, said the boundary talks would be held "after the two societies and governments have successively dealt with the challenge of Covid-19 emergency".
What has upset Nepal is that the pandemic has not stopped India from carrying out its diplomatic engagements with other countries, reinforcing the belief in Kathmandu that New Delhi always deals with it with a big-brotherly attitude.
The constitutional amendment is slated to be taken up in Nepal's House of Representatives on Tuesday where it is likely to sail through. It will then have to clear the Upper House, but Nepal sources maintained that the process is being fast-tracked so what would otherwise have taken a month and a half could be wrapped up by the end of next week.
The new map is already in effect after its adoption by the cabinet but the constitutional amendment has been necessitated because Nepal's emblem has an image of the map in it. India has rejected the new map, calling it an "unjustified cartographic assertion".