National flag tops #MoonEssentials for Indians
Many wanted to banish the 'enemies of humanity' to the moon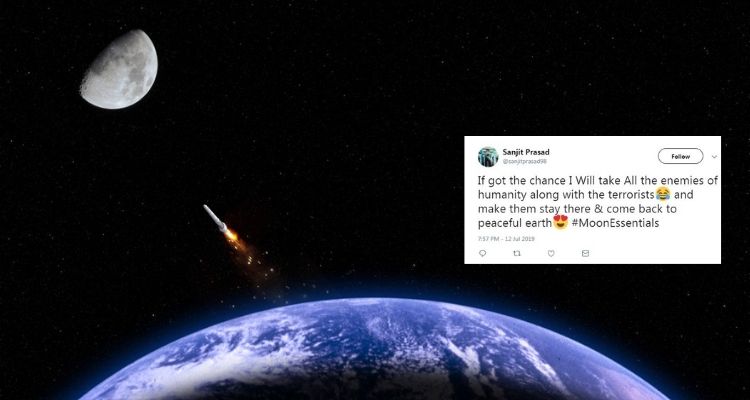 ---
---
In the run-up to the launch on Monday of India's second moon mission, Chandrayaan-2, the Indian Space Research Organisation (Isro) launched an interesting quiz on Twitter. The space agency asked its followers to name the things they would take to the moon if they had the chance.
Soon after Isro's tweet, #MoonEssentials began trending on the social media platform with people naming those things that they thought would be essential for life on the moon.
The one thing that seemed to be on every Netizen's mind was the Tricolour. Some wanted to take a moonwalk, while others said they would want to carry a scoop for bringing back moon water.
Isro acknowledged the responses in a series of tweets:
Here are some #MoonEssentials that our followers — Paras Garg (Uttar Pradesh), Ganesh Ji (Allahabad), and @md_safi_shamsi— would take with them on their lunar journey. Kudos to Mohammed who aims to be the first astronaut to fly a drone on the Moon! pic.twitter.com/DjRjJmoTeb

— ISRO (@isro) July 11, 2019
Your #MoonEssentials lists keep coming in and how! Here are a few more interesting answers from Dhurai Rajiv Gandhi (Madurai), Rahul Kundu, and @IDeserveSomePie –– we love how all of you have scientific inclinations. Anything more you'd add? #Chandrayaan2 #GSLVmkIII #ISRO pic.twitter.com/GZXjBHes9I

— ISRO (@isro) July 12, 2019
Our third set of #MoonEssentials from –– @harshroy24 (Bihar), Rohan Yadav (Baramati), and Afroz Ahmad (Ramagundam) –– features a re-entry vehicle an essential component for manned space missions. What else would you take to the #Moon?#Chandrayaan2 #GSLVmkIII #ISRO pic.twitter.com/RdkQbXitkL

— ISRO (@isro) July 13, 2019
Here are some popular answers from our #MoonEssentials quiz — sent in by Ganesh Gns (Visakhapatnam), Chiranjit Bhattacharjee (Kolkata), and @shaltiwari (Mumbai). A special shout out to Shalini for thinking of our scientists too. pic.twitter.com/suYmOLxd33

— ISRO (@isro) July 10, 2019
Some of the responses were political:
Take this guy and leave him there pic.twitter.com/Gl50WLEtv6

— theamarone (@theamarone) July 12, 2019
All the currupt politicians....
Can we test Human mission trials on our politicians....??😊#MoonEssentials

— Ṁøøñ L̥̄ìøñ🇮🇳🚩 (@cmsisodiya) July 4, 2019
Others, like Ayush Kumar Choudhary, displayed their patriotism while taking the Isro quiz:
#MoonEssentials @isro
I would like to carry -
1. National flag
2. Portrait of Sir A.P.J Abdul Kalam
3. Collage portrait of our freedom fighters
4. My dream is to hoist our National flag and play our National Anthem on surface of moon
Jai Hind 🇮🇳

— Ayush Kumar Choudhary (@Ayushofficial14) July 12, 2019
#MoonEssentials
Tricolour 🇮🇳
India Map
Saplings
GSLV MK-III Model

— Rahul (@Rahul59699317) July 12, 2019
#MoonEssentials
Here are some suggestions from my side☺️
1. Holy water of Ganga
2. Indian flag https://t.co/e43Azxc3vR

— Kislay Sinha (@kislay_sinha07) July 12, 2019
Only and Only #IndianFlag 🇮🇳 rest all is understood #MoonEssentials @isro pic.twitter.com/jwHkHMKBCb

— 🇮🇳Vilobhaveera Lokhande (@vilobha) July 11, 2019
#MoonEssentials @isro
I would like to carry
1.Indian flag
2.Shiv lingum(Remember. Shesh-Nag from Shiv puran) pic.twitter.com/KamaCyD6GA

— jacky (@jacky68757546) July 12, 2019
Many wanted to banish the "enemies of humanity" to the moon:
@isro If got the chance I Will take All the enemies of humanity along with the terrorists😂 and make them stay there & come back to peaceful earth with a tricolor in my hand😍 #MoonEssentials

— Sanjit Prasad (@sanjitprasad98) July 12, 2019
And, of course, the jokes quickly followed:
#MoonEssentials @isro

Payload for Moon mission:

1. Me
2. My brother
3. My sister

(my parents think we dont belong to earth)#ByeByeEarth 🌍

— Shivanshu Singh (@Ritok66376427) July 12, 2019
Chandrayaan-2 will be launched from the Satish Dhawan Space Centre at Sriharikota, Andhra Pradesh. It will head to the moon's south polar region. The earlier Chandrayaan mission was launched almost 10 years ago.