Pandemic response, job loss, price rise top gripes
Modi's popularity has plummeted, indicate two major surveys
Govt's handling of pandemic, price rise and unemployment top voter complaints; Yogi second in PM choice, followed by Rahul, Mamata and Kejriwal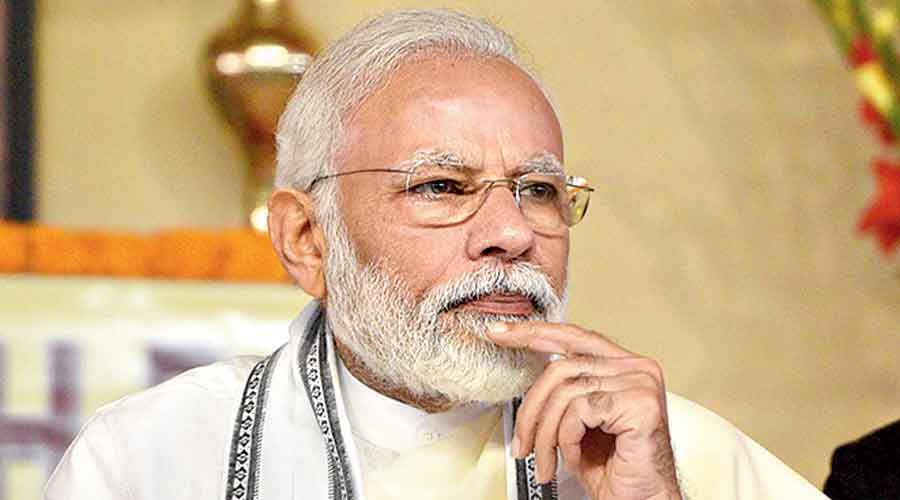 Narendra Modi.
File picture
---
New Delhi
|
Published 19.08.21, 05:28 PM
|
---
Prime Minister Narendra Modi's 'Teflon' coating may be wearing thin, mainly due to his handling of the catastrophic second pandemic wave. Modi's standing with the public has cratered, according to two major surveys by leading publications. 
Just 24 per cent said Modi was best suited to be prime minister, according to India Today's six-monthly Mood of the Nation Survey. Modi's popularity has crashed in this survey from 66 per cent one year ago and 38 per cent in January 2020.
Similarly, 46 per cent feel there's a need for new political leadership at the Centre, according to the latest YouGov-Mint—CPR Millennial Survey. Another 53 per cent of people surveyed agreed with the statement: "The people I interact with are very upset with PM Modi's leadership in the past few months." Another 42 per cent said that: "PM Modi is responsible for the healthcare disaster that followed the second wave of the pandemic." 
But in what may come as partial consolation for the BJP in the YouGov survey is that 48 per cent said that Modi's efforts can't be faulted at all for the Covid catastrophe. Roughly half the respondents in the YouGov-Mint survey were millennials (25-40), the rest were pre-millennials (40+) or post-millennials (aged 18-24).
Uttar Pradesh Chief Minister Yogi Adityanath came in second as the person best suited to be prime minister -- 11 per cent of those surveyed wanted him for the job, according to the MOTN survey.
 Adityananath was followed closely by Rahul Gandhi at 10 per cent and West Bengal Chief Minister Mamata Banerjee and Delhi Chief Minister Arvind Kejriwal at 8 per cent.
Home Minister Amit Shah, regarded as Modi's closest ally in government, came in with 7 per cent viewing him as best suited to be prime minister. 
Sonia Gandhi got 4 per cent.
 Adityanath is the most improved in this category because in August 2020 just 3 per cent saw him as the right man to be prime minister. 
India Today's survey was conducted across 10 days in July and covered 19 states, 115 parliamentary and 230 assembly constituencies. The pollsters conducted 14,559 interviews. Of those surveyed, 71 per cent of the people lived in rural areas and 29 per cent were urban-dwellers.
The YouGov-Mint survey contacted 10,285 people online across 203 cities during June and July. The survey found that support for the BJP had remained steady at 44 per cent from a year ago. The survey notes its limits -- that its findings are restricted to relatively affluent urban netizens and excludes the rural population that suffered badly in the second wave so those voters' assessment of the government's performance may differ.
On government policies, 29 per cent of those canvassed by India Today said the government's biggest achievement was getting a favourable verdict on the Ram Temple in the Supreme Court and 22 per cent gave it high marks for the revocation of Article 370. 
In negative news for the Government, 29 per cent said its biggest failures were price rises and inflation and another 23 per cent singled out unemployment. Just 12 per cent felt the government had handled the Covid-19 pandemic well but only 11 per cent gave it a decisive thumbs-down for its pandemic handling.  
Crucially, people who felt that Modi's performance as prime minister was outstanding slid from 30 per cent in January 2021 to just 16 per cent in August 2021 in the India Today survey. People who felt he had put in an average performance rose from 17 per cent in January 2021 to 30 per cent by August. Another 6 per cent felt he had performed poorly in January and that rose to 11 per cent by August.
Interestingly, the percentage of people in the India Today survey who said they would vote for the BJP has fallen steadily since the May 2019 election and the sharpest fall came between August 2019 and January 2020 even before the pandemic. In August 2019, the survey reckoned the BJP had 45 per cent of the vote and would win 357 seats. That fell to around 42 per cent and 303 seats in January 2020 and to 40 per cent and 298 seats in the latest survey. 
The crucial figure to remember here is that a party needs 273 seats to hold an absolute majority in the Lok Sabha.
The government's handling of the pandemic seems to be the biggest complaint of voters. Modi got a 73 per cent approval rating in January 2021 for his handling of the first wave, that number dropped to 49 per cent after the second wave. The government recently denied that there have been any deaths "due to lack of oxygen," despite widespread media coverage of oxygen shortages across the country.
And few survey respondents seem to believe the Covid fatality numbers put out by the government. As many as 71 per cent said that Covid-19 had infected and caused more deaths in the country than the 433,000 reported by the government. (Many experts, employing research models and local official data, put the pandemic death toll in the three-to-four million range. Some estimates calculate the death toll at a massive five million).
But in what may be some consolation to the BJP, 44 per cent of survey participants attributed the health crisis to both the central and state governments' actions. While all these numbers are gloomy tidings for the government now, the next general elections aren't till 2024 so Modi still has time to turn his popularity around.