Narendra Modi's first press meet: No questions, please
Thrice today at the BJP headquarters, journalists attempted to ask the Prime Minister questions directly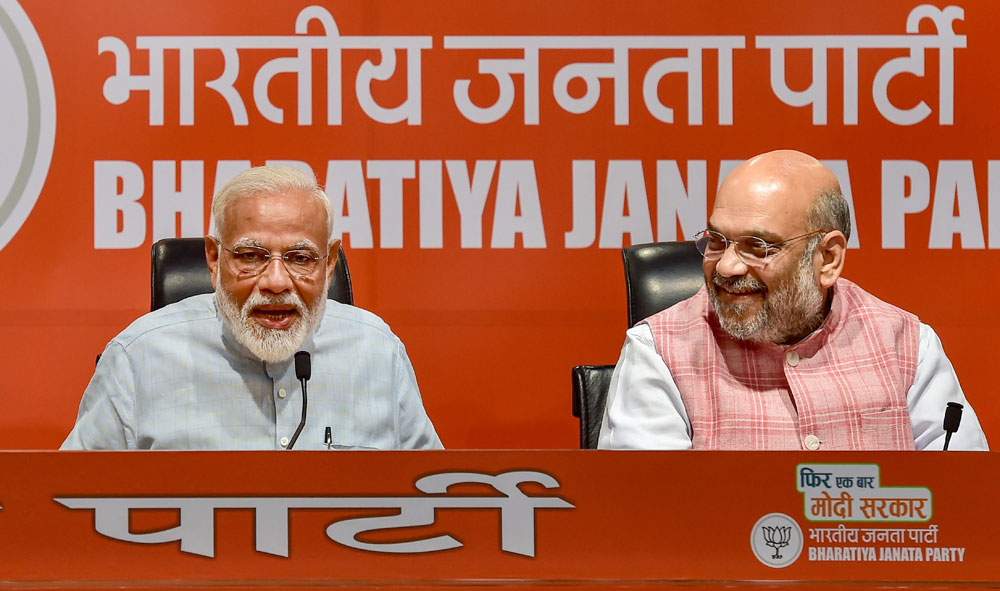 Prime Minister Narendra Modi with BJP president Amit Shah during the news conference in New Delhi on Friday
Picture by PTI
---
New Delhi
|
Published 17.05.19, 03:30 PM
|
---
Prime Minister Narendra Modi came to his first news conference in his five-year tenure on the last day of campaigning for the general elections and left without taking a single question from the press.
Thrice today at the BJP headquarters, journalists attempted to ask the Prime Minister questions directly.
All three times, BJP president Amit Shah fielded them. Most questions, however, were directed at Shah.
The first one to attempt asking Modi her question was Aaj Tak's Anjana Om Kashyap. She said she had a question for the Prime Minister and asked if she had permission to put the question to him.
The Prime Minister pointed to the BJP president and said: "Hum toh disciplined soldier hain. Adhyaksh humare liye sab kuch hotey hain (I'm a disciplined soldier. The (party) president is everything for us)."
The journalists laughed.
Akhilesh Sharma of NDTV tried next. "My question is to the Prime Minister in this first press conference…. That Opposition parties have started making a khichdi. Sonia Gandhi has called a meeting on the 23rd. There KCR is meeting everyone. What do you have to say about this?"
Modi again indicated with a wave of his hand that Shah would answer.
In the third instance, Aditi Narayanan of Times Now asked the Prime Minister about the Rafale deal and the BJP's expectations to cross 300 seats. Her questions came one after another.
"… The Congress party's agenda during the campaign has been that the PM has not said anything on the Rafale issue and what clarifications would you like to give on the issue," Narayanan asked.
She directly moved to the next question, saying that BJP's allies were confident that the party would need its allies to reach the half-way tally in the House.
Shah answered again. When Narayanan seemed to persist that her questions had not been answered, he said: "Maine jawab de diya na. Har cheez ka jawab pradhan mantriji ne dena zaroori nahin hai kyunki sawaal ka buniyaad hi nahin hai. (I gave the answer, no. It is not necessary for the Prime Minister to answer every question, because the question is baseless)."
In the end, one journalist asked Shah if there was something the government could not finish.
"We regret that we couldn't take the media along with us in the past five years," Shah said laughing. There was laughter again in the room.
The Prime Minister kept a straight face.