My New Year, month by month
What if the Prime Minister got to revisit a month each from the past four years? Would he act differently?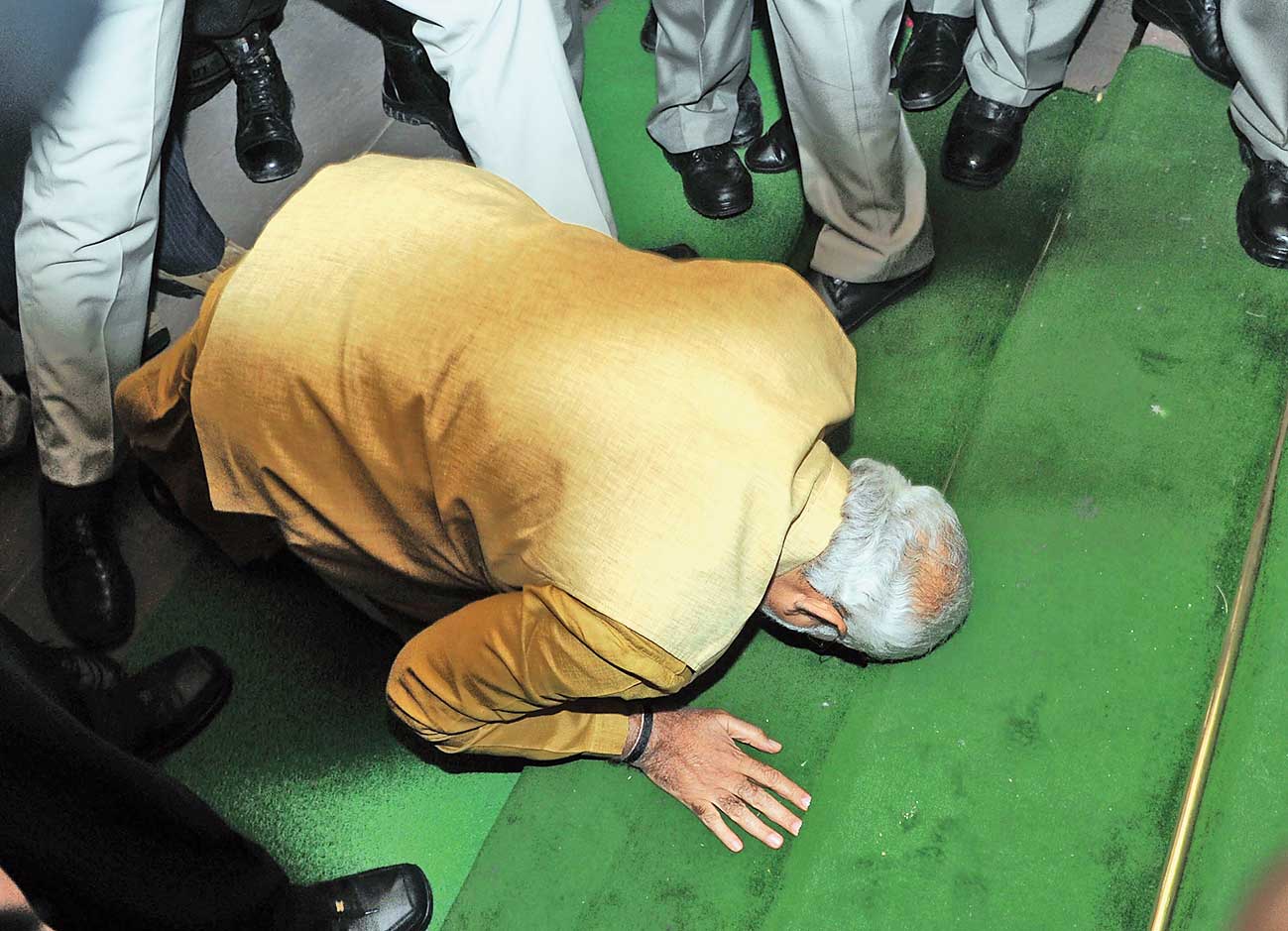 NaMo NaMo, 2019: Narendra Modi bows before Parliament on May 20, 2014.
The Telegraph file picture.
---
Published 31.12.18, 08:08 AM
|
---
From jumla to Achchhe Din (and some not-so-Achchhe Din), we've imagined Narendra Modi's mann ki baat on New Year's Eve — the lessons he might have learnt and the resolutions he might want to take.
How I wish I had not worn that monogrammed suit when I met Obama in January 2015. Suit-boot, my foot! What did they not call me? Can't forget January 23, 2018, either. Did not realise posing with that Nirav Modi in Davos would create an ogre called NiMo.
Resolution: No suit, no shoot
February
Why did Amit Shah have to say that word "jumla" in an interview in February 2015?
It has become a millstone around my neck.
Resolution: Trust friends but verify their vocabulary
March
That French gentleman and Dassault boss Eric Trappier had to open his mouth and suggest on March 25, 2015, that the Rafale deal with HAL was almost done. Why did he have to do that when 17 days later, I had to clear a deal that cut out HAL?
Resolution: Beware of the 25th, not ides, of March
April
Why does a nasty group celebrate April 1 as Feku Day? Can understand the desperate Congress calling it "jumla day" but why Feku Day? I must ask Amit Malviya, our tech guy.
Resolution: Buy a dictionary that explains "Feku"
May
The best month of my life. Can I retweet this May my tweet from May 15, 2014? "India has won! Bharat ki vijay. Achchhe din aane wale hain."
Resolution: Next May, best to stop it at "India has won! Bharat ki vijay." Alas, that jumla fellow has spoiled everything achchha about Achchhe Din!
June
The Delhi weather was nice but then they had to expose how Sushmaji and Vasundharaji helped Lalit Modi. Even a patriot like Arnab Goswami was screaming Lalitgate!
Resolution: Learned a valuable lesson I have been following and must follow more. When there is no defence, say nothing and do nothing.
July
Must fix that fellow who made me say GST means "Good and Simple Tax" when it was launched in 2017. Now, they say unkind things like "Gabbar Singh Tax" and "Great Selfish Tax".
Resolution: One man's acronym can be another man's agony. Best to avoid
August
The month we appointed Urjit Patel as RBI governor in 2016. But look what he has done now!
Resolution: Don't take anyone for granted. Difficult to predict when the spine starts growing
September
The month that changed the nature of lynchings. On September 28, 2015, they beat Mohammed Akhlaque to death on suspicion linked to beef
Resolution: Should I have spoken out immediately and unequivocally?
October
That month in 2014, I realised I could sell anything to my fans. I started a national movement for the rediscovery of pride when I referred to Lord Ganesh and said "there must have been some plastic surgeon at that time who stitched an elephant's head on a human being and began the practice of plastic surgery".
Resolution: Must tap this goldmine more. We have 33 million gods and goddesses
November
Again, the month in 2016 when I realised I could get away with anything. Our citizens lost 86 per cent of the currency overnight and gained a dreaded word called "demonetisation". I merely lost my speech ice-breaker "Mitron"
Resolution: Must find a suitable replacement for Mitron. Behenon aur Bhaiyon does not have the same ring
December
I did it! Whoever thought the Christmas Day holiday can be replaced with Good Governance Day
Resolution: After such achievements, if I am not the Messiah of the Poor, then who is? Venkaiahji used to call me that but he is now the Vice-President. Must ask Nitinji if he wants to address me so and tickle journalists more