Narendra Modi's blessings keep Pragya on track
Modi spoke about the "torture" Pragya had been subjected to in police custody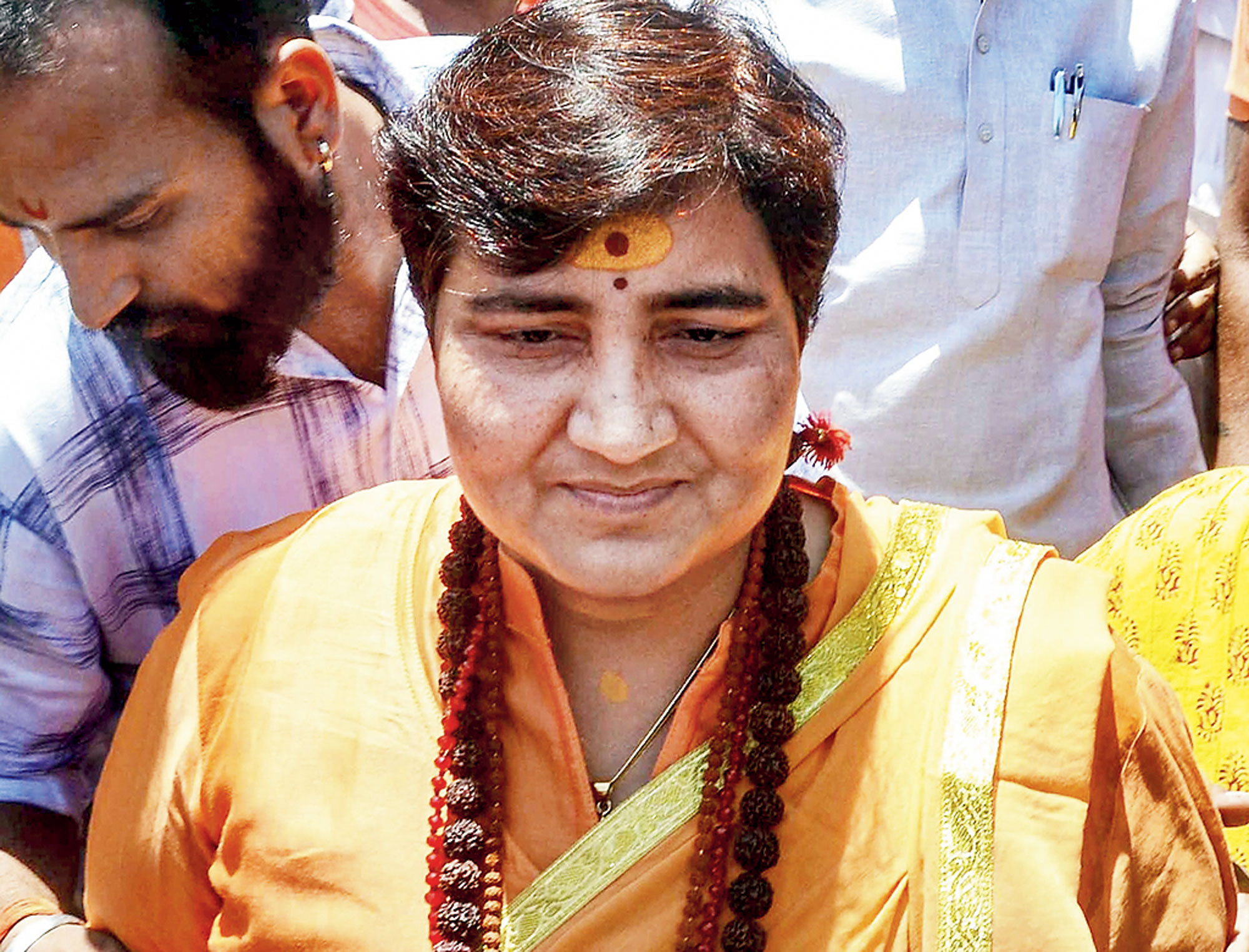 Pragya Singh Thakur in Bhopal.
PTI
---
New Delhi
|
Published 21.04.19, 01:52 AM
|
---
The BJP on Saturday appeared firm to continue with terror accused Pragya Singh Thakur's candidature in the Lok Sabha elections despite her deplorable comments on a police officer martyred in the 26/11 attack, emboldened by the Prime Minister holding her up as an answer to those associating the Hindu religion with terrorism.
The interview to Times Now, where Modi was reacting to the criticism over fielding Pragya as she was a key accused in the 2008 Malegaon blast in which six persons died, appeared to have been filmed before she claimed that officer Hemant Karkare died in the terror strike because she had cursed him for torturing her in custody.
Asked in the interview, telecast on Friday, about the move to field Pragya from Bhopal, Modi referred to the Samjhauta Express blast verdict in which all the accused, including Swami Aseemanand, have been acquitted for want of evidence.
"The Samjhauta Express verdict came. What came out? Without any evidence, a rich civilisation as old as 5,000 years… you called such a civilisation terrorist," the Prime Minister said, seeking to accuse the Congress of using the term "Hindu terror" to tarnish the image of the community.
"To give a reply to all those people, this (the fielding of Pragya) is a symbol, and this symbol is going to prove costly for the Congress," Modi added.
After the Prime Minister's justification, BJP leaders indicated that despite Pragya's objectionable comments, the party would not withdraw her candidature, sweeping aside the outrage it has generated.
In the face of criticism from all quarters, including many serving and retired police officers, Pragya apologised on Friday night.
In the interview, Modi sympathised with Pragya. The Prime Minister spoke about the "torture" Pragya had been subjected to in police custody. "A woman, that too a sadhvi, was humiliated in such a manner," Modi said. The Prime Minister accused the Congress of working with a certain "modus operandi" to weave a false story. He started by recalling the 1984 anti-Sikh riots and asked whether it was not an act of terror.
"After Indira Gandhi was killed, her son (Rajiv Gandhi) said that when a big tree falls, the earth shakes. Thousands of Sikhs were massacred in Delhi. Was it not terrorism of certain people? Even after that, he (Rajiv) was made Prime Minister," Modi said.
Without naming Kamal Nath, Modi said he was made Madhya Pradesh chief minister despite eye-witnesses saying he too was involved in the riots.
Modi suggested that Sonia and Rahul Gandhi were also on bail, referring to the National Herald case but not taking their names. "In Amethi, they have a candidate who is on bail, in Rae Bareli they have a candidate who is on bail, but there is no debate. But if the candidate from Bhopal is on bail, there is so much outcry," he said. "How can this go on?" he added.