PM makes 'prarthna' in national interest
Narendra Modi mixes oil and Covid, ignites Dynamite Didi
Bengal chief minister describes interaction with PM as 'one-sided' and 'misleading'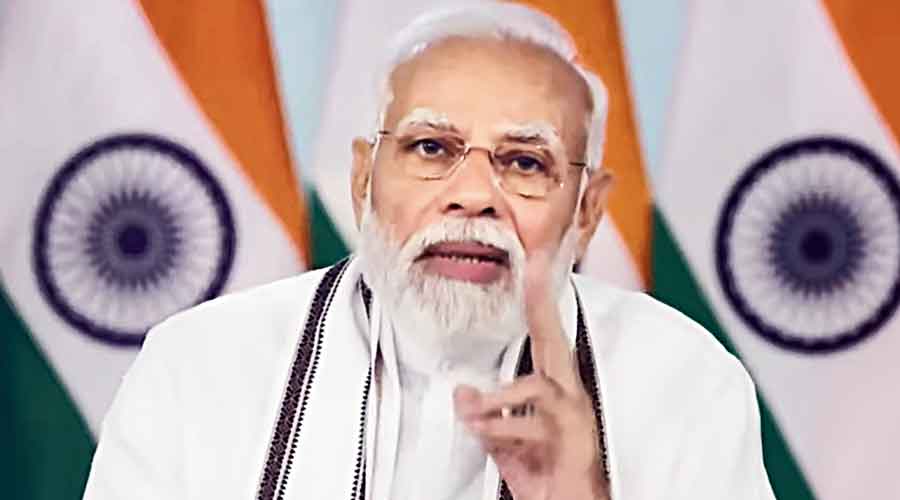 PM Narendra Modi speaks from New Delhi during the videoconference with chief ministers on Wednesday.
PTI
---
Published 28.04.22, 02:05 AM
|
---
Prime Minister Narendra Modi on Wednesday sought to mix oil and Covid, using a meeting with chief ministers on the pandemic to make a "prarthna (prayer) in national interest" to Opposition-ruled states to reduce the value-added tax on fuel.
The online nudge, capping a chain of post-poll increases in fuel prices and couched in the need for "cooperative federalism" on economic issues to meet the challenges arising out of the Ukraine conflict, evoked later in the day a sharp rebuttal from chief minister Mamata Banerjee in Calcutta.
The Prime Minister's surprise mention of fuel prices during the meeting called to discuss the Covid-19 situation in the country appeared to have been prompted by Opposition criticism over rising inflation. Although Modi refrained from citing the inflation as a trigger behind his "prayer", it was seen as an effort to shift part of the blame on the Opposition-ruled states.
Later, Mamata described the morning's interaction with Modi as "one-sided" and "misleading".
"The chief ministers were not allowed to speak (during the online meeting). We listened to you carefully. But we disagree," the chief minister said at Nabanna, responding to the Prime Minister's request.
"It would have been better had he not discussed this issue at the meeting for Covid.… It was his one-sided agenda as the others didn't get a chance to respond," Mamata added.
The following are Modi's references to the fuel prices and Mamata's response:
Modi: The Centre had cut excise duties on petrol and diesel in November last year.
Mamata: But you are increasing the rates (petrol prices) and thus making a huge earning from petrol and diesel. I demand that the Centre reduce the prices of petrol, diesel and cooking gas.
Modi: Several states, including Bengal and Maharashtra, have failed to heed the Centre's request to reduce VAT on fuels. Some states (mostly BJP-run ones) reduced taxes and provided relief to their people but some others didn't. Petrol is costlier in Calcutta and Mumbai in comparison with Lucknow. (Besides Bengal and Maharashtra, Modi named Telangana, Andhra Pradesh, Tamil Nadu, Jharkhand and Kerala — all governed by Opposition parties — as states that had not reduced VAT.)
Mamata: The request to the states to reduce VAT is misleading because the central tax on petrol and diesel is 25 per cent higher than the state tax. The Centre has earned Rs 17,31,242 crore from taxes on petrol and diesel between 2014 and September 2021. Where has it spent the money? They don't give money to run Swasthya Sathi, Krishak Bandhu, Kanyashree or Lakshmir Bhandar. All these schemes are solely run by the state government.
Modi: I will not go into how much revenue these states have earned during this time. But now it's my prayer to you in the national interest to do what you should have done last November and reduce VAT to give relief to your people. The states have no reason to worry as 42 per cent of the taxes collected by the Centre were shared with them.
Mamata: Bengal is yet to get dues of Rs 97,000 crore from the Centre on various accounts. It is not justified to ask a state to take the responsibility of reducing the fuel prices before clearing the dues. You give 50 per cent of the dues, I promise that I will give a subsidy of another Rs 3,000 crore on fuel prices.
Modi: Karnataka and Gujarat (both governed by the BJP) have suffered revenue losses of nearly Rs 5,000 crore and Rs 3,500-4,000 crore, respectively, in the last six months by reducing VAT but they did so to help the people. Their neighbouring states did not.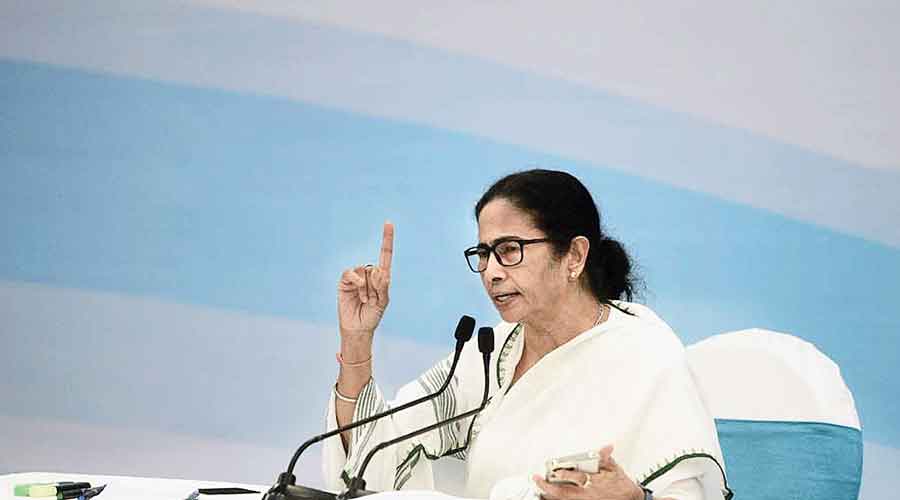 Mamata: Uttar Pradesh can give a subsidy of Rs 5,000 crore and Gujarat can give a subsidy of Rs 3,000 crore because you don't deprive them. You give them much more funds. If they give a subsidy of Rs 4,000 crore, you give them Rs 40,000 crore. But in the case of Bengal, you don't clear dues of Rs 97,000 crore. Modi: The ongoing war (in Ukraine) has disrupted global supply chains…. In this backdrop, it has become "aniwarya (inevitable)" for the Centre and the states to work together in the spirit of cooperative federalism. I am not criticising anyone but I am making a special prayer to you for the welfare of the people of your state.
Mamata: The Opposition states are being subjected to step-motherly treatment. This goes against the principles of cooperative federalism. You have weakened federalism. You have weakened democracy You are running a presidential form of government. Don't bulldoze democracy.