Narendra Modi faces Twitter barrage from critics
He was in Tamil Nadu to lay the foundation stones for a few development projects and hand over the Arjun Main Battle Tank to the army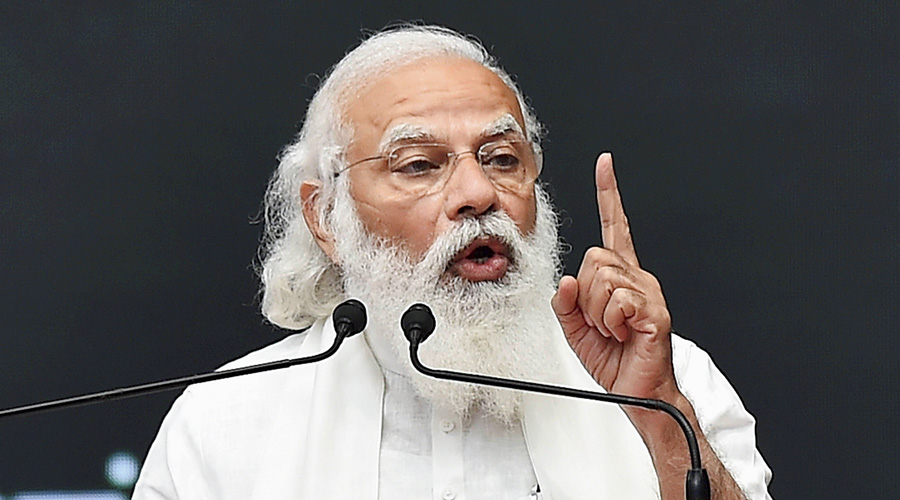 Prime Minister Narendra Modi in Chennai on Sunday.
PTI photo
---
Bangalore
|
Published 15.02.21, 01:21 AM
|
---
Prime Minister Narendra Modi faced a Twitter barrage from critics in Kerala and Tamil Nadu as he visited the two states on Sunday.
While Tamil Nadu netizens revived the hashtag "GoBackModi", also used during earlier visits, their Kerala counterparts dusted off the "PoMoneModi" hashtag from 2016, when the state had erupted against the Prime Minister's comparison of its tribal infant mortality rate with Somalia's.
"Po Mone Modi" is derived from a film punch line and effectively means "Get lost, Modi".
Modi was in Tamil Nadu to lay the foundation stones for a few development projects and hand over the Arjun Main Battle Tank to the army. He later flew to Kochi, where he inaugurated a petro-chemical project.
#PoMoneModi and #GoBackModi were among the top trending hashtags on Twitter since Saturday night. Many from either state used both hashtags.
One of them, Mohan Gandhi, tweeted: "Divided by language, united by feelings, say no to Sanghis."
Dhivya Marunthiah wrote: "The biggest victory of this hashtag is that they don't need paid bots to make it trending. This is pure emotion of our people. Hey Hindia that's #Tamilnadu & #Kerala for you."
"Hindia" is a sarcastic coinage against Hindi chauvinism. The reference to "bots" — software applications that run automated tasks over the Internet and are used widely to multiply social media "likes" — was an obvious dig at the BJP's IT cell.
A tweeter from Kerala, Rofl Republic, posted this comment: "Kerala, never forget how PM Modi compared Kerala to Somalia and insulted Keralites. Never ever forget!"
Modi had in the run-up to the 2016 Kerala elections told a campaign rally that infant mortality among the state's scheduled tribes was worse than Somalia's.
While Somalia has one of the highest rates of child malnutrition and infant mortality in the world, Kerala has the lowest infant mortality rate in India.
"Kerala is against fascism, Kerala is against CAA, Kerala is against BJP, Kerala is with farmers," tweeted Silpa.
People from other states too joined in, Kamran from Bangalore tweeting: "He lied about 50 days, he lied about ending terrorism, he lied about ending corruption, he lied about ending counterfeit currency, he lied about demonetisation, and many many more…. This is the face of lies."
After the November 2016 demonetisation, Modi had said: "Give me 50 days, burn me alive if I'm wrong."
Many netizens tweeted news clippings of that comment.
Some contrasted Modi's security-cocooned travels with Rahul Gandhi's knack for wading into crowds.
"Rahul Gandhi walking on the roads & greeting common people, will Modi ever have guts to walk on any TN road and greet common people?" Madhu tweeted, posting pictures of the Congress leader mingling with huge crowds in Tamil Nadu.
A Prime Minister's security protocol discourages any impromptu mixing with crowds.
Some seemed to enjoy egging netizens from the two states on to outdo each other.
"Normally the BJP IT cell gets into a hashtag war with other parties. Today, the hashtag contest is actually between Tamizh (Tamil) & Malayali folks. Nobody can beat #GoBackModi on a Tamil (vere level) global scale. But Malayalis can hold their fort on #PoMoneModi. Game on folks!" tweeted Suby. "Vere" means "another".
Visits by Union home minister Amit Shah too have faced similar Twitter rage in Tamil Nadu and Kerala.