Modi demolished, in panic: Rahul
Rahul accused the Prime Minister of trying to divert people's attention by hyping up the issue national security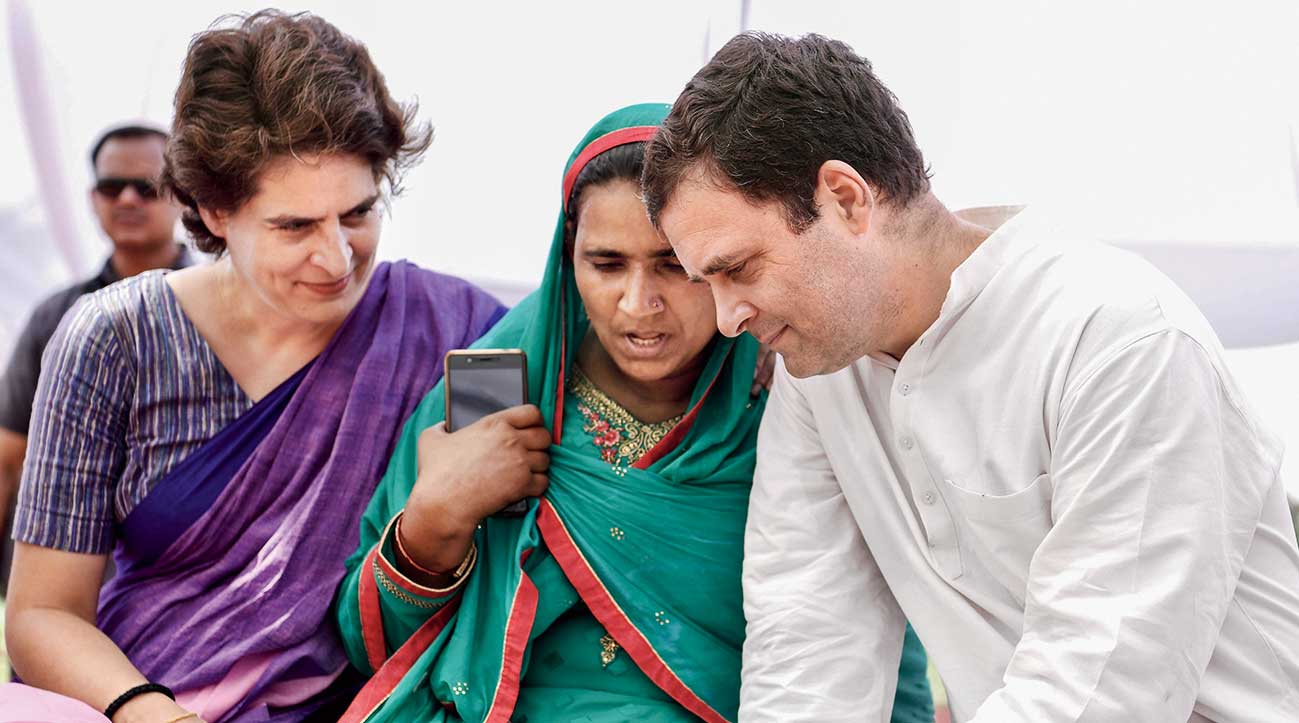 Priyanka Gandhi Vadra and Rahul Gandhi with a participant at a Mahila Workers' meeting in Amethi on Saturday.
(PTI)
---
New Delhi
|
Published 05.05.19, 06:19 AM
|
---
Congress president Rahul Gandhi on Saturday asserted that Prime Minister Narendra Modi had been "demolished" and that the "hollow structure" that was still standing would collapse over the next 10 to 15 days.
He portrayed Modi as a politician in panic who had lost his political acumen and halo, and was unable to engage with the Opposition on the key questions of jobs, farm distress and his own unfulfilled promises of 2014.
"It is clear that Modi is losing this election. The Congress has demolished Modi. The hollow structure that is standing will fall in the next 10-15 days," Rahul told a news conference.
"He has nothing to say. It is like a scared Prime Minister unable to face the onslaught of the Opposition. They are not running a strategic campaign; it's a panicky campaign."
Rahul added: "In 2014, you all said Modi cannot be defeated; he will rule for 10-15 years. He was portrayed as a crusader against corruption. The narrative has changed and now the slogan is: 'Chowkidar chor hai (The watchman is a thief)'.
"The country is in crisis today: the youth can't see a ray of hope; the farmers are in distress; the economy is in ruins. Modi has no answers, no solutions. We are dealing with fundamental issues, trying to offer solutions."
Rahul accused the Prime Minister of trying to divert people's attention by hyping up the issue national security.
"National security is a huge issue; we will do more on that. But what about other issues? Modi doesn't utter a word on unemployment. What is his plan, road map? How does he plan to fight corruption?" he said.
"I am challenging him to debate corruption but he is running away. Modi knows he is trapped; he doesn't have answers."
Probed repeatedly about Modi's emphasis on national security and terrorism, Rahul said: "The army does its job; it has a terrific record. The army is not the personal property of Modi. Surgical strikes were carried out in the past too. Not by the Congress; by the army."
Media reports had quoted Modi as dismissing the Congress's claims of anti-terror surgical strikes under the UPA government, saying such operations were "no video game".
"When Modi says it was a video game, he is insulting the army," Rahul claimed. "We don't politicise the army's work. And no government bows before terror. Azhar Masood is a terrorist against whom the strictest action is needed. But who freed him?"
Rahul denied that he had diluted his stance on corruption in the Rafale deal, saying his apology to the Supreme Court had been misinterpreted by some.
"The reality is, chowkidar chor hai. If Modi debates with me, I can place the facts before him: how he was running parallel negotiations and overruled the Indian Negotiating Team," Rahul said.
"I can even call up (former French President Francois) Hollande and ask him to tell the truth in front of him (Modi)."
Asked about the Election Commission's failure to act on complaints of model-code violations against Modi and BJP president Amit Shah, he said: "When the case is related to the BJP, the Election Commission is absolutely on the straight line. But to issues related to the Opposition, the EC is completely biased.
"So, it is pretty clear. The RSS-BJP try to pressure institutions. That's clearly visible in cases of Supreme Court,
EC, RBI…. We don't expect the EC not to be affected by that pressure. But whatever the
EC does, the people have made up their mind."
He added: "But frankly, whatever is the responsibility of the Election Commission, they have to carry it out because all that institutional capture taking place and all the negative effects of it, they will have consequences in the future. We are not going to allow the Indian institutions to be disturbed, controlled, crushed. Anybody who colludes, anybody who falls to this pressure, is committing a crime."
Rahul highlighted that Modi hadn't held any news conferences during his tenure as Prime Minister.
"By the way, please tell the Prime Minister to have a couple of press conferences. It actually is looking bad now. He is looking terrible on the international stage," he said.
"(The) Indian Prime Minister does not have the guts — forget the foreign media, (he) does not have the guts to stand in front of India's media. Please tell him to do one before the election is over."