PM breaks silence after backlash
Covid: Modi finally talks about the epidemic at PM-KISAN event
He, however, did not directly mention the shortages of oxygen, drugs, vaccines and hospital beds that have earned him condemnation at home and abroad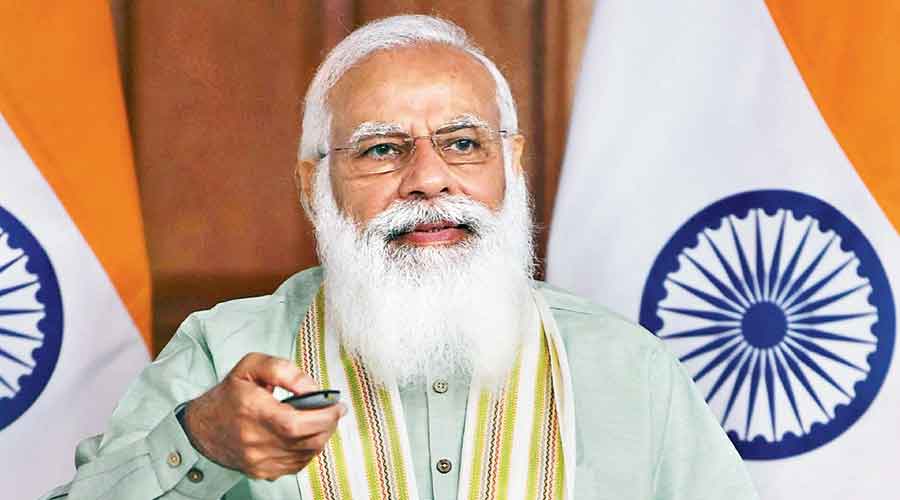 ---
---
Prime Minister Narendra Modi on Friday came out to share the "pain" of citizens who had lost loved ones to Covid, breaking his silence after several prominent BJP supporters and Right-wing foot soldiers too had lambasted the government's mismanagement of the crisis.
Modi, however, did not directly mention the shortages of oxygen, drugs, vaccines and hospital beds that have earned him condemnation at home and abroad, choosing instead to give general assurances and a pep talk about not losing "courage".
His references to the epidemic came towards the end of an online event, held to advertise a two-year-old scheme involving a yearly assistance of Rs 6,000 to poor and marginal farmers, and mostly featuring cheery virtual conversations with pre-selected organic farmers.
Modi told a farmer from Unnao, Uttar Pradesh, that organic farming would help cleanse "Ganga Ma", ignoring how corpses were being dumped into the river as the Covid death toll choked crematories, and how 175 bodies had been found buried on the Ganga's banks in Unnao.
Eventually, with a sombre expression, the Prime Minister sought to empathise with the people's "pain".
"Because of this enemy, this coronavirus, we have lost many people close to us. The pain that people of the country have suffered, I feel it equally. As the Pradhan Sevak of the country, I share your every sentiment," he said during the over-an-hour event, aired live on online platforms of his government and party.
Modi went on to assure the people of victory over the virus, claiming the government and the armed forces were striving to remove all bottlenecks.
"Bharat himmat harnewala desh nahi hai. Na Bharat himmat harega, na koi Bharatvasi himmat harega. Hum ladenge aur jitenge (India is not a country to lose courage. Neither India nor any Indian will lose courage. We shall fight and win)," he declared.
Modi has been pilloried in foreign newspapers for continuing with his Central Vista "vanity project" instead of diverting its funds to battle the virus amid daily reports of people dying for lack of medical oxygen and depleted vaccination centres downing shutters.
His government, which had prematurely celebrated "victory" over the epidemic instead of preparing to meet the second wave predicted by experts, has been accused of aggravating the situation by allowing massive poll rallies and the Kumbh congregation in Haridwar.
While Modi was seeking to reassure citizens, a report said 75 Covid patients had died at the Goa Medical College and Hospital over the past four days because of "logistic issues" in the supply of oxygen.
All through the people's sufferings, Modi had remained silent. Friday's outreach came after some members of the Right-wing ecosystem slammed the administration's failure to help their Covid-infected near ones and pro-BJP opinion makers expressed disappointment with the government.
"Modi's image has certainly taken a beating. It is, therefore, time to introspect and, if necessary, course correct," wrote Makarand R. Paranjape, director of the Indian Institute of Advanced Study, Shimla, and a known supporter of the Modi government.
In an article that echoed a report in Britain's Financial Times on Thursday that suggested the Covid crisis had "diminished" Modi, Paranjape said the Prime Minister should show more "humanity and humility".
"Especially during a national crisis, it does not help a leader if he appears aloof, isolated, extraordinary, exceptional — or impervious to advice, and above criticism," he wrote.
Bollywood actor Anupam Kher, a known Modi fan and husband of a BJP parliamentarian, too has chided the government.
"Somewhere they have slipped. It is time for them to understand that there is much more to life than just image-building maybe," Kher said recently, adding that people should get angry and hold the government accountable.
Modi had last spoken on Covid during his April 25 Mann Ki Baat, participating in conversations with healthcare workers who painted an optimistic picture of the government's handling of the situation. He had earlier on April 20 referred to the epidemic, mainly to announce that there would be no nationwide lockdown.
He has since then been largely silent while Union ministers and BJP leaders have been counter-attacking his critics and the RSS has been holding "Positivity Unlimited" lectures.
At Friday's virtual event, attended by Union ministers, chief ministers, MPs and MLAs — mostly from the BJP — it did not seem at first that Modi would mention the Covid crisis.
Only after one-to-one online interactions with half-a-dozen farmers from different states did Modi turn to the epidemic.
He said efforts were on to set up hospitals and oxygen plants and urged people to get vaccinated, but didn't refer to the vaccine shortage.
"I want to alert the people living in the villages: the coronavirus is spreading fast in our villages too," he said, urging village heads to ensure people wore masks and practised physical distancing.