Narendra Modi bats for bail for undertrial prisoners
He also advocated the use of local languages in the courts to make people's access to justice easier and more effective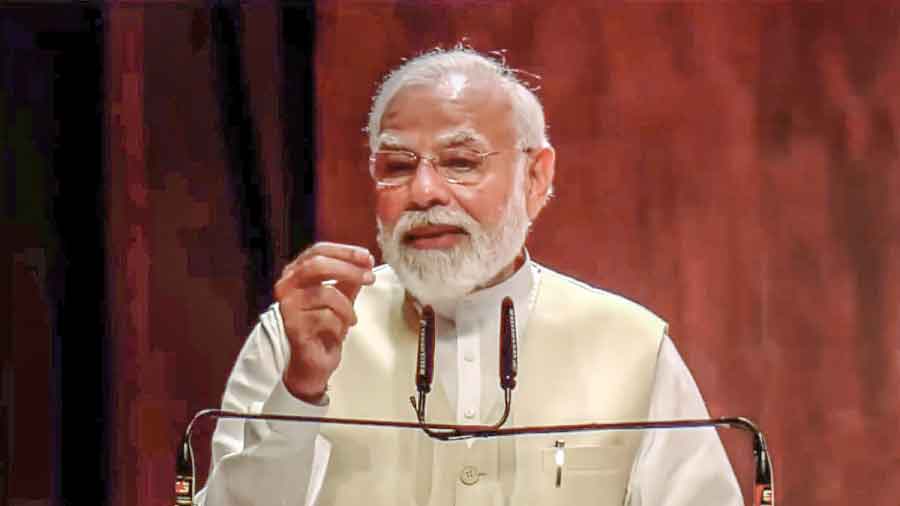 Narendra Modi.
File Photo
---
New Delhi
|
Published 01.05.22, 12:27 AM
|
---
Prime Minister Narendra Modi on Saturday asked the judiciary to set up district-level committees, headed by district judges, to consider bail for the country's 3.5 lakh undertrial prisoners.
He also advocated the use of local languages in the courts to make people's access to justice easier and more effective.
Inaugurating a joint conference of chief ministers and high court chief justices here, the Prime Minister said that judicial reform was not just a policy matter but involved human sensitivities, which should be kept at the heart of all the deliberations.
"Today, there are about 3.5 lakh prisoners in the country who are undertrials and are in jail. Most of these people are from poor or ordinary families. I would request that in every district there should be committee, which can be headed by the district judge, so that these cases can be reviewed and wherever possible, such prisoners may be released on bail," Modi said.
"I would appeal to all chief ministers and chief justices of high courts to give priority to these matters on the basis of humanitarian sensibility and law."
Many critics of Modi's government such as the Bhima Koregaon accused and anti-citizenship-amendment protesters have been held for months and years without bail. In many BJP-ruled states, when accused receive bail in a case, they are often detained or rearrested on fresh charges.
Modi added: "It is important to promote local languages in the courts so that the people of the country feel connected to the judicial process and their faith in it increases."
Currently, English is used for arguments, pleadings and judgments in all the courts of the country, from the Supreme Court to the trial courts.
Mediation push
The Prime Minister said mediation was an important tool for settling cases pending with the courts, especially at the local level.
In mediation, one or two mediators facilitate a settlement between rival parties through give and take to avoid a lengthy court battle.
"In our society, mutual consent and mutual participation, in its own way, is a distinct human concept of justice," Modi said.
He said the government had introduced a mediation bill in Parliament as an "umbrella legislation".
"With our rich legal expertise, we can become a global leader in the field of solution by mediation. We can present a model to the whole world," he added, without elaborating on the bill.
Faster justice
Modi said that by 2047, when the country celebrates the centenary of its independence, it should be able to put in place a judicial system that provided speedy justice to all.
"How do we make our judicial system so capable that it can fulfil the aspirations of the India of 2047 --- this question should be our priority today. Our vision… should be of a judicial system in which there is easy justice, speedy justice, and justice for all," he said.
The Prime Minister said the government was striving to reduce delays in justice delivery, and efforts were on to fill judges' vacancies and improve judicial infrastructure.
Technology
Modi said the Centre saw the use of technology in the judicial system as an essential part of its Digital India mission. He appealed to the chief ministers and high court chief justices to take the exercise forward.
He said several countries taught modern subjects such as cyber security, robotics, bioethics and artificial intelligence in their universities. "It's our responsibility, too, to ensure that in our country also legal education should be (imparted) according to these international standards."
The Prime Minister said that digital technology was being widely used even in the villages and remote areas. He described it as a result of his government's push for digital transactions.
"Of all the total digital transactions that took place in the world last year, 40 per cent took place in India," he said.
Old laws
Modi said that in 2015, the government had identified 1,800 laws that had become irrelevant and had already repealed 1,450 of them.
He urged the states to follow the example for the sake of the "rights of the citizens of their state and for their ease of living".
Currently, the Supreme Court is dealing with a batch of petitions seeking quashing of the British-era sedition law – which they say has been widely misused by governments against citizens -- as unconstitutional.
Old campaigner
Modi described the joint conference of the judiciary and the executive as a vibrant manifestation of the beauty of the Constitution. He said he had been coming to the conference for a very long time, first as chief minister and now as Prime Minister.
"In a way, I am quite senior in terms of this mehfil (gathering)," he said, drawing laughter.
Modi said the judiciary and the legislature played complementary roles as "the guardian of the Constitution" and a representative of "the aspirations of the citizens", respectively.
Among those present were Justice U.U. Lalit, the second senior-most judge of the Supreme Court, Union law minister Kiren Rijiju and his junior S.P. Singh Baghel.