Fresh glare on hydel projects
Ten dead, 143 missing after Nanda Devi glacier breaks up
The disaster comes nearly eight years after flash floods triggered by a cloudburst killed an estimated 6,000 people in Uttarakhand in the summer of 2013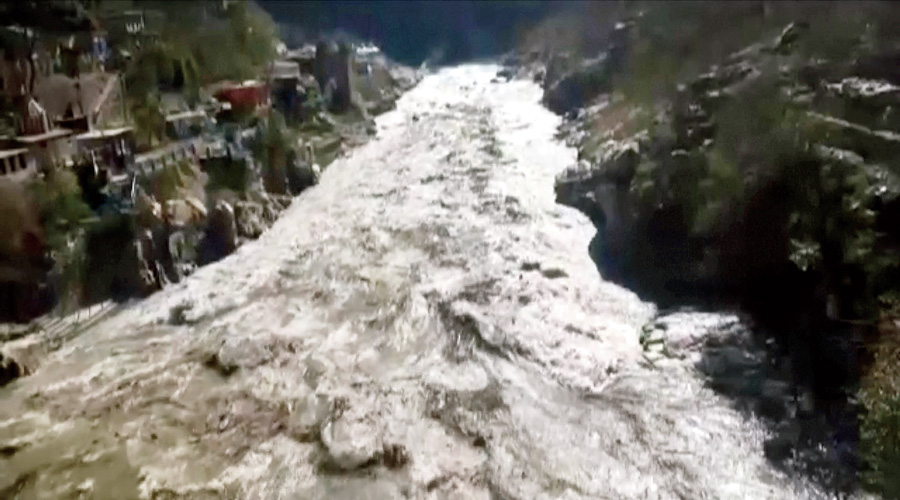 ---
Lucknow
|
Published 08.02.21, 02:17 AM
|
---
Around 143 people were missing after a portion of the Nanda Devi Glacier broke on Sunday morning, sending water, mud and rocks barrelling down the Joshimath mountain in Uttarakhand and sweeping away two hydropower projects and houses.
A rise in river waters near Raini village, the disaster site in Chamoli district where the 10.45am flash flood reportedly washed away six homes, led to alerts being sounded over swathes of Uttarakhand. Many villages near Raini were evacuated and their residents taken to safer areas.
Uttarakahnd DGP Ashok Kumar said, "a total of 153 people were missing from the two hydel projects at Raini and Tapovan out of which 10 bodies have been recovered while 143 are still missing," 
Raini resident Sanjay Singh Rana said a wall of dust, rock and water had roared down the mountains. "It came very fast, there was no time to alert anyone. I felt that even we would be swept away," he told Reuters.
The disaster comes nearly eight years after flash floods triggered by a cloudburst killed an estimated 6,000 people in Uttarakhand in the summer of 2013, mostly near the pilgrimage centres of Kedarnath and Badrinath.
Sunday's flash flood destroyed two under-construction dams, the Rishiganga Hydropower Project and the NTPC's Tapovan Hydropower Project, both located 5km from Raini. Most of those missing are labourers of the Tapovan project.
Sixteen men were rescued safely from a tunnel in the Tapovan project but about 125 were still missing, PTI reported late on Sunday night.
Water levels in the Dhauliganga and the Alakananda, two tributaries of the Ganga that meet close to Raini, rose three metres above normal for a while before abating, Rawat said.
"I request people to have patience. Please don't create panic on social media," Rawat said as Netizens began sharing videos showing rivers in spate, whose authenticity could not be determined.
"An alert has been issued along the Ganga up to Haridwar (318km from Raini)," Rawat said, adding that water release from dams had been stopped. Neighbouring Uttar Pradesh too put riverside areas on high alert.
"We believe the damage has already been done but the alert has still been issued to avoid any further damage in the lower areas through which the Ganga flows," said S.N. Pradhan, director-general of the National Disaster Response Force (NDRF), which is helping rescue and relief efforts.
Six army columns (about 600 personnel), three army choppers, three air force helicopters — two Mi-17s and one ALH — and 250 Indo-Tibetan Border Police (ITBP) personnel too have been deployed along with the State Disaster Response Force (SDRF).
Killed, trapped
ITBP spokesperson Vivek Pandey said the flash flood had swept away six graziers and their livestock and damaged two suspension bridges at Raini.
Media reports quoted the Union home ministry as saying 12 labourers, besides the 16, had been rescued from another tunnel.
"Thirty people were working on the Rishiganga (hydel) project and over 150 on the other project when the flash flood struck. Many people have been rescued but the toll is expected to rise," chief minister Rawat said in the evening.
Ridhim Aggarwal, DIG of the SDRF, said: "We are in touch with officials of the companies and they told us they were not able to contact the staff on the spot."
Green concern
After the 2013 floods, environment groups had blamed unchecked construction for the human cost in a state prone to flash floods and landslides.
It was not immediately clear what had set off Sunday's flash flood, but it led to renewed calls for a halt to big hydel projects in the ecologically sensitive mountains.
Former Union water resources minister and BJP leader Uma Bharati criticised the construction of hydropower projects in the area.
"When I was a minister, I had requested that Himalaya is a very sensitive place, so power projects should not be built on Ganga and its main tributaries," she tweeted.
Ranjan Panda, a volunteer for the Combat Climate Change Network that works on water, environment and climate change issues, sought "a serious scrutiny of the hydropower dams building spree in this eco-sensitive region".
"The government should no longer ignore warnings from experts and (should) stop building hydropower projects and extensive highway networks in this fragile ecosystem," he said.
The Rishiganga project was commissioned in 2011 to the Rishiganga Power Corporation. Power generation was stopped in 2016 after a natural calamity damaged the dam. Eventually, the project was taken over by Kundan Group and re-commissioned in 2020.
'Safe distance'
"The actual havoc would have happened within 200 to 500 metres of the area where the glacier fell," Pandey, the ITBP spokesperson, said.
"There were 500 to 600 people in the area but most were at a safer distance. Smaller hutments have been washed away. The situation will be clearer after a while. The rescue operations will continue for many days."
PTI reported that at least 180 sheep had been washed away and that connectivity with some border posts was "totally restricted" because of the bridge collapse near Raini.
Prime Minister Narendra Modi tweeted: "I am constantly monitoring the unfortunate situation in Uttarakhand. India stands with Uttarakhand, prays for everyone's safety."
He announced Rs 2 lakh for every bereaved family and Rs 50,000 for each of those seriously injured.
Additional reporting by PTI and Reuters