Nadda: Poll win more important for Didi
Procession taken out to counter Mamata Banerjee's campaign against the CAA and NRC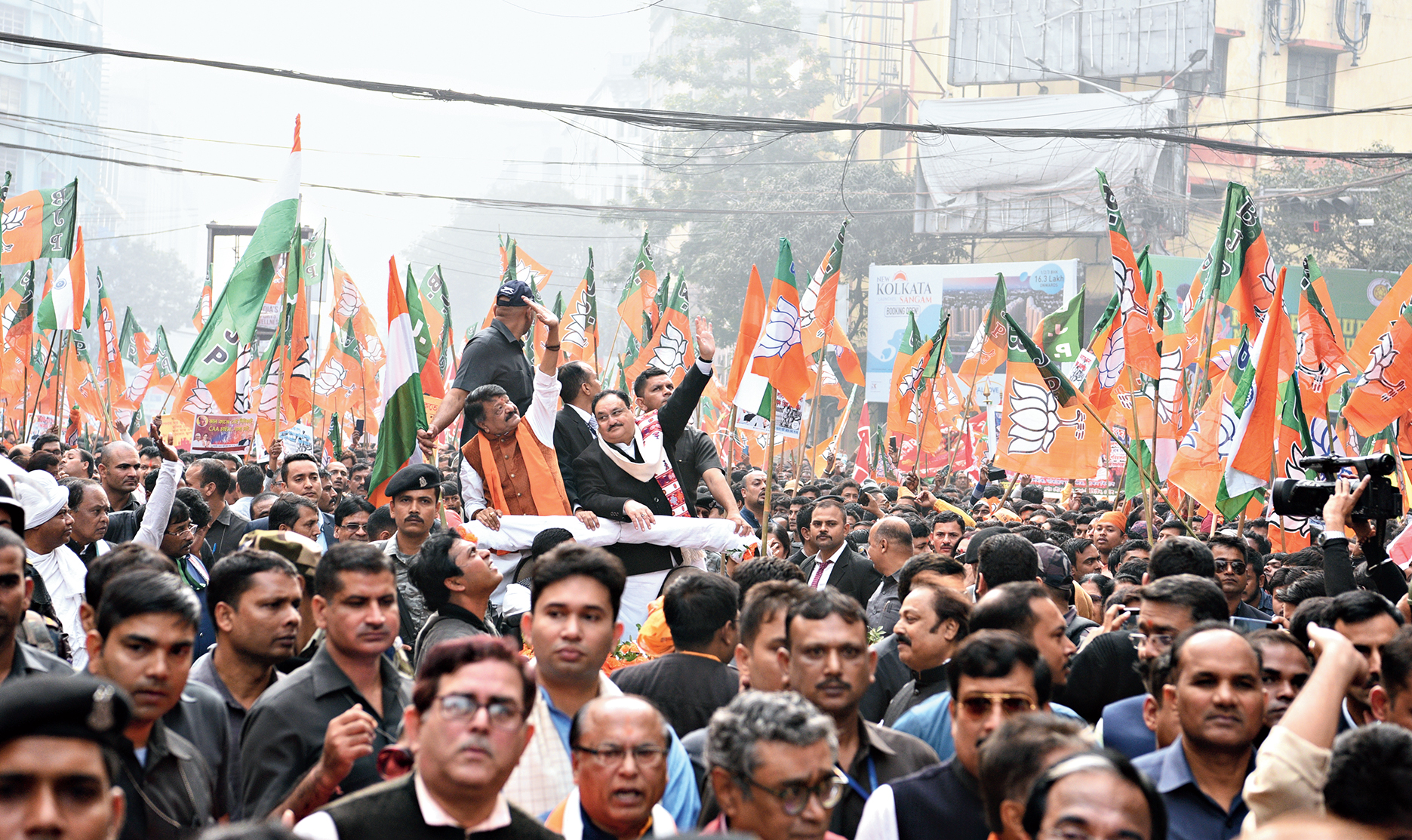 ---
|
Calcutta
|
Published 23.12.19, 09:42 PM
---
Communal undertones remained palpable throughout a three-hour BJP march led by national working president P. Nadda here on Monday ostensibly to dispel doubts and misinformation" about the amended citizenship law.
Aggressive chants of "Jai Shri Ram" by BJP workers and assertions by leaders that Bengal would not be allowed to become "Western Bangladesh" marked the Abhinandan Yatra (congratulatory march).
The procession was taken out to counter Bengal chief minister Mamata Banerjee's relentless campaign against the Citizenship (Amendment) Act and the National Register of Citizens (NRC).
Nadda led the road-show from Wellington Square to Shyambazar where he was the keynote speaker. But the speakers before him had made no bones about the agenda of the event.
"There are 70 lakh fake voters here, and our textbooks are beginning to say amma, abba in place of ma, baba (mother, father). We will not allow Paschim Bangla to become Paschim Bangladesh," said state BJP general-secretary Sayantan Basu in his opening remarks at Shyambazar.
Long before Nadda's arrival, chants of "Jai Shri Ram" filled the air at the five-point crossing in north Calcutta.
"We are going to drive out 2.25 crore infiltrators from our country," he added.
Fellow state general-secretary Raju Banerjee had said on Sunday the procession was to congratulate Prime Minister Narendra Modi and home minister Amit Shah, besides to "dispel doubts and misinformation" about the CAA allegedly being spread by Mamata.
Following up on Basu's remarks, BJP state president Dilip Ghosh set the tone for Nadda's eventual tirade against Mamata. "Didi, who used to be our Didi, has now become the Didi of the infiltrators," said Ghosh.
Nadda launched an attack on Mamata for her "politics of vote-bank".
"The very turnout at this rally proves that this state is with Narendra Modi and supports the CAA... Didi puts her electoral interests before the country's interests… She is the main person responsible for constitutional breakdown in Bengal," said Nadda.
He kept asserting that Mamata's resistance was futile because the CAA was a national law and she would not be able to stand in the way of its implementation in Bengal.
"There is nothing she can really do about it… she is opposed to everything the Centre does for the sake of opposition," said Nadda.
"People should vote for change, not to bring the BJP to power, but to bring development to Bengal," he added.
"The general election this year was just the trailer. (The Assembly polls of) 2021 will be the full movie."
Nadda said India had decided to become a secular country and it was highlighted in the Constitution.
"Our Sikhs, Muslims, Parsis and other minorities were equally protected in India… Pakistan and Bangladesh decided they were Islamic countries and rights of minorities weren't protected," he added.