...Sweetest of all sounds
Music begins with Lataji and ends with Lataji, says Nitin Mukesh
Mangeshkar, who defined melody and gave voice to the hopes and despair of generation after generation in India, died on Sunday morning in Mumbai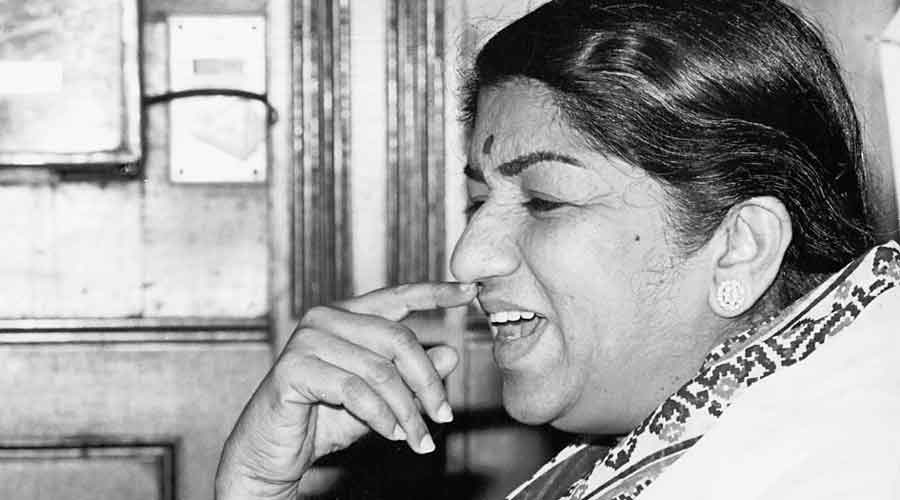 Lata Mangeshkar's Lag ja gale from Woh Kaun Thi? (1964) is considered by many as one of her best songs. The haunting melody, with lines such as "Lag ja gale ke phir yeh haseen raat ho na ho (Embrace me, beloved, who knows whether or not this beautiful night will ever come again)" and "Shayad phir iss janam mein, mulaqat ho na ho (In this life, we may or may never meet again)", was composed by Madan Mohan and the lyrics were penned by Raja Mehdi Ali Khan.
The Telegraph
---
Published 07.02.22, 02:24 AM
|
---
On September 28, 2019, when Lataji turned 90, I had said: "For me music begins with Lataji and music ends with Lataji."
It was a line that came straight from my heart.
I'd virtually known her from the time I was in my mother's womb because my father, the late Mukeshji, was very close to her. He did many shows with her: they'd travel together, sing together. Sometimes, my mother would be with them and there's a picture of me in my mother's womb when she met Lataji. That's how long I knew her.
I was fortunate to have sung many chartbusters with her. The highest number of duets I recorded in my career were with Latadidi. Unforgettable among my many favourite songs with her are the four in Kranti, with Zindagi ki na toote ladi topping the list.
Noorie was, of course, a riot. Another stirring number is Jeet jayenge hum from Meri Jung. I got to sing this a lot in Covid times, especially with the words "Zindagi har kadam ek nayi jung hai, jeet jayenge hum, tu agar sang hai" resonating with everybody. Like Papa's Kisi ki muskurahton pe ho nisaar (Anari), which doctors, nurses, army men, everybody sings because it's still so relevant. Papa's duets with Latadidi were out of this world. Aaja re ab mera dil pukara (from Raj Kapoor's Aah), Sawan ka mahina (Milan), O mere sanam (Sangam) — so many gems. Their Ek pyar ka nagma hai (Shor) is almost like an anthem. It has an antara with the words "Toofan toh aana hai, aakar chale jaana hai… teri meri kahani hai". It's my absolute favourite.
When the new millennium dawned, there was a survey of the songs of the century. Pyar ka nagma figured in the top 5.
When they were recording Aa ab laut chale from Jis Desh Mein Ganga Behti Hai, she added value to it with only her alaaps. It's an immortal number. I've been told that it is supposed to have had the most orchestration of any Hindi film song, apparently the largest orchestra with a chorus.
(Film lore has it that while Shankar-Jaikishan recorded this iconic song, the chorus singers spilled out onto the staircase and Minoo Katrak, the sound recordist, arranged mikes all over in such a remarkable way that every sound was picked up to make a tremendous impact.)
After every antara that Mukeshji sang, Latadidi sang only an alaap with the words "Aaja re…." Just two words, but sung with such soul-searing feeling that people flipped for it and it gives goosebumps to this day.
Lataji would call my father "Mukesh Bhaiya" and my father, who was six years older than her, would call her "Didi". I used to find that a bit curious — a bit annoying too — and I asked him why he couldn't call her by her name when he was so many years older than her.
Papa said something that day which stayed with me forever. He told me that he called her "Didi" to tell the world that this lady had to be respected by one and all. It was his way not only of showing her respect but also of ensuring that the rest of the world gave her the same respect. I too always called her "Didi".
On Papa's last concert tour — the unfortunate tour of 1976 when he passed away — we'd gone to Canada. Those days, the CN Tower in Toronto was known as the tallest tower in Canada. It was an imposing monument with a restaurant at the top. Papa had a Rolleiflex camera with him and when we went sightseeing, he made Latadidi stand alone in front of the tower. He clicked a picture of hers blushing away and captioned it, "The tallest tower in Canada with the tallest tower in the world."
Toronto was where Papa did his last show because he passed away just before the next concert in Detroit.
Lataji would do only two shows a week. So the rest of the week they'd either be rehearsing — I would accompany them only as Papa's little extra baggage — or they'd go sightseeing. The photo with the CN Tower behind Didi was taken on a day there was no show in the evening. It must've been the 24th or 25th of August, 1976. How Lataji started going on tours of the US and Canada has a lovely story behind it.
Papa had gone to the US on solo tours in 1973 and 1974. The promoters were two young men who did very successful shows with him, looked after him well and generally turned out to be impressively meticulous organisers.
Towards the end of the shows, they hesitantly asked Papa, "Can we get Lataji to do a tour of the US?"
Didi had just done three solo sold-out shows at the Royal Albert Hall in England and was in no mood to do any more shows at the time. Besides, she was too busy with her recordings to make time for a long concert tour.
But Papa had made a promise to the promoters, confidently saying: "Yes, why not? I'll talk to her. She'll never refuse me."
And that's precisely what happened. She said to Papa, "If you have made a commitment, how can I not keep it? And if you endorse the promoters as good people, then I don't need to question it."
But she set one condition. Papa had talked to the promoters about solo shows by Lata Mangeshkar. But she said: "I'll do it only if you too sing with me at these concerts."
That's how Papa and Latadidi began to do shows together in 1975. The tour was such a rage that the very next year they repeated it. But we lost Papa on the next tour and the shows in Detroit and Philadelphia had to be cancelled. When Papa took ill before the Detroit show, there was a 35-40 minute window where we rushed him to hospital.
Didi was with me all the way, pacifying me at the hospital before the news was broken to us that he was no more.
Latadidi was heartbroken and all of us came back. But the magnanimous lady that she was, she promised the promoters that she would be back to complete the two shows that had to be cancelled, because she didn't want to leave any of Papa's work unfinished.
So even in his death, she showed her grace. She went back to do the two shows the same year in November-December and she took me with her. She ensured that she did those two shows that Papa couldn't complete and then we did a couple more.
She would announce at these shows: "Mukesh Bhaiya passed away before doing these concerts. I have brought with me his son Nitin Mukesh."
She would then personally present me to the audience. I sang with her on that tour and then became a part of every concert tour that she did.
I can't even begin to list all the countries where Latadidi performed. I was fortunate that she took me with her to the US, Canada, the West Indies, Russia, Swaziland, Australia, New Zealand, the Fiji Islands, Dubai — the whole of the UAE —also Muscat, Bahrain, the UK, Holland, Belgium and France, besides countless shows within India.
She would take me to all the places where she performed and make me sing with her. Wherever we went, she would ensure that I was checked into the same hotel as her. And they were, of course, always the best of hotels. I saw the world through her eyes. I could get a platform to sing before 15,000 to 20,000 people in a country like South Africa only because I was a part of Latadidi's entourage.
There's no doubt that the volume of work I did in the years that ensued, even the numerous shows I did all over the world on my own, was possible only because she introduced me to the world as Mukeshji's son.
When we went to the West Indies, on the 60km drive from the airport to our hotel in Georgetown in what was known as British Guyana, the road was lined on both sides by human oceans. I don't think even a toddler was asleep at home that day — he too was out on the roads.
They speak Bhojpuri Hindi there and I saw women crying: "Didi, didi, iss taraf dekho."
They were so emotional about getting just a glimpse of her. Men prostrated before the car, we had to move at a snail's pace because people would just not let the car move forward. There was a police escort in front and another behind. Ultimately, we had to open the hood of the car and make her stand and wave to the crowds. People were throwing petals and flowers at her.
The promoters and the local people said that not even the Queen of England or any other dignitary from any country had received such a rousing welcome. I was witness to it, otherwise I would not have believed it. Sixty kilometres took us hours to reach. There were people standing outside the hotel at all times and her concerts had sold out weeks in advance. Everywhere she went, the moment she began singing there'd be pin-drop silence. And when she ended a song, there'd be deafening, thunderous cheering. You couldn't help but break into rapturous applause every time she sang.
My conscious love and passion for her began from the time I started appreciating music, which was very early because by the time I was five years old, I was already bunking kindergarten school and going to recordings with my father who gladly took me with him.
Even at the cost of sounding offensive to others, I have to confess that I don't feel like listening to anybody other than Lataji. On my long evening walks, or before going to bed or if I wake up in the middle of the night and feel like listening to some music, it's only her songs that soothe me. My playlist is only Lataji. And I think I'm not alone in feeling like this, I'm confident most of the world feels the same way about her immortal songs.
To pick favourites from a repertoire like hers is practically impossible; I have a playlist of about 500 of Lataji's songs alone. Zulmi sang aankh ladi from Madhumati and Ruk ja ae hawa from Shagird are on it. Kuchh dil ne kaha from Anupama is a must-hear. Piya tosey naina lage re from Guide is another favourite out of her thousands.
Lataji's Ajeeb dastan hai yeh from Dil Apna Aur Preet Parai is such a huge hit in our family that even my three-year-old granddaughter Nurvi (Neil Nitin Mukesh's daughter) knows it by heart.
As a child I'd go with my father to recordings and be enchanted with her. From a child to an adolescent to a youth to a grown-up and now a senior citizen, I have been in love with her, whether it was her simplicity, the grace with which she spoke or her long beautiful hair. There's nothing that I ever disliked about her.
She once told me that I was the male singer who had done the highest number of concerts with her. Papa did only two tours and a few sporadic shows in his lifetime. After he passed away, Lataji was very active with stage shows and till as late as the 1990s, I would accompany her to her concerts in India and abroad. I won't venture into boasting that Lataji did the most shows with me but I can say that I did enough work to watch her from up close and draw inspiration from her.
It was not just her divine voice. There was so much to admire and learn from her: her discipline in life, her punctuality, her perfectionism and her dedication. Her performances and her rendition on stage were unfailingly flawless.
Even after reaching the pinnacle of success, she'd rehearse every morning during our concert tours. If we had a show at, say, 6.30pm, she'd have a full rehearsal at 9.30 in the morning in the banquet hall of the hotel where we were staying.
Three to four months before a concert tour, she'd start rehearsals in Mumbai. Not every day but, say, over the weekends she'd book a studio or book the hall in her own building, call the musicians and start rehearsals. She never took anything for granted or took anything casually. Even if we were rehearsing the same songs every time, it didn't matter. That's what made her stand apart from everybody else and made her perfect. I could make a million mistakes but Lataji would never ever make one. Going off-key or off-beat was impossible for her.
I learnt punctuality from Didi — you could sync your watch with her timings. Before a show, if we were asked to assemble in the lobby at 5.30, Lataji would be there at 5.29 and if you reached at 5.31, you'd get an unmissable 'Hey, you're late' glance from her.
If the ticket said 6.30pm, Lataji would be at the auditorium at 5.45. At 6.20 she'd be before the mike; at 6.30 sharp, the curtain would be raised and she would start with a shloka from the Bhagvad Gita that her brother Hridaynathji had set to tune.
In her position, one would think she could relax a bit. But no, she was always so disciplined. Spotless in her white sari, she'd remove her footwear before going on stage. If it was too cold, there would be a little mat for her to stand on. But she worshipped the stage, so she wouldn't don her footwear. I emulated her for many years.
When masters like her are before you, they don't sit and teach you. You have to observe them and understand why they are the leaders. In a long queue, why are they right in front? Because of their sterling qualities.
Forget the fact that nobody could replicate, duplicate or replace that divine voice of hers. There were so many other qualities to emulate in her. She had great reverence for her father. She did not sit down and coach me to love my father. But even when she had outshone everybody else, she was so vinamra (extremely humble) that she would say: "Whatever I am is because of my beloved father."
To acknowledge and say it when she was the undisputed queen was something else.
I was also subtly influenced by her to bring Ganpati home every year. It's been an annual ritual in our family for years now. I went to the Ganpati Puja at Lataji's and (music director) Laxmikantji's homes during my early working days and that's how I too began celebrating Ganesh Chaturthi at my place. Neil is currently designing our new house in Lower Parel with our Ganpati celebrations in mind.
Latadidi and I also had this great bond over perfumes. Our love affair with perfumes started in 1976 when I started going on shows with her.
As soon as the aircraft took off, I would purchase a favourite fragrance of mine, called Diorissimo, and request the airhostess to take it to this beautiful lady in the first class. Most of the time we travelled Air India, so the staff knew her, and I'd say: "Just give it to her, she'll know who sent it." She'd be thrilled.
Then came a time when we'd gift each other perfumes. She'd get one for my mother or my wife or get me a male fragrance. As late as 10 years ago, I'd call her from the US and say: "I've set off for shopping, what perfume should I buy for you, Didi?"
And she'd bashfully say: "Chhod na, I've already got so many." But I would always bring her a fragrance.
Indians are the top diamantaires in the world. Gujaratis, Jains and some other Indians are widespread in the business, they're the best and perhaps the most honest too. I took her to one of my friends, one of the top diamond merchants in New York.
Once he knew who I was bringing to his place, he jumped with excitement, shut his office for the rest of the day, sent everybody away and entertained Latadidi enthusiastically while she enjoyed shopping for diamonds. She was very fond of diamonds but she forgot that she herself was the Kohinoor among them.
A total foodie, the food before her had better be tasty. Otherwise, she'd push the dish away. She had her code language with close nieces and nephews like Nandu, Ashaji's son who was one of her big favourites. One signal from her and they all knew when to whisk away a dish. So she had this great palate for tasty food.
Forty-three years ago, the day I lost my sister Neelu, I became a vegetarian. Before that, Lataji once took me to Kolhapur to taste a dish called pandhara rasa, which is meat cooked in a white coconut gravy. She loved cooking too. A few times when we rehearsed in the hall below Prabhu Kunj where she lived, she would tell me "Aaj tu upar hi khana khaana (Today, come up and eat)" because she would have personally made something.
I've heard her say: "Majha doka itki dukta, mala ek ice cream aanoon dya…."
It meant she had a headache and wanted an ice cream for relief. Of course, she took care of her throat, did her riyaaz religiously. But she liked her ice cream, her food, her pickles.
She was a person who looked after and kept a family together, holding them all close to her. I'm too small a person to make this observation but I do think it was because of her devotion to her family that she herself stayed unmarried. Her sisters, her younger brother, her nieces and nephews were her world. She did everything she could for each of them, and showed them the world.
How much the family matters and how to keep a family together were things that I absorbed watching her. And she treated me as a part of her family. She never excluded me from any holiday or outing after the concerts. When a tour was over, we would go to Las Vegas, Los Angeles, Disneyland. She was like a child in Disneyland. But she never gave up her Indianness, she'd wear a salwar-kameez and dupatta with a jacket.
She was also an enthusiastic photographer, very fond of collecting cameras and gifting cameras. She herself was almost a world-class photographer. People of her calibre would be leaders in any field. If she'd been a doctor, she'd have been the No. 1 doctor in the world. Because she was a perfectionist with a dedication that was of another level.
She sent me numerous pictures of Papa after he passed away, pictures that she had clicked. She loved sightseeing and the wildlife. She took me to Kenya (East Africa) on so many safaris. She took me to the Mount Kenya safari club, to Masai Mara. She could've put me on a plane and said: "Go home, the shows are over." But no, she took me with her as one of her own.
As she grew older, our personal meetings stopped. Over the last five-six years, it became more of WhatsApp chats than meetings in person. In 2019, when she completed 90 years, her birthday happened to fall on the first day of Navratri. I usually like to do the first darshan at Ambaji every Navratri. I called her, wished her and asked what she'd like me to do for her at Mata Ambaji. She asked me to chadao (offer) a certain sum of money in her name and get her the prasad.
So I went to the counter, got a coupon for the prasad and on the pauti (slip) where you have to give a name, I wrote: "Daughter of the nation Ms Lata Mangeshkar." I sent her a WhatsApp picture of it.
How can I forget what she did when my whole family and I got Covid during the second wave in April 2021? She got to know about it when it was announced on TV. We were very scared because six of us had tested positive and the second wave was vicious and precarious.
As soon as she got to know, she called me and said: "Nothing will happen to your family. I will be praying for all of you."
I felt that coming from her lips it was a blessing. She said: "Mukesh Bhaiya was a huge Ram bhakt. So I'm going to send you a Ram darbar, keep it in your mandir. Ramji will protect your family."
She ordered a beautiful Ram darbar from one of her silversmiths and when it was ready within a day or two, my chauffeur went and collected it from the ground floor. As a precaution, nobody could go up to her floor because of the raging Covid. The Ram darbar reassured me that there was nobody as loving and caring as her.
From then onwards, we would exchange a prayer or a bhajan or memories like something about Papa, or pictures of her and me. Sometimes, she would send me links to Papa's songs or their duets together. Many a time she'd send just a voice message asking: "How are you? Remembering you, blessings. Tum sab theek ho na?"
Mentally she was all there, sharp as ever despite the age.
Amid the pandemic, we regularly chatted over WhatsApp. The last message from Didi came to me on January 4, 2022, when she messaged me: "Zindagi ki na toote ladi…."
But after January 4 when I didn't hear from her, I got a little anxious. It was not like her to be silent for so long.
Then Neil rang me up and told me: "Have you heard, Papa, that Didi is not well?"
I called up Rachna, her niece, and she comforted me saying they had to shift her to hospital as a precautionary measure. In a hospital, they could ensure that nobody went near her for her own safety.
But I sensed something amiss after January 4. It wasn't like her not to reply to a text for so many days.
Didi was a divine presence in my life. A world without Lata Mangeshkar is unimaginable.
As told to Bharathi S. Pradhan