Murders of 2 Congress workers in Kasargod rock Kerala
CPM condemned the murders of Kripesh, 19, and Sharath Lal, 24, and promised action if any of its cadres were involved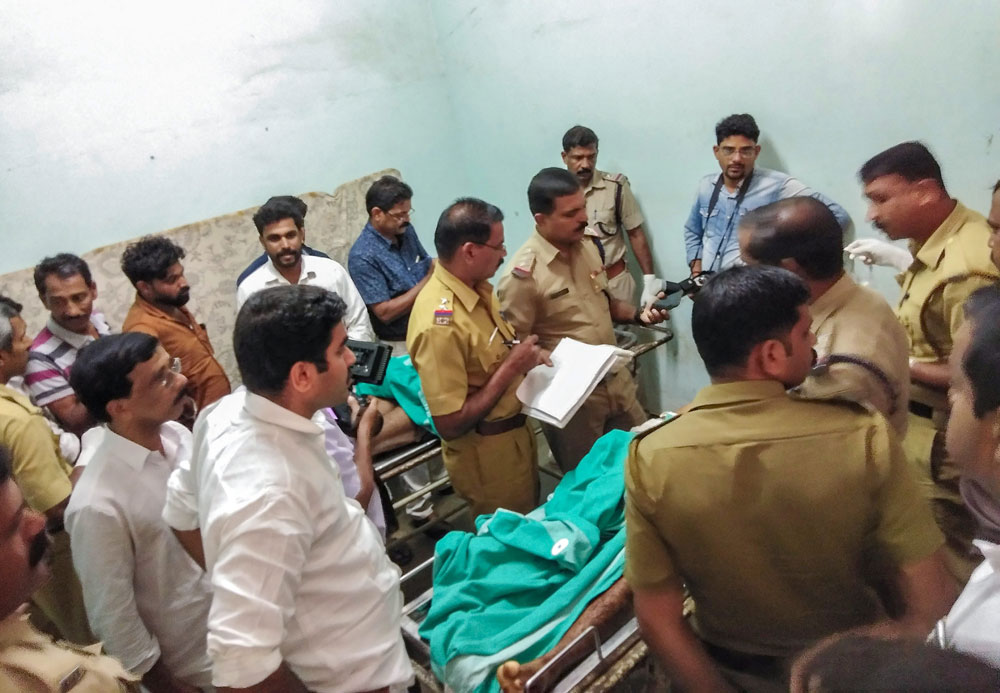 Police conduct an investigation after two Youth Congress activists were killed in Kasaragod on Monday.
(PTI)
---
Bangalore
|
Published 18.02.19, 10:16 PM
|
---
Unidentified assailants hacked two Youth Congress workers to death on Sunday night in Kasargod district in northern Kerala, for long a hotbed of political violence, triggering allegations that local leaders of the ruling CPM had hired the hit men.
The state CPM condemned the murders of Kripesh, 19, and Sharath Lal, 24, and promised strong action if any of its cadres were involved.
Kerala High Court stepped in too, hauling up the Congress and its United Democratic Front allies for contempt after they called a shutdown in protest against the killings.
Police sources said Kripesh and Lal were attacked in Kalliyode locality, a CPM stronghold in Kasargod, around 8pm and at least three assailants seemed to have followed the two victims as they rode home on a motorbike.
Kripesh, a polytechnic student, died on the spot, his skull split by perhaps a single hit that caused an 11cm-long and 2cm-deep cut on the top of his head. There were wounds on his body and limbs too.
Lal suffered 15 deep cuts all over his body and a deep wound on his forehead and died on the way to a hospital in neighbouring Mangalore in Karnataka.
The nature of the injuries, the sources said, indicate the two were hacked with machetes, weapons regularly used by professional hit men.
The state police headquarters confirmed that two men had been taken in for questioning. The police have sought the help of their Karnataka counterparts since the suspects appear to have fled to the neighbouring state that borders Kasargod.
Sunday's attack on the two Youth Congress workers was the first in recent memory in Kasargod where violence has led to loss of lives. But Kannur, about 90km away, has for long been the hotbed of political violence in Kerala.
The CBI had recently named CPM Kannur district secretary P. Jayarajan and MLA T.V. Rajesh, among others, in a case linked to the murder of Indian Union Muslim League worker Ariyil Abdul Shukur in 2012.
More recently, 11 CPM workers were booked for the murder of Congress activist Shuhaib in Mattannur in March last year.
Kerala state Congress president Mullapally Ramachandran, who visited the families of Kripesh and Lal, lashed out at chief minister Pinarayi Vijayan and the CPM's "murderous politics".
"They (the victims' families) are farm labourers, and the CPM talks about their love for the labour class," he said.
"I request you (Vijayan, who is from Kannur) to get your party cadres to lay down arms and usher in peace. This is an opportunity for you to end the violence in Kannur and Kasargod," Ramachandran said.
CPM state secretary Kodiyeri Balakrishnan promised suitable action if any party cadre were found to be involved with the murders.
"Our government is trying to maintain peace in the state. These murders will only weaken that initiative. Whatever may be the reason, such acts cannot be justified," he said. "The police are doing everything to bring all the culprits to justice."
The Congress and its UDF allies called a shutdown in Kasargod but, by 9am on Monday, the protest had spread as state Youth Congress chief Dean Kuriakose called for a dawn-to-dusk shutdown across Kerala, disrupting normal life.
The high court took up the shutdown on its own, saying it was in contempt of its January order not to call any without a seven-day notice. The order had come on a batch of petitions against frequent shutdowns.
The court has summoned Kuriakose, Kasargod UDF chairman M.C. Kamruddin and convener A. Govindan Nair to appear before it on Friday.