Cost of admission delay: 3 patients, 1 doctor at Mumbai hospital
Resident doctors' representatives are angry that no one had apologised for what they have described as unprovoked assaults by Delhi police on the protesters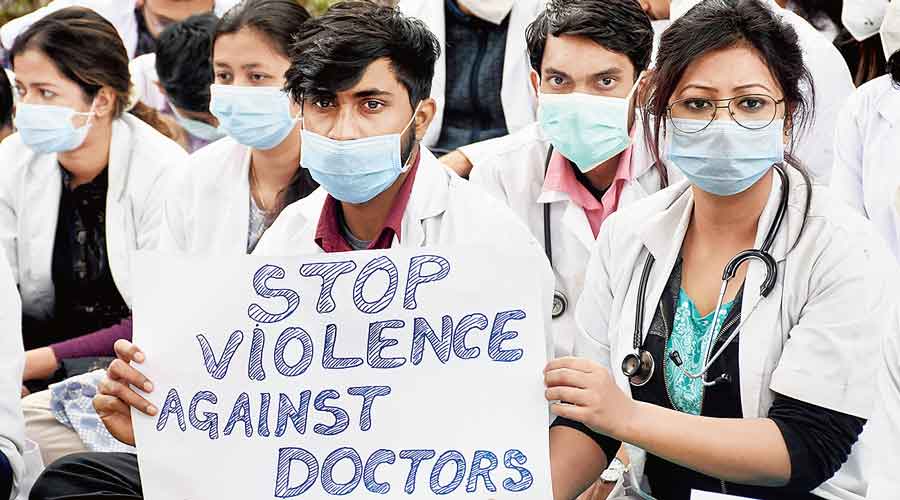 Doctors protest in Guwahati.
PTI Photo
---
New Delhi
|
Published 30.12.21, 03:28 AM
|
---
Around 8pm on Wednesday, paramedics wheeled three men, victims of a road accident, into the emergency department of a government medical college and hospital in Mumbai.
The men had various injuries — on the abdomen, knee, chest — and one was bleeding from his scalp from a head wound, resident doctors on duty said.
Each victim ideally needed immediate medical attention, but only one resident doctor from orthopaedics — the speciality that deals with accidental trauma — was available. The other orthopaedics resident was in the operation theatre assisting with another trauma surgery.
Had the Union health ministry speeded up admissions to postgraduate medical (PG) courses this year, after a delayed entrance exam held in September, the emergency department could have had one more orthopaedic resident on call.
"The single resident had to manage the three men, one at a time," said another resident doctor, specialising in respiratory medicine and also on duty. "An extra orthopaedic resident would have meant speedier treatment for the victims."
The respiratory medicine doctor tried to help the man with the bleeding scalp while attending to two other patients with respiratory issues — one with breathing trouble, the other coughing blood.
Around 80,000 second-year and third-year resident doctors across the country have since July managed workload that would have been shared by 120,000 residents had the first-year residents arrived.
The resident doctors in the Mumbai hospital are among tens of thousands in multiple states protesting against the admissions delay. They have been urged to join a nationwide strike after Delhi police interrupted and clashed with doctors marching on the capital's streets on Monday.
Resident doctors from many public teaching hospitals in Bengal, Bihar, Delhi, Haryana, Maharashtra, Punjab and Rajasthan withdrew from elective healthcare services on Wednesday, members of the Federation of All India Medical Association (Faima) that had issued the strike call said.
Admissions to PG courses have stalled because a proposal by the Centre to introduce reservations for the economically weaker sections (EWS) was challenged in the Supreme Court. Resident doctors are questioning the decision to introduce the EWS quota in a year when the entrance exam had already been postponed from January to September.
How soon the strike call would be withdrawn appeared to hinge, on Wednesday night, on an apology that hadn't emerged yet and humanitarian considerations, said members of Faima, a body of resident doctors' associations across states.
Resident doctors' representatives from multiple states held an online meeting on Wednesday night to decide whether to continue their strike, angry that no one had apologised for what they have described as unprovoked assaults by Delhi police on protesting doctors.
Policemen assaulted doctors and some policemen dragged women resident doctors towards police vehicles, breaching protocols that require policewomen to control women, Faima members said. They have released videos of the incidents.
Union health minister Mansukh Mandaviya had on Tuesday expressed regret. But Faima executives and resident doctors said on Wednesday that the absence of an apology appeared to reflect a blatant disregard for the medical profession.
"An expression of regret is not an apology," said Suvrankar Datta, Faima general secretary. The police, he said, have filed FIRs accusing the doctors of causing injuries to police personnel and vandalising vehicles.
"We have released our videos. Show me any videos or images that show doctors doing any of these things. We expect an apology," Datta said.
The Maharashtra Association of Resident Doctors (Mard) at the King Edward Memorial Hospital, Mumbai, said on Wednesday that resident doctors would withdraw from all routine outpatient department services as well as non-Covid intensive care unit and emergency services from 5pm on Thursday.
"We have been working at 66 per cent capacity for the past seven months," Mard said in a note to the dean of the KEM Hospital. The residents will continue to work in full capacity in the Covid-19 wards and ICUs and offer all Covid-19 services.
Faima president Rohan Krishnan, a senior resident at a government hospital in Delhi, said the final decision on the length of the strike would be taken in consultation with the state associations.
"Residents will always be available for emergency services," he said. "We also realise that Covid-19 cases are rising and there is a threat of a third wave. We will take these into consideration."