Mufti daughter: Mom not slapped
"Such cheap sensationalism stories certainly don't behove a newspaper of your reputation", she said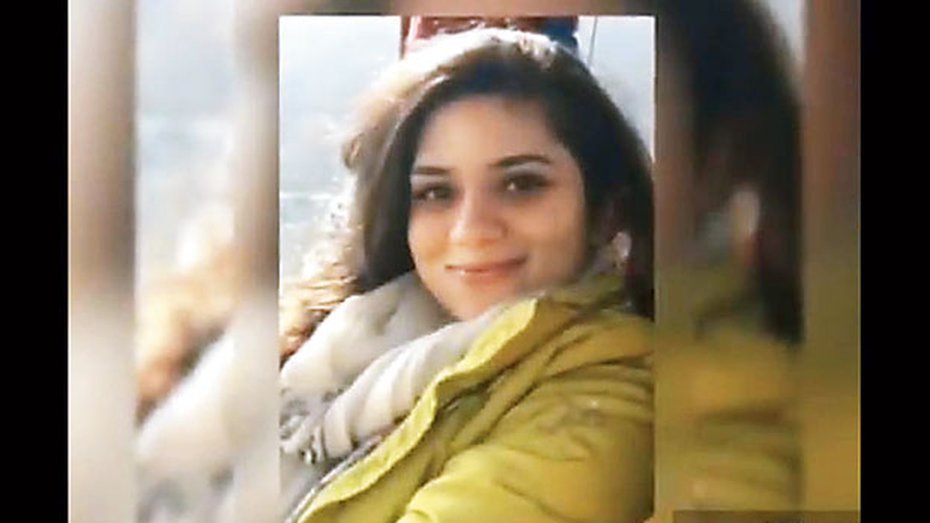 "I am sure you will agree that journalism certainly isn't concocting nonsense and attributing it to 'sources'. That's expected of Indian Rwanda TV and other pliable newspapers. Not The Telegraph.," said Iltija.
Telegraph picture
---
Published 20.11.19, 08:53 PM
|
---
Iltija Mufti, daughter of former Jammu and Kashmir chief minister Mehbooba Mufti, sent the following rebuttal to The Telegraph on Wednesday in response to the article written by Murtaza Shibli, headlined "In custody in Kashmir: Slap, kick and rats".
"The Telegraph published an article today regarding the current situation of political detainees in Kashmir. Your correspondent claims that my mother, Ms Mehbooba Mufti, has been manhandled by lady police constables and is a 'psychological wreck'. He then goes on to write that in the course of an altercation, she was repeatedly slapped in the face and head.
"I have to admit that since her incarceration I heard all kinds of bizarre rumours but this surely is the most absurd one. The sense of disappointment one feels is compounded by the fact that this has been printed by a credible independent newspaper like The Telegraph whose recent coverage vis a vis Kashmir has been outstanding and based on ground realities.
"Such cheap sensationalism stories certainly don't behove a newspaper of your reputation that has stood up to the establishment and reported the truth.
"I am sure you will agree that journalism certainly isn't concocting nonsense and attributing it to 'sources'. That's expected of Indian Rwanda TV and other pliable newspapers. Not The Telegraph.
"In the course of these three months, I have spoken up constantly about the manner in which Kashmiris have been brutalised. I also speak as an anguished daughter and find it quite odd that your correspondent didn't bother double checking the lies that he eventually passed off as 'the truth'. The intention to malign Ms Mufti's reputation is painfully obvious. I hope in the future you are more responsible about your reportage.
"Meanwhile, I recommend the gentleman in question sticks to writing fiction novels."
Tassaduq Hussain, brother of Mehbooba Mufti, also wrote to this newspaper, saying the article "presents an aspect of truth but is pockmarked by his (the writer's) own embittered imaginings. At one point in his article, while talking about my sister Mehbooba Mufti, he goes on to say 'she calmed down before receiving a few slaps on her face and head…'. What is the source of Mr. Shibli's information? Has The Telegraph cared to verify this fact before printing it?"
The Jammu and Kashmir People's Conference said it strongly denies claims made in the article about its chairman Sajad Lone and objects to the publication of "false and unverified accounts of unknown sources as news".
Murtaza Shibli, a British Kashmiri author and journalist who lives between Srinagar, Lahore and London and who wrote the article, responds:
"The article on the conditions of the detained unionist Kashmiri politicians has evoked quite some interest from several quarters, including Kashmiris living in India, Pakistan and beyond. The most strong reaction has come from Mehbooba Mufti's close relatives — her daughter Iltija Mufti and brother Tassaduq Hussain Mufti, a film-maker-turned-politician.
"I can appreciate the pain and anguish the Muftis might feel at Mehboobaji's incarceration as well as the loss of raw political power and prestige that they all enjoyed. But that was not my inspiration. My motivation was to offer a counter-view to an officially curated version that attributed all the selective information about the detainees to official sources.
"I stand by my rendition of the anecdote that mentions the former chief minister Mufti.
"The introductory note in the article clearly mentioned about the politico-security milieu that discourages people to speak on record; therefore, it is hard to accept Mr Mufti's challenge to reveal sources. But I took care to include only those details that were corroborated by more than one source.
"I must thank Ms Mufti for her recommendation to consider writing 'fiction novels'. I have been mulling over it for a while and would certainly consider at least one of them. I welcome her prompt on this."