More to 'Jai Shri Ram' than what PM chanted
Modi: those who chanted jailed in bengal. Youth: picked up for probe but not arrested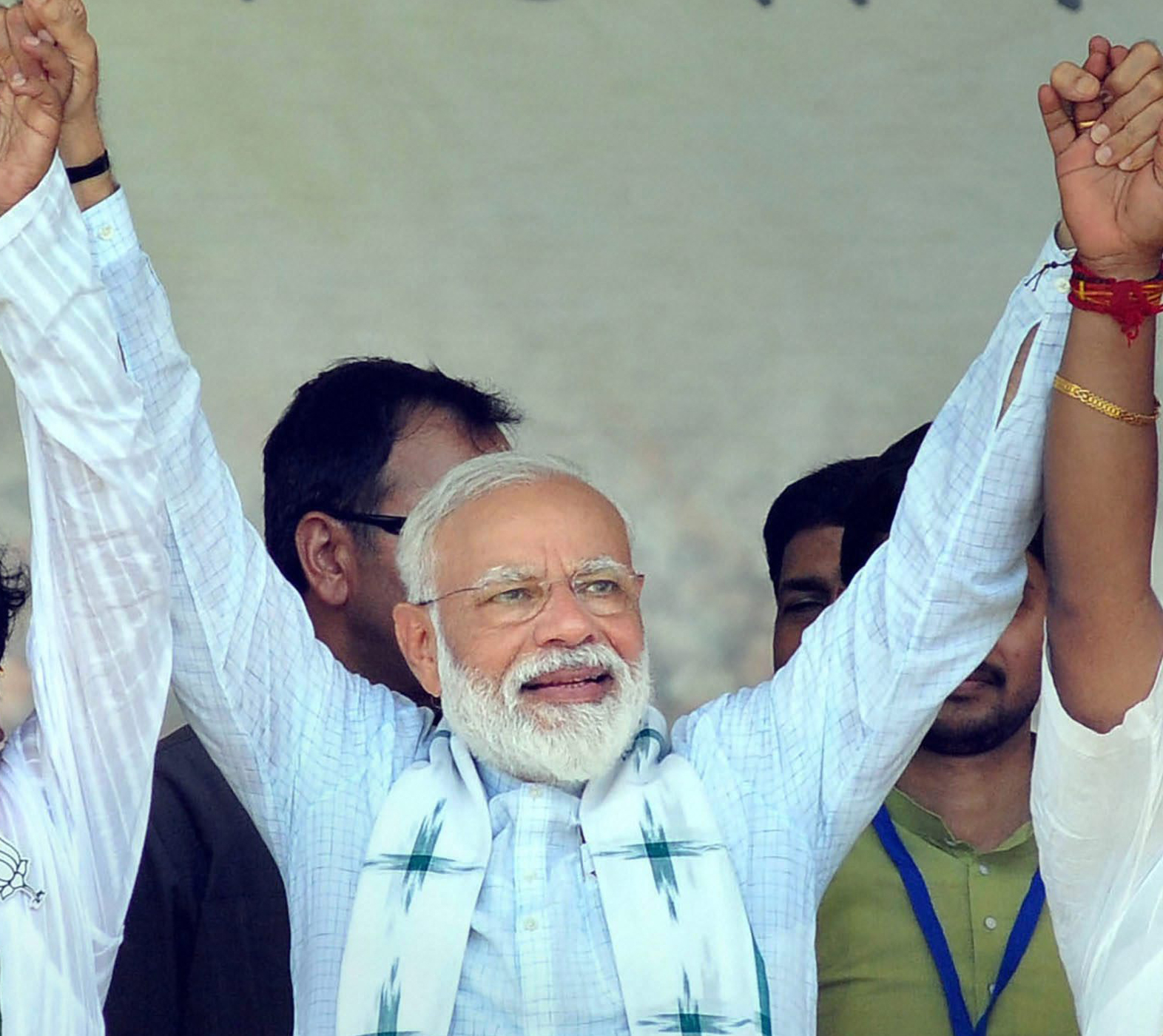 Prime Minister Narendra Modi during an election rally for Lok Sabha polls, at Haldia, West Bengal on Monday, May 6, 2019.
(PTI)
---
Jhargram(WestMidnapore)
|
Published 07.05.19, 02:33 AM
|
---
Prime Minister Narendra Modi on Monday said people were being jailed in Bengal for chanting "Jai Shri Ram" — an explosive charge that runs the risk of inflaming passions in the middle of the general election.
Enquiries by The Telegraph suggest Modi was either not aware of the full story or he chose to tell only a part of it that suits his party's narrative. One of the three youths who were allegedly jailed told this newspaper that they were not arrested but taken to the police station. The youth said he was briefly kept in the lock-up but allowed to sit outside after 10 minutes and released after several hours.
"Now Didi has started sending the people to jail for chanting the Jai Shri Ram slogan. So, I think, let me chant the Jai Shri Ram slogan, so she will send me to jail. I will help the innocent people who have been jailed for chanting the slogan," Modi said during his address at Jhargram.
The Prime Minister appeared to be referring to an incident in Chandrakona, West Midnapore, on Saturday. A group of youths had chanted "Jai Shri Ram" while chief minister Mamata Banerjee's convoy was passing by.
In a video that BJP leaders circulated widely on Saturday, Mamata was seen alighting from the vehicle. "Why are you running away? They are hurling abuses," she was heard saying.
Some BJP leaders cited the clip to claim that Mamata considers "Jai Shri Ram" offensive. From the clip, it is not clear whether the shouting was confined to the chant or whether abuses were also hurled. These BJP leaders also claimed that three party activists were "arrested".
On Monday, in response to a question, district police chief Alok Rajoria said the youths were not arrested. "We only questioned them as it was a matter of the chief minister's security. There is no question of arresting them," Rajoria said.
The police did take the three youths — Sitaram Middha, the BJP youth wing president of Chandrakona South; his brother Saheb Middha; and Buddhadeb Dalil, another BJP supporter — to Chandrakona police station on Saturday afternoon.
"We were not slapped with any case nor were we arrested," Sitaram told The Telegraph.
He added that neither he nor the two others picked up along with him had chanted "Jai Shri Ram" when the convoy was passing by.
"Some youths in the area were chanting 'Jai Shri Ram' when a convoy carrying the chief minister pulled up. Some time after the convoy left, the police came to the area and picked me up and two others," Sitaram recounted.
According to him, the police did not tell them why they had been picked up. "They just told us to accompany them to the police station," he said.
"We were put behind bars after being taken to the police station…. Our local leader, Rajib Pal, reached the police station within 10 minutes and we were immediately taken out of the lock-up. Then, we were made to sit on a blanket in the thana and, after around six hours, we were allowed to return home," said Sitaram.
He added that the trio were neither interrogated nor tortured.
At the Jhargram rally, Modi spent over seven minutes dwelling on the issue. "Is chanting Jai Shri Ram banned in Bengal? Why are you sending the people to jail for chanting Jai Shri Ram?" the Prime Minister asked.
Probably realising that Modi would broach the issue, Mamata had referred to Lord Ram earlier at a rally in Bishnupur.
"Does Ram Chandra become the BJP's election agent every time an election arrives?" she asked.
"The slogans of the people in Bengal have, for generations, been Vande Mataram of Bankim Chandra Chattopadhyay and Jai Hind of Netaji Subhas Chandra Bose…. Why should we give your slogans?" she asked.
"When we perform Durga Puja, we say 'Jai Ma Durga'. During Kali Puja, we say 'Jai Ma Kali', and so on…. We do not have a particular (religious) slogan, contrary to what the BJP believes," Mamata added.
"The BJP, with all its chants of 'Jai Shri Ram', has not even been able to set up a Ram temple in the country in five years," she added.
Additional reporting by Abhijeet Chatterjee