Mohammed Zubair pays price of 'challenging the influential'
Chief metropolitan magistrate Snigdha Sarvaria passes custody order after hearing arguments from Delhi police as well as the accused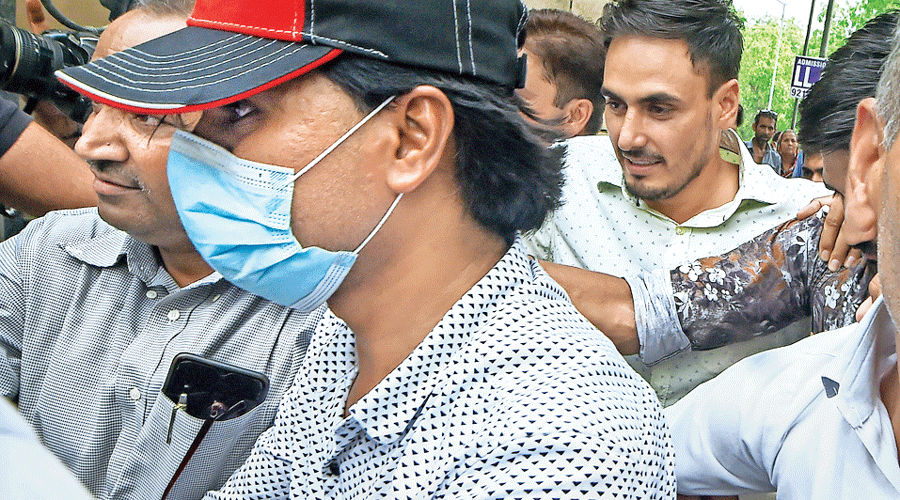 Zubair being taken to the court in New Delhi on Tuesday.
PTI picture
---
New Delhi
|
Published 29.06.22, 02:08 AM
|
---
A Delhi court on Tuesday extended by four days the police custody of journalist and AltNews co-founder Mohammed Zubair, whose counsel told the court that her client was arrested because "I have been challenging people who are influential".
Zubair was arrested on Monday evening on charges of hurting religious sentiments and promoting enmity with reference to a tweet he had posted in 2018.
 Zubair was arrested weeks after he called out suspended BJP leader Nupur Sharma's derogatory comments against Prophet Mohammed. The Delhi police had registered an FIR against Sharma but so far have not arrested her in the case.
Chief metropolitan magistrate Snigdha Sarvaria passed the custody order after hearing arguments from the Delhi police as well as the accused. The order suggested that remand was being extended to let the police take Zubair to his Bangalore home to recover the laptop from which the tweet was posted.
Zubair's counsel Vrinda Grover told the court that the still image her client had tweeted was from legendary filmmaker Hrishikesh Mukherjee's 1983 film Kissise Na Kehna. "The videos are available on the Internet. This image is from the film and there is no editing that the accused or anyone else has done," Grover said.
"This image, shown as a reason for arresting someone, comes from a Hindi film. This is an image from a Hrishikesh Mukherjee film. Not a place of worship. This is a joke on the honeymooners. Where is the damage? Prima facie where is the case? Yes, I am a journalist, I have a Twitter following and speak my mind in an independent country. See the anonymous Twitter handle that (was) opened only in 2021 and says this is offensive to Hindus. The entire case borders on absurdity," Grover submitted.
A romantic comedy, Kissise Na Kehna is neither banned nor any part deemed objectionable in 39 years.
Zubair had tweeted on March 24, 2018: "Before 2014: Honeymoon Hotel. After 2014: Hanuman Hotel. #SanskaariHotel." He had attached to the tweet a still from the film that shows the Hindi signboard of a hotel changed from "Honeymoon Hotel" to Hanuman Hotel" by whitewashing and adding a few Saravarnas, or vowels in English.
Before 2014 : Honeymoon Hotel
After 2014 : Hanuman Hotel. #SanskaariHotel pic.twitter.com/1ri5i3IXy8

— Mohammed Zubair (@zoo_bear) March 23, 2018
In the film, the man at the counter tells a newlywed couple that he belongs to the old school, for which the concept of a honeymoon was alien and women then used to busy themselves in household chores immediately after marriage.
The Central Board of Film Certification cleared Kissise Na Kehna on October 31, 1983, for "unrestricted public exhibition", the certificate number being "093". The film has been shown several times on television and is available on YouTube for free viewing and also on at least one OTT platform, evidently without hurting any religious sentiments.
The complaint against Zubair and his arrest are based on a tweet by a user who identifies himself on the microblogging site as Hanuman Bhakt and uses the handle @balajikijaiin.
Popular YouTuber Dhruv Rathee had tweeted a screenshot on Monday night that suggested that @balajikijaiin had just one follower and was following none.
By Tuesday afternoon, by when @balajikijaiin had himself appealed on Twitter, "follow me", and many social media users had urged others to follow him for facilitating the arrest of a "hate monger", the handle's followers were 1,798 and counting. @balajikijaiin was following 44 people, most of them politicians, journalists and individuals and parties opposed to the BJP. Late on Tuesday night, the account ceased to exist.
In the court on Tuesday, Zubair's counsel Grover asked: "Why am I arrested? Zubair was maliciously targeted. The film was not banned. Everyone saw this and enjoyed the film. It has the CBFC certificate. Where does my tweet insult any religion? From 2018 to 2022 these tweets have not created a flutter. Which are the two groups where enmity is created? Where does it incite? Honeymooners and bramcharis are not two groups creating unrest in this country…."
She told the court that the police were seeking her client's laptop because he was "challenging many things that are happening".
"The police are abusing their power. Today my laptop and phone are a storehouse of information. They want my laptop because I am a journalist. A fishing inquiry begins when a laptop is seized. That tweet cannot withstand any legal scrutiny. I have been challenging influential people who are speaking certain things…."
Grover told the court that Zubair was called for questioning on Monday in a separate case filed in 2020 but was arrested in the present FIR in "unseemly haste". She informed the court that Delhi High Court had granted Zubair protection from arrest in the 2020 case.
The police told the court that Zubair's conduct during the investigation was found "questionable", warranting his further custodial interrogation to "unravel the conspiracy in this matter" as he was not cooperating.
The police claimed that Zubair had made at least four more posts insulting religious sentiments.
"The accused is a journalist and a fact-checker, still using these tweets and posting them on his Twitter account. This is a trend to make one famous by tweeting material which outrages religious feelings," the police contended, adding that Zubair's laptop that was used to make these posts has to be recovered.
Earlier in the day, deputy commissioner K.P.S. Malhotra told the news agency ANI that Zubair's tweet had led to a Twitter storm with hate speeches, which was detrimental to communal harmony.
He denied the charge that Zubair's arrest was politically motivated.