Modi uses spectacle to attack rivals
On Prime Minister's lips: Shiv Bhakts, Charminar tourists and Gir lion admirers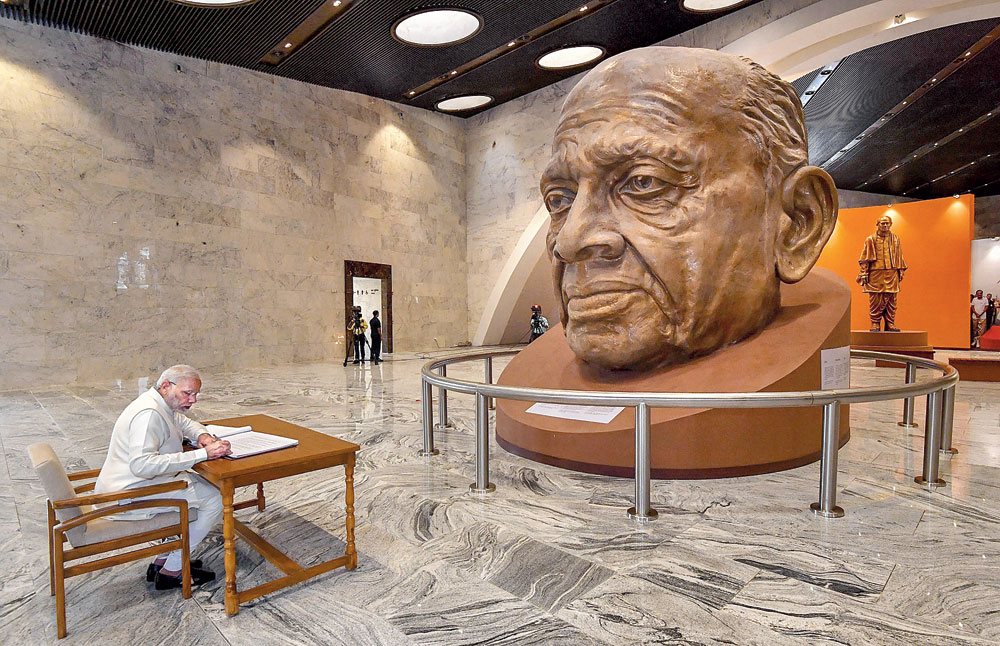 ---
New Delhi
|
Published 31.10.18, 08:54 PM
|
---
Prime Minister Narendra Modi on Wednesday unveiled the world's tallest statue as a tribute to independence icon Sardar Vallabhbhai Patel but appeared to use the hype surrounding the event to shift the focus from controversies the government is embroiled in.
His party and ministers went all out on social media to project the inauguration as a spectacle the country had never seen.
BJP chief Amit Shah and other party leaders also used the unveiling to project Modi as a "determined" leader who like Patel was working hard for "one India (and) great India" and to realise the dream of a "New India" and India as a "vishwa guru" (world leader).
Earlier in the day, jet planes showered flowers on the statue and fireworks exploded depicting the Tricolour as Modi dedicated the statue of the late Congress stalwart to the nation.
The imposing "Statue of Unity" stands on an islet near Sardar Sarovar Dam in Gujarat's Narmada district and has been built at a cost of Rs 2,989 crore.
Modi, who has often accused the Congress of neglecting Patel's contribution towards unifying the country, refrained from attacking his main political opponent on Wednesday except for a mild jibe at Congress chief Rahul Gandhi.
"Some people of this country are seeing our movement through political glasses. We are criticised for praising the contributions of national heroes like Sardar Patel. We are made to feel as if we have committed a serious crime," he said.
"Imagine for a moment that if Sardar Patel had not worked towards uniting the nation, Indians would have to get a visa to see the Gir lions and tigers. Shiv bhakts would need a visa to do puja at the Somnath temple and people would also need a visa to see the Charminar in Hyderabad," Modi said, speaking after unveiling the statue in Gujarat, 3.2km downstream from the Narmada dam.
The inauguration came days after Modi had sought to claim the legacy of another freedom fighter, Netaji Subhas Chandra Bose, by unfurling the Tricolour at the Red Fort on October 21to mark the 75th anniversary of the "Azad Hind government".
Modi had then lashed out at the Congress for neglecting several good sons of the soil in a bid to promote "one family".
On Wednesday, Modi got support from the Rashtriya Swayamsevak Sangh, the BJP's ideological mentor. "Inauguration of the statue in Sardar Patel's memory is a proud moment for every Indian... there should not be politics over this... sometimes people should rise above politics on certain issues," senior RSS leader Manmohan Vaidya said in statement.
Modi said the statue would remind the entire world and future generations about the "courage, capabilities and resolution of the person who thwarted the conspiracy to disintegrate Mother India".
"The statue will remind those who question India's existence that this nation was, is and will remain eternal," he said.