Modi made false promises: Rahul
Rahul said people were angry and that Modi was 'attempting to use hyper nationalism' to divert their attention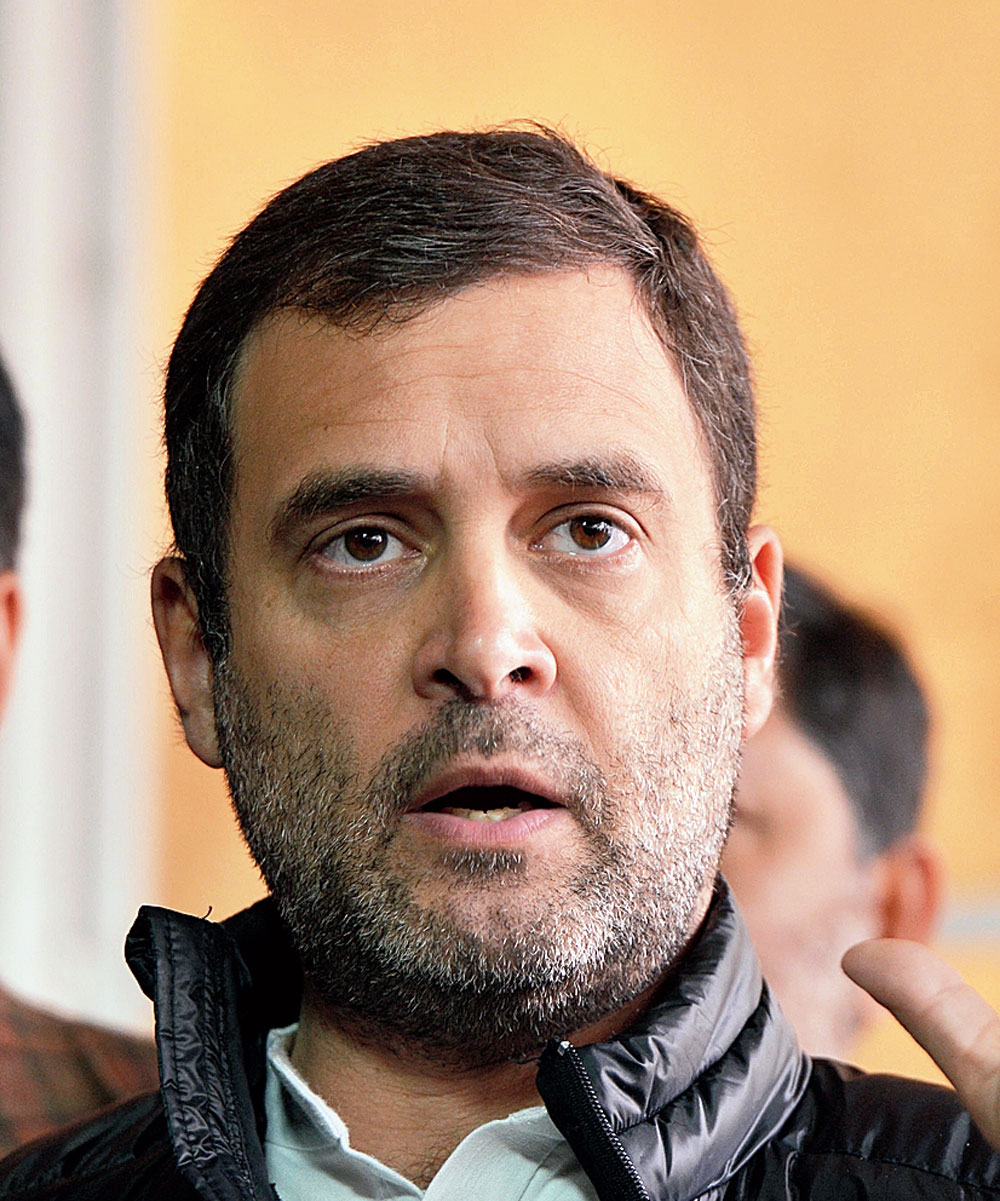 ---
---
Congress president Rahul Gandhi has said that Narendra Modi's lofty promises made in the run-up to the 2014 general election were never meant to be fulfilled and were designed only to bring him to power.
Rahul said on Friday in an exclusive interview with The Telegraph: "I think the promises were never meant to be implemented. They were meant to bring him to power. Modi is an instrument for a set of crony capitalists, and for them he is a very successful Prime Minister. As far as they are concerned, Modi waived Rs 3.5 lakh crore of the debt they owed the country. But he didn't help the farmers. For his friends, he did a great job."
Cautioning the country against Modi's return to power — though he dismissed that possibility outright — the Congress president said: "This election is not a fight for power, but for the soul of India itself…. Our most cherished values are under attack…. There is a systematic assault on our constitutional institutions…. These are only a few examples of the dangerous path the RSS/BJP is taking us down, which will result in anarchy and chaos if they are voted back to power again."
Rahul said that people across the country were angry and that Modi was "attempting to use hyper nationalism" to divert their attention. "But the people of India are not foolish. They can see through this game. There are many reasons for the anger the people are feeling. It starts with the big promises Mr Modi made to win the elections in 2014: Rs 15 lakh in each bank account; the creation of two crore jobs a year; the doubling of farmer incomes; 150 smart cities, etc."
He continued: "These key promises remain unfulfilled, while the government manipulates data and spends thousands of crores in advertising to convince India that all is well and that every Indian should be happy! This, while the youth is struggling with unemployment; farmers are committing suicide in their thousands; the rural economy has been devastated; atrocities are being committed against women, Dalits and Adivasis; and the very idea of India as a pluralistic, secular and democratic nation is being threatened."
The Prime Minister is in denial about the job crisis, Rahul said. "Unemployment is at a 45-year high. The latest data is showing that we are losing 27,000 jobs every day! In 2017-18 alone, according to CMIE, we lost one crore jobs. That is a crisis which should be categorised as a national emergency and tackled accordingly," he said.
Rahul said legal proceedings should have been initiated in the Rafale deal as material available in the public domain shows that Modi arm-twisted the defence establishment to accept a bad deal.
"How much more proof is needed?" he asked. "Anywhere else in the world, the PM would have had to resign and a full-scale enquiry would have been under way."
On the BJP's "Main Bhi Chowkidar" campaign, he said this was a proof that his "Chowkidar Chor Hai" slogan had had a big impact and the Prime Minister was forced to counter it.