Modi is watching you, so stop: Nobel laureate Abhijit Banerjee tells media
PM told him the media would lay anti-Modi trap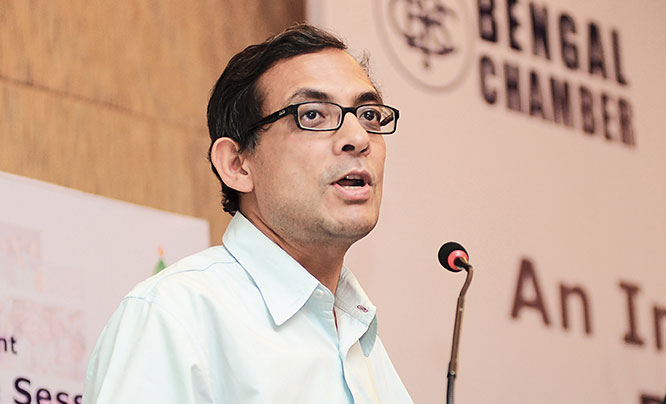 ---
---
Nobel laureate Abhijit Banerjee, who met Narendra Modi today, said that the Prime Minister told him that the media would try to 'trap' the economist into saying 'anti-Modi' things.
The economics Nobel laureate's statement came at a news conference here. Banerjee, an India-born American economist, said the Prime Minister started the chat with him with a joke 'about how the media is trying to trap me into saying anti-Modi things. He's been watching the TV. He's been watching you guys... So stop.' He refused to take more questions on the state of the economy and refrained from commenting on policies of the government.
Since winning the Nobel, Banerjee has frequently been asked about the Indian economy at a time growth has slowed, job figures are dismal, consumption shows a dip and crucial sectors such as automobiles have reported low sales volumes.

At the news conference today, Banerjee said the current banking crisis was 'frightening' and called for aggressive policy changes to deal with the situation.
He said the government should reduce its stake in public sector banks to below 50 per cent so that they are out of the ambit of the Central Vigilance Commission (CVC). Public sector banks were paralysed by 'fear' of their decisions being investigated by the CVC on account of the government holding majority stake in them, Banerjee said. 'It leads to hiding of defaults, which then creates problems. So, I want the government to have less equity in banks so that the fear psychosis in the banking sector is eliminated,' he said.
Hours after winning the Nobel on October 14, Banerjee was asked in MIT about the Indian economy. He said it is in a 'tailspin'. He then flagged another problem - that India's official data had become unreliable and pointed to the current government for causing this. "There is an enormous fight going on in India about which data is right and the government has a particular view… all data that is inconvenient to it is wrong…. But, nonetheless… I think even the government is increasingly recognising that there is a problem," he said in MIT.

Several media reports have highlighted Banerjee's points of view on various issues that are contrary to the Modi-led government's.
Banerjee was among those who had spoken out against demonetisation. He called the move 'weird' and 'bewildering'.
He also spoke up for freedom of expression on university campuses when Kanhaiya Kumar was arrested from JNU in 2016.
On October 14, the otherwise Twitter-happy Prime Minister's delay in congratulating Banerjee also stood out. Modi wished Banerjee on the official handle, @narendramodi, four hours after the Nobel announcement.

The laureate was also among signatories to a letter written in March that called on the Modi government to restore the integrity of statistical organisations.

Banerjee had also said the government should keep off "thinking spaces" like JNU, where he had studied. Universities "provide a space to question whatever we are doing in the name of things we say we believe in or might believe in", he wrote after Kanhaiya Kumar's arrest in 2016.
"It's a space where we can say things we half believe in, or even disbelieve, to provoke a reaction that might teach us what we really believe. Students often say things that they will one day change their minds about, but also things that change our minds when we think about them. We need the space. Please stay out," he wrote.
Yesterday, while talking about corporate tax cuts, Banerjee said: "Mr. Modi has more faith in the corporate sector than I do. The recent tax cuts show that someone in the administration believes that you have to give corporate sector lots of money to get growth. I do not believe that.'
On the sidelines of the news conference today, the economist said the Prime Minister spoke about the mistrust of people on the ground that colours governance and creates 'structures of elite control'.
The complaint about 'elites' was heard yesterday too. It came from foreign minister S. Jaishankar. The minister was speaking about the challenges before him when explaining the abrogation of Jammu and Kashmir's special status to foreign governments. He said: 'I think it was a much more difficult challenge with the media, especially the English-speaking liberal media because partly they were very ideological about it, they had strong preset views on this subject.'