Modi has no moral right to continue as Prime Minister, says Congress
Party cites China's hoisting of its flag in the Galwan Valley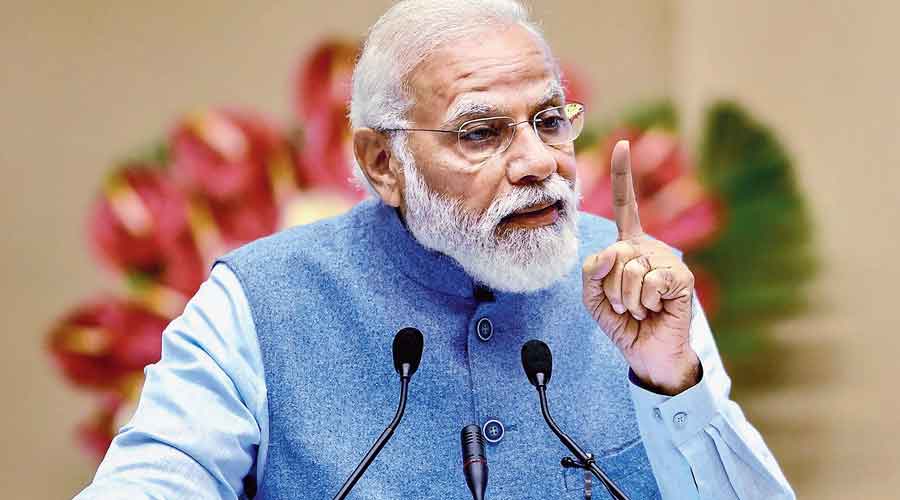 Narendra Modi.
File photo
---
New Delhi
|
Published 04.01.22, 01:47 AM
|
---
The Congress on Monday cited China's hoisting of its flag in the Galwan Valley and Meghalaya governor Satya Pal Malik's charge of government insensitivity towards farmers to accuse Narendra Modi of being unfit for the post of Prime Minister.
"Modi has no moral right to continue as Prime Minister," Congress communications chief Randeep Surjewala said, accusing him of compromising on India's territorial integrity.
"If Modi can't protect India from the Chinese threat, he should relinquish his office."
Surjewala called Modi a "weak" Prime Minister and described him as "insensitive and irresponsible" in the context of the recent farmers' agitation.
Malik, who had made several critical statements in the last few months about the government's inflexibility on the (eventually repealed) farm laws, was quoted as saying at a public event in Haryana on Sunday: "When I went to discuss the issue of farmers with the Prime Minister, a conflict occurred within five minutes. He was full of arrogance. When I pointed out that 500 farmers had died already, he said, 'Did they die for me?' I said they died because of you, they made you the emperor."
Responding to Malik's comments, Surjewala said: "The governor's talk with the Prime Minister has stunned everybody. It exposed Modi's real face, his anti-farmer mindset. No Prime Minister had in seven decades demonstrated such insensitivity towards the farmers. Modi acts as a representative of the capitalist and is part of the conspiracy to harm farmers' interest."
He added: "Modiji, farmers didn't die for you but they died for the country. They sacrificed their lives to save agriculture. You speak this language because you work for the corporate (world). The country has never seen such a face of any Prime Minister. You should apologise to the farmers and the nation. You should also form the committee promised on the MSP within 24 hours and announce compensation for the dead farmers."
The government's refusal to pass a condolence resolution in Parliament or pay compensation over the farmer deaths has prompted Opposition parties to accuse the Prime Minister of cruelty.
During the yearlong agitation, BJP leaders had maligned the farmers as Khalistanis and Naxalites. The visuals of dug-up highways, roads bristling with nails, and barbed wire — all meant to stop the protesting farmers — had attracted global attention.
Now, a governor commenting on the Prime Minister's "arrogance" has created a bizarre situation.
"The government should sack Malik as governor if he is lying," Surjewala said. "If not, the Prime Minister should tender an apology."
The government's failure to dismiss Malik despite his repeated attacks has given rise to speculation that it fears the governor might cause more damage if he is sacked. Malik had earlier alleged rampant corruption in Jammu and Kashmir and Goa where he had been posted as governor.
Surjewala took on Modi also over reports that the Chinese had hoisted their flag in the Galwan Valley, an India-claimed area in eastern Ladakh on which Modi had earlier made a controversial comment.
Four days after a clash killed 20 Indian soldiers and several Chinese troops in the Galwan Valley on June 15, 2020, Modi had declared that none had entered or was occupying Indian territory --- allowing Beijing to claim ownership of all the territory it was being accused of occupying.
"Modi is playing with national security. India's sovereignty isn't safe in his hands. He has proved to be a weak Prime Minister. China not only grabbed India's territory in Ladakh and Arunachal, it set up villages on our land and renamed locations. But Modi is frightened; he doesn't even take China's name," Surjewala said.
Modi has criticised "expansionism" by nations but not named China once since the Ladakh standoff erupted in May 2020.
Rahul Gandhi, who has taken the lead in attacking the Prime Minister's silence and inaction on the Chinese intrusion, commented on Sunday too after videos showed what appeared to be Chinese forces unfurling their country's flag in the Galwan Valley.
"Only Indian Tricolour looks good on Galwan. We will have to give a befitting reply to China. Modi ji, break your silence," he tweeted.
गलवान पर हमारा तिरंगा ही अच्छा लगता है।

चीन को जवाब देना होगा।
मोदी जी, चुप्पी तोड़ो!

— Rahul Gandhi (@RahulGandhi) January 2, 2022
Rahul and Congress general secretary Priyanka Gandhi Vadra also castigated Modi for failing to sack Union minister Ajay Mishra Teni despite his son's arrest after a car belonging to the minister allegedly mowed down four farmers and a journalist in Lakhimpur Kheri. A special investigation team has called the killings "pre-planned".