Modi has 'excellent meeting' with Abhijit Banerjee
Meeting comes days after Piyush Goyal's remark that laureate is 'Left-leaning'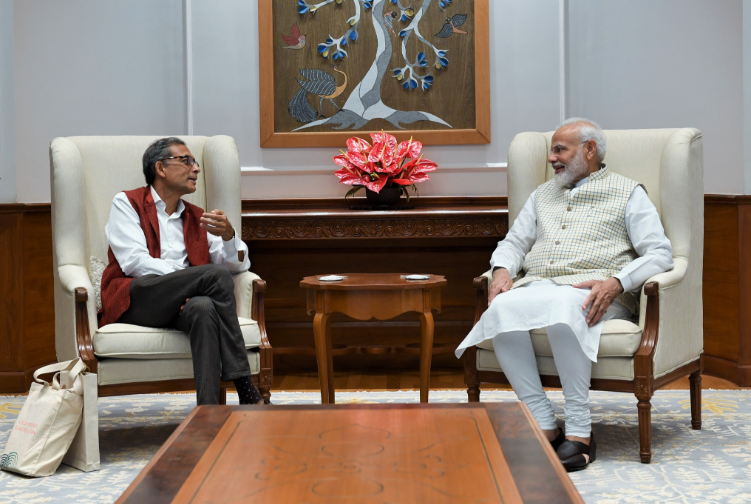 ---
---
The Prime Minister today said he had an "excellent meeting" with economics Nobel laureate Abhijit Banerjee, whose work a senior minister in his government had tried to belittle.
On October 18, railway minister Piyush Goyal had remarked that Banerjee was "totally Left-leaning" and had supported the Nyay poverty alleviation scheme promised by the Congress during the Lok Sabha elections. "People of India rejected his ideology," Goyal said.
Banerjee, now in India, had remarked that the commerce minister was "questioning my professionalism".
From the moment Banerjee won the Nobel, there were reports on his points of view that run contrary to several ideas of the current government.
Banerjee had called demonetisation "weird" and "bewildering" and had flagged the unreliability of official data.
Hours after winning the Nobel on October 14, Banerjee told a news conference in MIT: "There is an enormous fight going on in India about which data is right and the government has a particular view… all data that is inconvenient to it is wrong…. But, nonetheless… I think even the government is increasingly recognising that there is a problem."
On October 14, Twitter-happy Modi's delay in congratulating Banerjee also stood out as his congratulations on the official handle came four hours after the Nobel announcement.
Yesterday, while talking about corporate tax cuts, he said: "Mr. Modi has more faith in the corporate sector than I do. The recent tax cuts show that someone in the administration believes that you have to give corporate sector lots of money to get growth. I do not believe that.'
The laureate was also among signatories to a letter written in March that called on the Modi government to restore the integrity of statistical organisations.
Banerjee had also said the government should keep off "thinking spaces" like JNU, where he had studied. Universities "provide a space to question whatever we are doing in the name of things we say we believe in or might believe in", he wrote after Kanhaiya Kumar's arrest in 2016.
"It's a space where we can say things we half believe in, or even disbelieve, to provoke a reaction that might teach us what we really believe. Students often say things that they will one day change their minds about, but also things that change our minds when we think about them. We need the space. Please stay out," he wrote.
Modi's tweet today read: "Excellent meeting with Nobel Laureate Abhijit Banerjee. His passion towards human empowerment is clearly visible. We had a healthy and extensive interaction on various subjects. India is proud of his accomplishments. Wishing him the very best for his future endeavours."
Excellent meeting with Nobel Laureate Abhijit Banerjee. His passion towards human empowerment is clearly visible. We had a healthy and extensive interaction on various subjects. India is proud of his accomplishments. Wishing him the very best for his future endeavours. pic.twitter.com/SQFTYgXyBX

— Narendra Modi (@narendramodi) October 22, 2019