Modi govt is Adani-Ambani sarkar: Rahul
The Congress leader reposed faith in his pet theme despite the failure of such a campaign in the 2019 parliamentary elections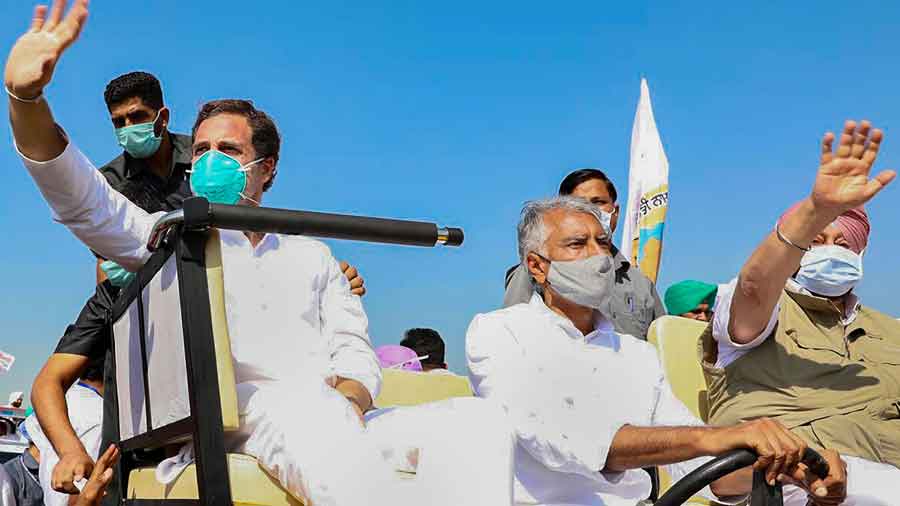 ---
New Delhi
|
Published 05.10.20, 01:17 AM
|
---
Rahul Gandhi on Sunday said Prime Minister Narendra Modi was a "puppet" in the hands of Adani-Ambani, reposing faith in his pet theme that the government was working to safeguard the interests of big companies despite the failure of such a campaign in the 2019 parliamentary elections.
Addressing a farmers' meeting in Punjab's Moga along with top Congress leaders, including chief minister Amarinder Singh, Rahul said: "Why did the Modi government bring these three (farm) laws amidst Covid? It is about money and your land. The corporates have set their sights on your money and land. Modi wants to break your backbone and hand over agriculture to Adani and Ambani."
The Congress MP elaborated: "You must have seen puppet shows. Somebody pulls the strings from behind. Modi is a puppet. It is not Modi sarkar. It is Adani-Ambani sarkar. Modi is handled by Adani-Ambani. They give life to Modi. Modi works for them and they manage the media for Modi."
This is not the first time Rahul has made such allegations; he used to say in the run-up to the Lok Sabha polls that Modi works for a few corporate houses. The incumbent government, however, returned with a bigger mandate.
Persisting with the same line of attack, the former Congress president said: "Agriculture trade rests on three pillars — the mandi system, procurement and MSP (minimum support price). As long as these pillars exist, Modi won't be able to serve his mentors. So he intends to demolish them. He knows abolition of the mandi system and public procurement will destroy farmers. The Congress will not allow this. We will not yield an inch. I don't say the mandi system doesn't have deficiencies. But it needs reform, not destruction."
Arguing that farmers can't be left to the mercy of corporate houses, Rahul said: "I give you a guarantee. The day the Congress comes to power at the Centre, we will throw these three laws into the dustbin. Modi says these laws will help farmers. If that is true, why are farmers protesting? I have seen Modi lie for six years. He said notebandi (demonetisation) would finish black money. Then he cheated small traders with the GST. He had tried to kill the Land Acquisition Act also. We fought and saved you. We will do it again."
Breaking the Covid-imposed shackles on public engagements, Rahul on Sunday addressed meetings and led a tractor rally in Punjab against the new farm laws, a day after stepping out of Delhi with around 5,000 party workers to meet the family of the Hathras gang-rape-and-murder victim.
Although the Yogi Adityanath administration in Uttar Pradesh had allowed only five leaders to proceed to Hathras, no such restrictions were imposed in Congress-ruled Punjab as thousands participated in Rahul's meetings and tractor rally.
The Congress leader will continue his tractor rally on Monday but a confrontation is inevitable when he tries to enter Haryana as the BJP-ruled state has declared that Rahul won't be allowed to violate Covid restrictions. Farmers are protesting in Haryana as well, and Rahul intends to return to Delhi on October 6 after taking part in several programmes in the state.
The Congress has also decided to hold countrywide demonstrations on Monday over the Hathras tragedy.
Party general secretary K.C. Venugopal announced: "In our continued effort to provide justice to the family of the Hathras victim, the Congress will hold a satyagrah in state capitals and district headquarters across the country on Monday morning. Senior leaders, MPs, MLAs, office-bearers, functionaries and workers will participate in the sit-ins."
The Congress general secretary in charge of Uttar Pradesh, Priyanka Gandhi Vadra, wondered why the Hathras district magistrate had not been removed yet. In a series of tweets, Priyanka said: "The worst behaviour with the family was of Hathras DM. Who is protecting him? He should be sacked immediately and his role investigated in the entire episode."
She also asked why petrol was used to burn the body of the victim.