Modi explains the $5-trillion economy
Size matters, says Narendra Modi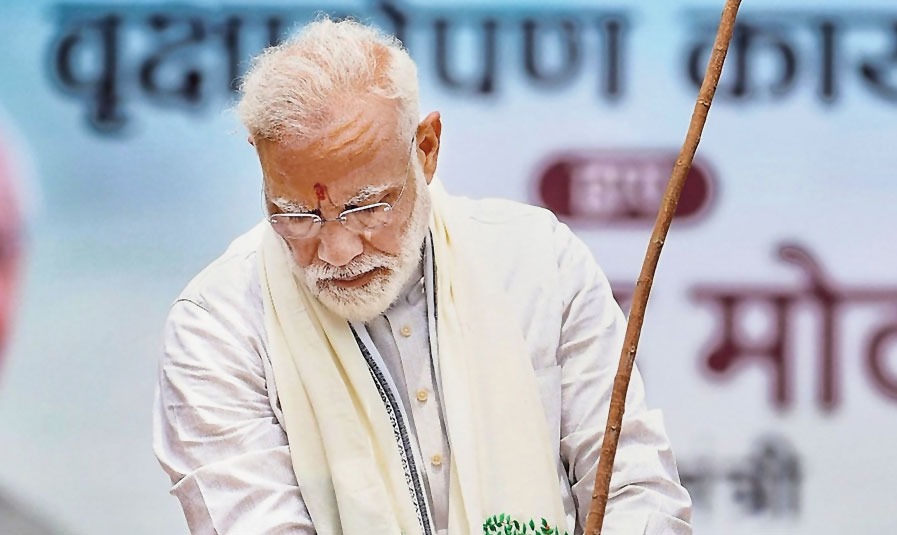 ---
|
Lucknow
|
Published 07.07.19, 02:44 AM
---
Prime Minister Narendra Modi on Saturday said he had set himself the target of achieving a $5-trillion economy for India "because the size of the cake matters", and slammed his critics as "professional pessimists".
"The bigger the cake, the greater each person's share," Modi told an audience of BJP workers in his constituency of Varanasi.
He claimed his idea of a $5-trillion economy had fired the country's imagination, with everybody talking about it since the budget was presented on Friday.
"What's the meaning of a five-trillion-dollar economy? What relation does it have with the ordinary Indian? It's necessary for you to know this and explain to people door to door," the Prime Minister said.
"It's necessary also because some people doubt the efficiency of us Indians. They are saying that achieving this target would be difficult for India. When I hear this, this son of Kashi feels a different emotion," he added.
Modi was in Varanasi to launch a BJP membership drive on the death anniversary of party icon Syama Prasad Mookerjee.
"Five trillion means five lakh crore," Modi declared, drawing out every word and waiting for the audience to break into applause.
He then continued: "In terms of rupees, you have to multiply it by 65 or 70. In short, it's double what our economy is today. You must be wondering why I'm talking about such a difficult economic issue at a meeting of party workers.
"Friend, even I'm not an economist; I don't know anything about economics. But what I have said today will force you to think afresh about a new target with a new enthusiasm. We shall move forward with new commitments, new dreams. And this would be the path to mukti (liberation).
"There's a saying in English that the size of the cake matters. This means people will receive shares in proportion to the size of the cake. So I fixed the target of a $5-trillion economy. It's natural that the country and each of its citizens will prosper according to the size of the economy."
Modi claimed his Swachh Bharat cleanliness mission had led to a fall in diseases.
"Research says that each family's heath expenses have fallen because of the cleanliness drive. The families are using what they are saving on health spending to meet their other needs," he said, without identifying the research he was referring to.
"Yoga too has brought down health expenditures. India is becoming an important centre of health tourism."
Describing his critics as "professional pessimists", Modi said: "They are masters at aggravating a problem instead of providing solutions."