Modi 'doctor & clerk' lesson for parents
Don't push your children to achieve what you yourself could not, Prime Minister says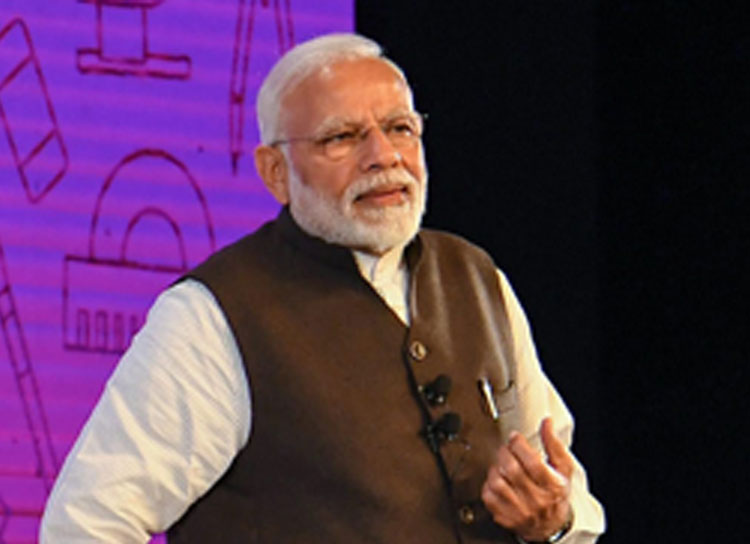 Modi interacts with students during 'Pariksha Par Charcha 2.0' at New Delhi on Tuesday
(PTI)
---
New Delhi
|
Published 29.01.19, 09:46 PM
|
---
Prime Minister Narendra Modi on Tuesday asked parents not to impose their unfulfilled dreams on their children but cited an example in which he appeared to be putting down clerical staff.
"Is it that you had a childhood ambition of becoming a doctor but ended up as a clerk?" the Prime Minister asked, as the audience of about 2,000 students, teachers and parents erupted in applause.
"And now you are punishing your child for that?" Modi continued, smiling, as the crowd laughed and cheered.
Parents who force their children to achieve what they themselves could not are failures, he said, speaking at Pariksha Pe Charcha 2.0 — a discussion on exams. Parents should encourage their children to tap their own potential, Modi added.
The Prime Minister could have avoided using a phrase that appeared to demean clerks, said a deputy secretary associated with promotion and benefits of government employees. "Being a doctor is a noble and highly respected position in society. But clerical work is not a mean job," the officer said, asked not to be named.
Some officers occupying very important positions also fail to deliver, the officer added.
Modi said exams have a limited relevance of passing a class and cannot be considered the determinant of success in life. Children need to respect and listen to parents and convince them about their career ambitions, he added.
To a question on depression, he said that parents should get ready to provide counselling support to children if required. Besides, the children themselves should try vent any frustration, for example, by writing about it on pieces of paper and destroying these.
The interaction lasted for more than 90 minutes. This year, teachers and parents also asked questions along with the children.