Modi calls for mass movement to save water
Groundwater levels in 52% of wells monitored nationwide were lower in 2018 compared to last decade's average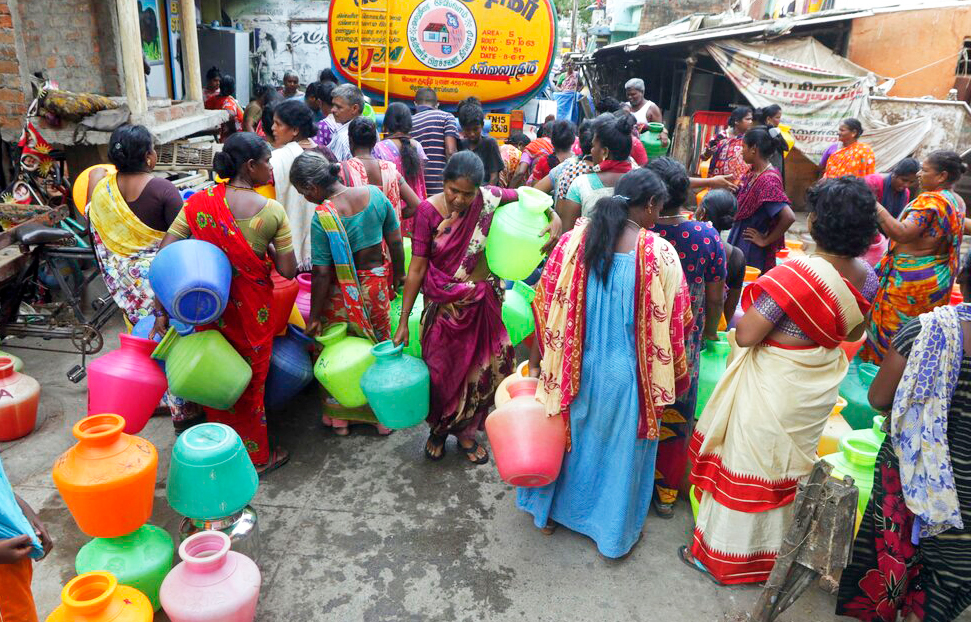 People stand in queues to fill vessels with drinking water from a water tanker in Chennai, Tamil Nadu. Millions of people are turning to water tank trucks in the state as house and hotel taps run dry in an acute water shortage caused by drying lakes and depleted groundwater.
(AP)
---
New Delhi
|
Published 30.06.19, 09:50 PM
|
---
The thrust of the Prime Minister's radio address on Sunday was on the water crisis in the country and the urgent need to tackle it.
Narendra Modi exhorted the people to start a "mass movement" to conserve water. "My first request is that just as people have given the cleanliness drive the shape of a mass movement, let's also start a mass movement for water conservation," he said.
"We should all resolve to save every drop of water. I believe that water is God's prasad to us; water is like the philosopher's stone."
Modi said he had recently written to "sarpanches" and "gram pradhans" across the country urging them to convene meetings of the "gram sabha" and discuss the water crisis and possible solutions.
He said "just 8 per cent" of rainwater was now harvested, and that this needed to be increased.
"There is no fixed way to conserve water. In different parts, different methods may be adopted but the aim is the same — to conserve every drop of water," he said.
Just two months ago, around 1.4 lakh litres of drinking water was used to wash the roads of Varanasi where over 30 per cent of the population goes without piped water. A day later, Modi arrived in the city for a spectacular road show.
The spectre of a crisis this year comes after drought in some parts of India in 2018 destroyed crops, ravaged livestock, exhausted reservoirs, leaving some cities and industries with little water.
However, Modi did not outline any specific measures his government would take to deal with the ongoing situation, which has already affected the sowing of summer crops and forced many communities to buy water from expensive private tankers.
Himanshu Thakkar, co-ordinator of the South Asia Network of Dams, Rivers and People (SANDRP), said Modi's initiative would have limited impact without the government fixing problems like rampant groundwater usage.
A key source of water, groundwater levels in 52 per cent of wells monitored nationwide were lower in 2018 compared to last decade's average, the country's water resources minister Gajendra Singh Shekhawat told Parliament this week.
"The government is doing nothing to regulate groundwater use," said Thakkar of SANDRP, a non-governmental organisation that advocates for better water management practices.
"It has all the knowledge and institutions, but it is doing nothing."