PM apology and PR push
Sorry but see how good our work is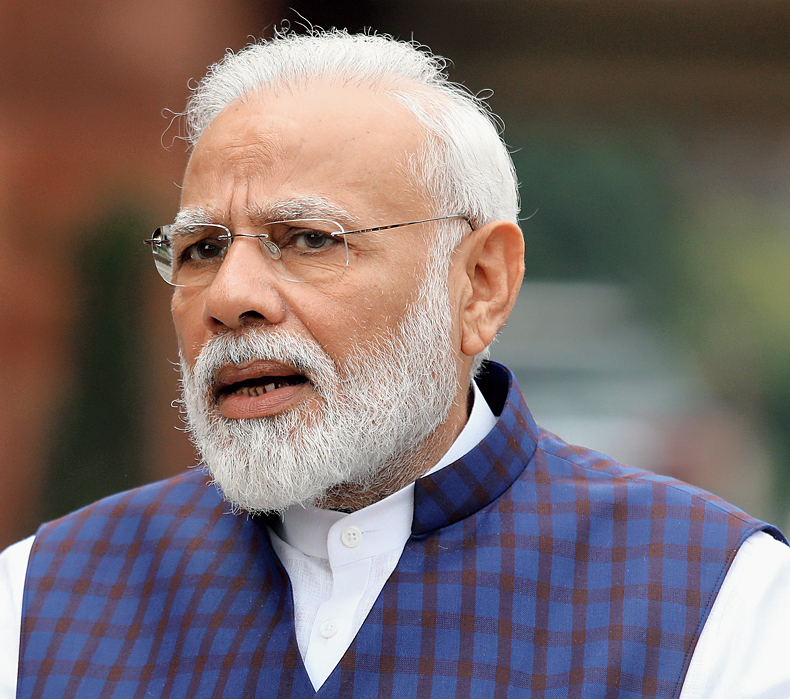 ---
---
Prime Minister Narendra Modi on Sunday apologised and sought the nation's "forgiveness" for the lockdown that has caused hardships to citizens, underscoring that there was no other option to fight the contagious coronavirus.
The emotional outreach appeared to be an effort to calm tempers with thousands of migrant workers defying the lockdown and heading for their homes, triggering fears of an explosion of the viral infection cases.
"I extend my heartfelt apology to all countrymen and I strongly feel that you will forgive me. Certain decisions had to be taken, resulting in lot of hardships, particularly for my poor brothers and sisters," Modi said in his monthly radio address, Mann ki baat.
"They (the poor) must be wondering what kind of Prime Minister they have, who has pushed them to the brink. My wholehearted apology to them," the Prime Minister added, making a fervent outreach.
Modi said he was fully aware of the sufferings of every citizen but underlined there was no other option than a lockdown to fight the deadly virus.
"I fully understand your concern; I can feel what you are going through. But in order to battle corona in a country of 130 crore people like India, there was no other option," he said.
Modi didn't directly refer to the scenes of migrants pouring out on the roads, desperate to reach their homes. Neither did he assure livelihood support to them. He also didn't acknowledge that the lockdown should have been better planned by the government.
Instead he tried to instil the fear that those who were breaking the lockdown were endangering their own lives as well as that of their family members.
"I know that no one wants to overstep the law and break rules. But there are some who are doing so, since they are not trying to understand the gravity of the matter. To them, I will say that if they don't comply with the lockdown rule, it will be difficult to save ourselves," he said.
"The fight against corona is one between life and death and that is why such strong measures had to be taken," he said.
The Prime Minister said the virus was out to annihilate mankind and it was not making any distinction between countries or rich and poor. He said the challenge was unprecedented, and the measures, too, had to be unprecedented.
Modi incorporated recorded phone conversations with two Covid-19 patients who had recovered after treatment, seeking to send out the message that people should maintain calm and abide by the rules even if the virus infects them.
"Share it with people, make it viral on social media. What will happen is, people will not be scared and at the same time, points on adequate care and preventive measures will easily reach people," Modi told one Ramgampa Teja, an IT professional, who has recovered.
Modi also talked to two doctors engaged in treating Covid-19 patients. One of the doctors said the country would surely win the battle against the virus and thanked the government for providing all the necessary medical facilities and that there was no shortage of any supplies.
This comes against the backdrop of many doctors and health experts flagging shortage of basic materials like protective gear and masks for health care professionals to deal with Covid-19 patients.
The two recovered patients too said the isolation wards in government hospitals had very good arrangements.
Modi expressed gratitude to all health care professionals, terming them the frontline warriors.
The Prime Minister referred to the ill-treatment of people staying at home in self-quarantine because of suspected infection and said it was very painful. "This is very unfortunate. We need to understand that in the current circumstances, we need to ensure social distance, not human or emotional distance. These people are not criminals," he said.
Modi urged the people to stay at home. "We need to win this battle. And we will win," he said, expressing the hope that by his next radio address in the last Sunday of April, the crisis would be over.