Missile accidentally released during maintenance, inspection: Rajnath
Defence minister says a formal high-level inquiry has been ordered to determine the exact cause of the said accident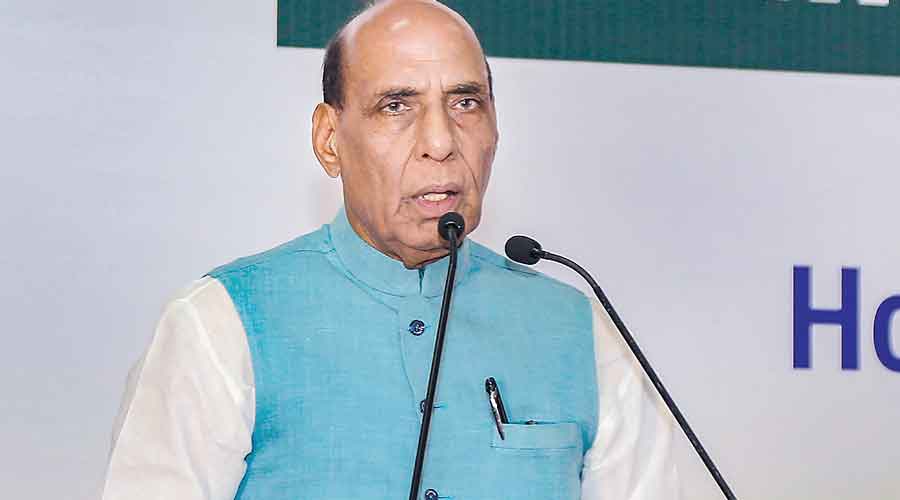 Rajnath Singh at an event in New Delhi on Tuesday.
PTI Photo
---
New Delhi
|
Published 16.03.22, 03:19 AM
|
---
Defence minister Rajnath Singh on Tuesday told Parliament that a review of the standard operating procedures for operations, maintenance and inspections of missile systems was being conducted in the wake of the "accidental" firing of an Indian missile into Pakistan on March 9.
Singh, however, did not provide any clarity and the specific reason behind the unprecedented incident that has prompted some Indian military veterans to express serious concern over the existing command and control system.
Pakistan said it was not satisfied and iterated a demand for a joint investigation.
Last week, Pakistan had registered strong protest over the "unprovoked violation of its air space by a supersonic flying object of Indian origin" and sought a joint probe. Islamabad also asked New Delhi to explain "if the missile was indeed handled by its armed forces or some rogue elements".
On Tuesday, in a statement in the Rajya Sabha,  Singh said: "During routine maintenance and inspection, a missile was accidentally released at around 7pm.  It was later learnt that the missile had landed inside the territory of Pakistan.  While this incident is regretted, we are relieved that nobody was hurt due to the accident."
He said the government "has taken serious note of the incident and a formal high-level inquiry has been ordered to determine the exact cause of the said accident".
"I would also like to state that a review of the standard operating procedures for operations, maintenance and inspections is being conducted in the wake of this incident.  We attach highest priority to safety and security of our weapon systems. If any shortcoming is found, the same would be immediately rectified," the defence minister said.
"I can assure the House that the missile system is very reliable and safe. Moreover, our safety procedures and protocols are of the highest order and are reviewed from time to time. Our armed forces are well-trained and disciplined and are well-experienced in handling such systems," he added.
Military veteran Sushant Singh said in a tweet: "As expected, the defence minister's statement in Parliament tells us nothing about the accidental firing of the missile. The pattern established with Balakot and Ladakh continues."
He said the government's earlier statements on Balakot air strike and the ground situation on the China frontier in Ladakh were meant to obfuscate the truth rather than bring them out.
Pakistan foreign minister Shah Mahmood Qureshi told a news conference in Islamabad that the statement was "incomplete and insufficient".
"Pakistan cannot be satisfied by the explanation given, and I reject it," he said, adding that Islamabad wanted a joint probe.
China had urged the two countries to set up a reporting mechanism to avoid such incidents and share information, said Zhao Lijian, a spokesman at its foreign ministry.
"Pakistan and India are both important countries in South Asia, bearing responsibilities for maintaining regional security and stability," he told reporters on Monday.
 While Pakistan appreciated China's statement, Qureshi said that the US State Department spokesperson had "skirted the issue" a day earlier and had not taken a position on the matter, which he stressed could have led to war.
The minister added that he had written to the UN Security Council too, but said the international community was not taking the matter seriously enough.
Additional reporting by Reuters