Minister's reply on Akbar: Gentleman concerned should speak
Several BJP leaders virtually ran away when journalists asked for comment on Akbar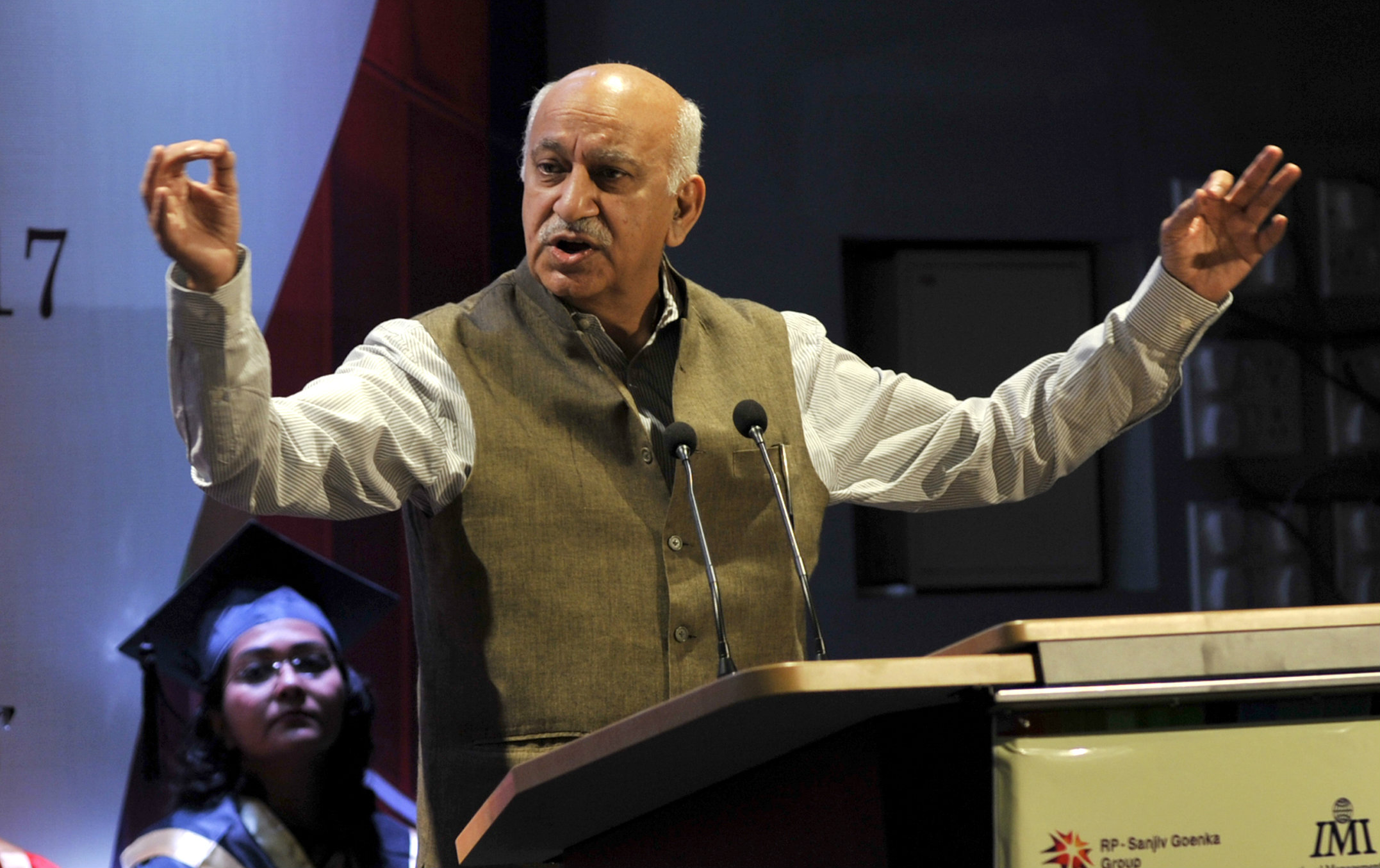 Several BJP leaders virtually ran away when journalists asked for comment on Akbar, confiding later that they had been directed not to address the topic in public.
The Telegraph file picture
---
New Delhi
|
Published 11.10.18, 10:09 PM
|
---
The BJP on Thursday appeared in a bind over growing demands for Union minister M.J. Akbar's scalp following multiple allegations of sexual harassment, worried that sacking him would make the government vulnerable to calls for more resignations linked to other controversies.
But few leaders appeared willing to defend the junior foreign minister in public. The sole minister who spoke left it to the "gentleman concerned" while an RSS leader "liked" a Facebook post that underscored the need to support the woman journalists who alleged victimisation.
"The gentleman concerned would be better positioned to speak on this issue," Union textiles minister Smriti Irani said in Mumbai, in reply to questions from reporters.
Irani, who alone from the government commented in public on the allegations against the junior foreign minister, added: "I appreciate that the media is accosting his female colleagues but I think it is for the gentleman concerned to issue a statement (and) not for me because I was personally not present there."
Irani urged people not to mock the women who are speaking out against harassment.
Several other BJP leaders virtually ran away when journalists asked for comment on Akbar, confiding later that they had been directed not to address the topic in public. None of them, however, tried to defend him.
A large section in the party and the government feels Akbar's continuation as a minister has become "untenable" but, at the same time, does not want to be seen as giving in to pressure.
In the past the Narendra Modi government has brazened out aggressive calls for the resignation of external affairs minister Sushma Swaraj and Rajasthan chief minister Vasundhara Raje Scindia in connection with the Lalit Modi controversy.
"Our ministers don't resign. This is the NDA, not the UPA," Union home minister Rajnath Singh had said then.
BJP managers are apprehensive that such past demands could resurface if the government caved in now.
Akbar himself has not responded to the multiple accounts of sexual harassment made public by women journalists who had worked under him. A Twitter regular, the last time he posted a message on the microblogging site was on October 6 — two days before the first allegation was made.
Other than Smriti, BJP leaders continued to evade questions on Akbar, and the government too remained tightlipped. Some ministers indicated off the record that a call would be taken once the junior foreign minister returns to India from an official trip on Sunday.
"His position seems to have become untenable. But let him return and take a call," one minister said, hinting that Akbar could himself offer to quit and that the government would accept it.
No minister has stepped down in the four-and-a-half years of Modi's rule.
But there is pressure from the RSS for Akbar to resign, sources said. The RSS believes that the allegations against him are serious and that his continuance will tarnish the image of the Sangh parivar.
The Sangh's position was indirectly reflected in a tweet by joint general secretary Dattatreya Hosabale, a key RSS leader considered close to Prime Minister Modi.
"I liked it. She has articulated what I was feeling," Hosabale tweeted on Thursday, uploading a Facebook user's post that said: "You needn't have a #MeToo moment to support the woman journalists who have narrated their victimisation. You needn't even be a woman. You just need to have a sensibility of what is right and what is wrong."
Sangh insiders said the allegations against Akbar had not been backed up with proof and dated to a time when he was not associated with the BJP, but they raised a "moral question" and had dented the RSS-BJP's stand on such issues.
"Akbar's case is different from others. It will be impossible for us to defend him. When we can't defend him, how can we allow him to remain a minister?" an RSS leader said, but added that Prime Minister Modi would take the final decision.