Minister dodges question on Pegasus in Parliament
No unauthorised snooping happened, says Ravi Shankar Prasad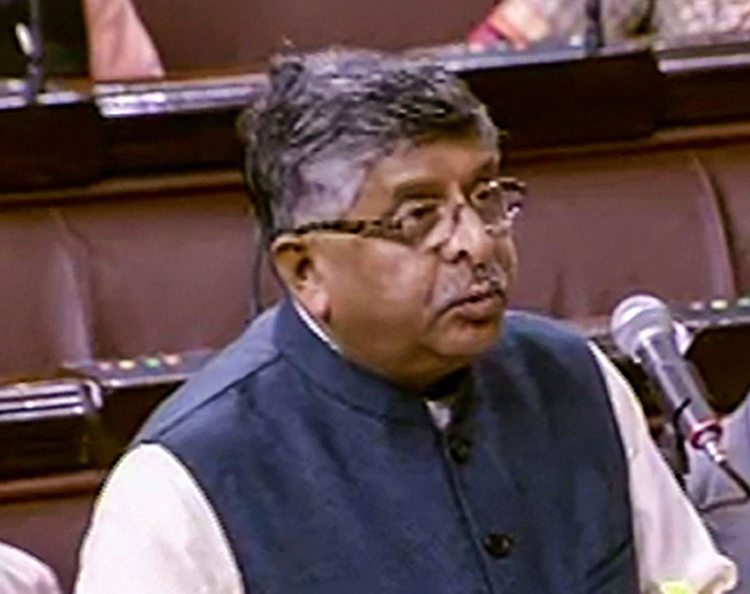 Ravi Shankar Prasad in Rajya Sabha on Thursday
(LSTV/PTI photo)
---
New Delhi
|
Published 28.11.19, 04:38 PM
---
Union information and technology minister Ravi Shankar Prasad took refuge in circumlocution when he was asked in Parliament on Thursday if the government had bought the Israeli made spyware that was used to intercept phones of a number of activists and journalists.
He, however, went on to insist that no "unauthorised" interceptions had been done.
Congress MP Digvijaya Singh, who raised the query in the Rajya Sabha, wanted to know whether the government had engaged in talks, or had bought spyware Pegasus, which was manufactured by Israeli firm NSO.
"They keep asking me whether we bought it or not. I keep telling them that there's a standard operating procedure. Should I reveal here what many of your state governments do?
"The government authorities of India whenever they have to do anything for the security of India, they do so only as per standard operating procedure," Prasad told the House.
In India, Pegasus came to be known as a spyware after a breach was reported by WhatsApp, saying it was used to intercept mobiles of 1,400 individuals globally, including 121 Indians, between April and May.
The minister cited national security to justify the obfuscation. But clarified that WhatsApp had not yet provided the names of the 121 targets to the government.
"There are forces in the neighbouring country which want to weaken the fabric of our nation," he added.
The evasive reply led to a commotion in the House for a brief period, to which the minister responded with an appeal to exercise "discretion" because the matter under discussion was "serious".
"My reply is very simple. When I say there is a proper operating procedure under which the security agencies, who are doing a tough job of keeping us secure, (then) that operating procedure has to be followed. Now they want a specific thing, I have replied very clearly and categorically in the interest of national security," Prasad said.
We have been telling WhatsApp to trace the origin of a message that is causing law & order problem without breaking encryption. I am happy that other democracies have also echoed similar concerns as India. pic.twitter.com/iMdvOKMq9E

— Ravi Shankar Prasad (@rsprasad) November 28, 2019
After Digvijaya, a query was posed by another Congress MP Anand Sharma, who asked whether the government was aware of any unauthorised use of spyware against people of India.
The minister replied in the negative. "No unauthorised interception has been done," he said.
Earlier, the minister informed the House that under the Indian Telegraph Act and the Information Technology Act government agencies were authorised to intercept mobile and computer devices of the target.
He said such orders were required to be approved by the Union home secretary or, in case of a state agency, the state home secretary.
However, neither did the minister clarify _ nor do the acts specify _ whether such an interception includes the use of spyware like Pegasus.
Prasad said that WhatsApp had not yet given the names of the 121 individuals to the Indian government.
He also expressed surprise at reports which revealed the names of those who had reportedly been targeted by Pegasus, wondering why they did not file an FIR.
"Not even a single FIR has been filed till date. No complaint (has been) made in the IT Ministry till date. But suddenly names come up in the media and it becomes a political issue...
"How come only those who have been allegedly targeted (are those) who have a certain agenda and a chronic view against Narendra Modi. If it is a coincidence it is too much of a co-incidence," he said.
About two dozen activists, journalists, and lawyers were informed last month by the Citizen Lab, a University of Toronto based research team, roped in by Facebook that they had been the target of the spyware.
Till date, the Indian government has not categorically denied whether it has bought the spyware from the firm in Israel. Responses by the IT and home ministry given to Parliament earlier were also evasive.