Mining case: EC grants Hemant Soren's plea for more time to appear
CM has asked for the third extension citing the unavailability of his counsel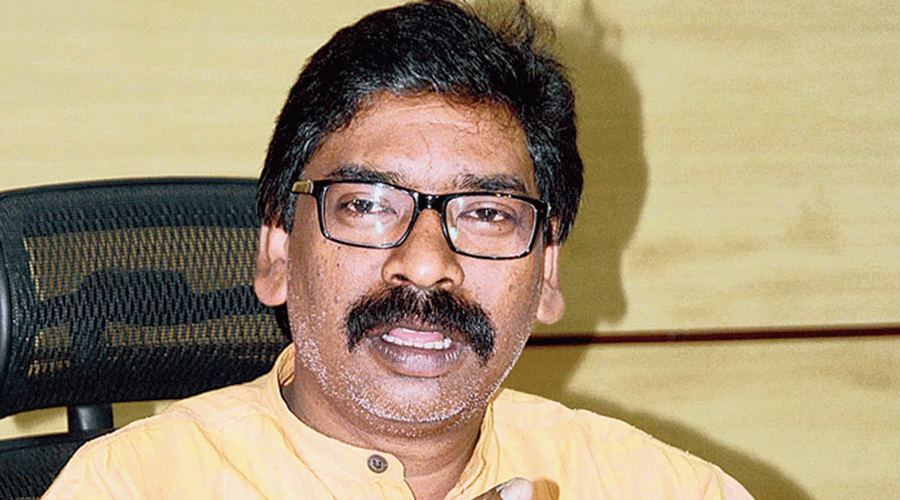 ---
New Delhi
|
Published 15.06.22, 02:23 AM
|
---
The Election Commission of India on Tuesday gave Jharkhand chief minister Hemant Soren more time to appear before it in an office-of-profit case against him over the allotment of a mining lease in his name.
"On a request from Hemant Soren for postponement of hearing, the EC has given an extension in the matter, which was scheduled on June 14, with the condition that this shall be the last opportunity for personal hearing as the commission has already given two extensions. Failing this, the commission will proceed on the basis of written submissions, if any, filed by him before the next date of hearing on June 28," an EC official told The Telegraph.
Hemant had asked for the third extension citing the unavailability of his counsel.
The BJP has accused Hemant of indulging in corruption to obtain a mining lease while in power and asked governor Ramesh Bais to dismiss him.
In March, Bais referred the matter to the EC, which is the competent authority to disqualify a legislator if he is found to hold an office of profit.
The EC summoned Hemant on May 10 and gave him two extensions after that. Hemant had faced multiple personal and professional crises during this period — from his mother Roopi's poor health to the recent riot in Ranchi in which the police shot dead two anti-BJP protesters under questionable circumstances.
Last month, in a similar case, Hemant's brother Basant — also a JMM MLA — questioned the jurisdiction of the EC to hear a case against him under Section 9A of the Representation of the People Act, the same section the chief minister faces.
The section bars legislators from obtaining government contracts and the JMM is expected to cite a 1964 Supreme Court judgment that exempts mining leases from the section.
Hemant's father Shibu Soren had come under the cloud after the JMM under his leadership supported the formation of the Congress government in 1993 in lieu of money. Soren senior couldn't be tried for it as a court gave the MPs immunity against the Prevention of Corruption Act.
The BJP has also accused Hemant of granting his wife Kalpana an industrial plot in Ranchi and his brother Basant of illegal mining in Pakur. His sister-in-law Sita Soren is facing trial for allegedly bribing MLAs in the 2012 Rajya Sabha polls.
The JMM has alleged that the wave of cases is an attempt to destabilise the state governments led by Opposition parties. However, Hemant has got little support from his ally Congress in these matters. In the recent Rajya Sabha polls, Hemant had his way by sending Hindi author and former state women's panel head Mahua Majhi to the Rajya Sabha on a JMM ticket while refusing the Congress's pleas to give them the seat.