J&K: Explosion reported 12 km away from PM Modi's rally venue
The incident sent the security establishment into a tizzy with police suspecting it could have been caused by a meteorite or lightning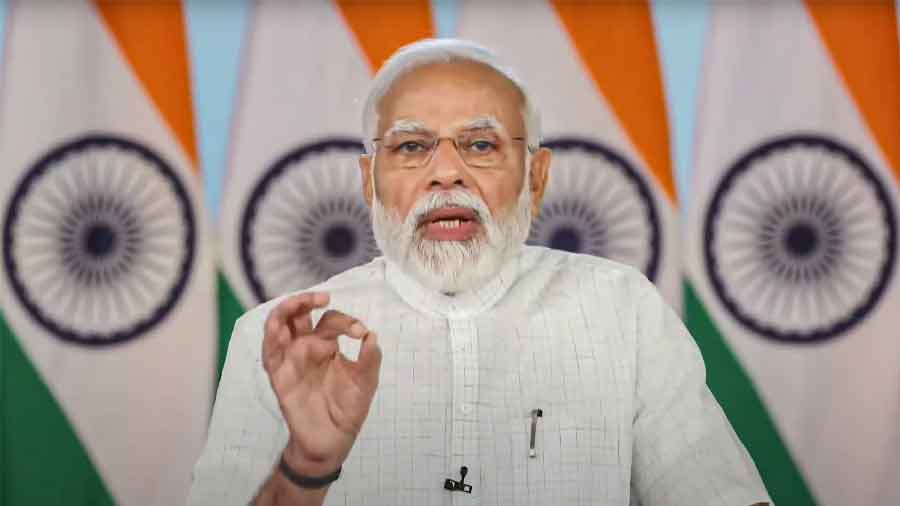 Narendra Modi.
File photo
---
Srinagar
|
Published 25.04.22, 03:28 AM
|
---
A powerful explosion in a Jammu village hours before Prime Minister Narendra Modi addressed a rally around 12km away sent the security establishment into a tizzy with police suspecting it could have been caused by a meteorite or lightning.
The security apparatus has been on its toes following a militant strike on Jammu city's outskirts on Friday that killed a Central Industrial Security Force officer and injured some jawans.
Two Jaish militants believed to be on a suicide mission were later killed in an hours-long gunfight. Director-general of police Dilbag Singh had said the militants appeared to have been sent from Pakistan to sabotage the Prime Minister's rally.
Around 4.30am on Sunday, a powerful explosion at Laliyan village in the Bishnah area of Samba district created a 2ft-deep crater in an agricultural field. Laliyan is around 12km from Palli village, where Modi addressed the rally around noon. The distance, however, is 6km through roads cutting through villages, officials said.
The explosion jolted residents out of their sleep and smashed glass panes in some houses. A battery of senior police officers rushed to the area to take stock of the situation.
A police officer said the explosion appeared to have been caused by a small meteorite or lightning but added that they were investigating all angles.
What increased worries was the fact that Jammu has witnessed cross-border drone activities over the past year. In June last year, two explosives-laden drones had crashed into the Indian Air Force station at Jammu airport, the first attack by the aerial device in India.
Modi's rally in Palli village on the occasion of National Panchayati Raj Day attracted a massive crowd and went off peacefully. His speech was relayed to all gram panchayats across the country.
Modi did not refer to the explosion and focused on the "development initiatives" undertaken in Jammu and Kashmir since the 2019 scrapping of its special status. This was the Prime Minister's first civilian outreach in Jammu and Kashmir in the past three years. He had addressed an army gathering at Nowshera on the border on Diwali last year.
Modi said Jammu and Kashmir had received a paltry Rs 17,000 crore in private investments in 70 years, but attracted Rs 38,000 crore in the last two years.
He claimed Jammu and Kashmir was touching new heights, particularly in power generation, which he said would be a major source of income for residents.
"Earlier, a government file would move from Delhi to Jammu and Kashmir in two to three weeks. Today I am happy to announce that a 500KW solar power plant has been installed in Palli in just three weeks," Modi said.
The Prime Minister inaugurated the solar power project in Palli, making it the first panchayat in the country to become carbon neutral.
The Valley, however, is in the throes of an unprecedented electricity crisis with many areas facing power cuts stretching beyond 12 hours. There have been protests as the crisis has coincided with the month of Ramazan when people have to eat pre-dawn meals and offer late-night prayers.
The Prime Minister inaugurated and laid foundation stones for multiple development initiatives worth Rs 20,000 crore for the Union Territory.
"Jammu and Kashmir is presenting a new example of democracy and determination as numerous development initiatives have been undertaken in the last two to three years," he said.
"The National Democratic Alliance government has directly provided funds of Rs 22,000 crore to panchayats in the Union Territory to streng­then grassroots democracy, against Rs 5,000 crore allotted under this head earlier," Modi added.