Megalith marvel near Ranchi
Stones date back to 1AD, says archaeology professor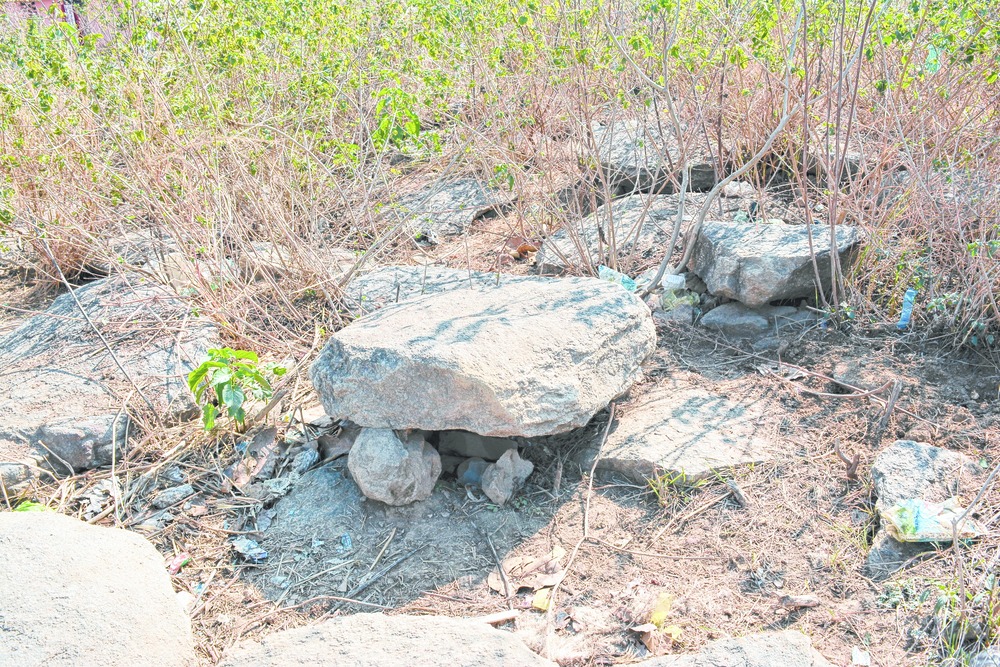 ---
Published 25.01.16, 12:00 AM
|
---
Ranchi, Jan. 24: Jharkhand's second largest cluster of megaliths - prehistoric tombstones in layman terms - was discovered on the capital doorstep today, prompting conservation clamour from the archaeological fraternity.
The 300-plus giant stones were found randomly placed over an area of 400sqm at Yamuna Nagar, a residential colony off Ratu Road, 12km from the heart of Ranchi. They were mostly hidden under shrubs and garbage when eminent archaeologist and retired deputy director of state art and culture department Harendra Prasad Sinha and his team chanced upon them this morning.
"Megaliths have been found at a number of districts like Chatra, Hazaribagh, Ramgarh, Lohardaga and Khunti, besides Ranchi, in the past. But, this is the second largest find after some 7,000 stones were physically discovered at Chokahatu in Silli (70km from the capital) in 2005. A British colonel had written about it in the 19th century though," Sinha told The Telegraph.
Sinha, who now takes postgraduate classes in archaeology at Ranchi University, and two of his students - Udesh Kumar and Lalit Aditya - said they rushed to Yamuna Nagar in Sukhdeonagar thana area following a tip off.
A rough count revealed 369 megaliths of varying shapes and sizes. These, Sinha believes, were used in the Neolithic Age around 1AD to cover mortal remains of the dead. Some of the large stones were found resting on four smaller ones like a table.
"In archaeology, these are called tabletop megaliths. The single erect ones are menhirs and the flat ones are cap stones," he explained.
Since Yamuna Nagar is a fast expanding residential area, Sinha fears many of the megaliths may have already been lost. "It is highly possible they were taken away and converted into stone chips for construction projects," he said, underscoring the need for conservation of the site after the day's discovery.
"Unfortunately, no megalith has ever been excavated scientifically in Jharkhand. In 2013, workers digging a deep trench to construct a drain at Lutidih village in Chatra had chanced upon a huge cache of ancient pottery. When I inspected the site, I found a menhir had also been dug up," he maintained.
Elaborating on the intrigue that megaliths are, Sinha said, "Though these ancient tombstones have been discovered across the globe, it is still not clear who these megalith builders were or where they came from. I will soon draw up a report on today's findings and submit it to the art and culture minister, requesting protection of the Yamuna Nagar site."
Residents of the colony were dumbfounded to learn that they were living on a Neolithic Age burial ground. "I have been living here for 20 years and no one ever told me about the historical significance of this place until now," a wide-eyed Narayan Sahu (35), who runs a small grocery store in the area, told The Telegraph and hoped that the government would move quickly to conserve the site.