Medical entrance test NEET postponed
Police step up vigil to enforce lockdown after violations; migrant labourers flee to their homes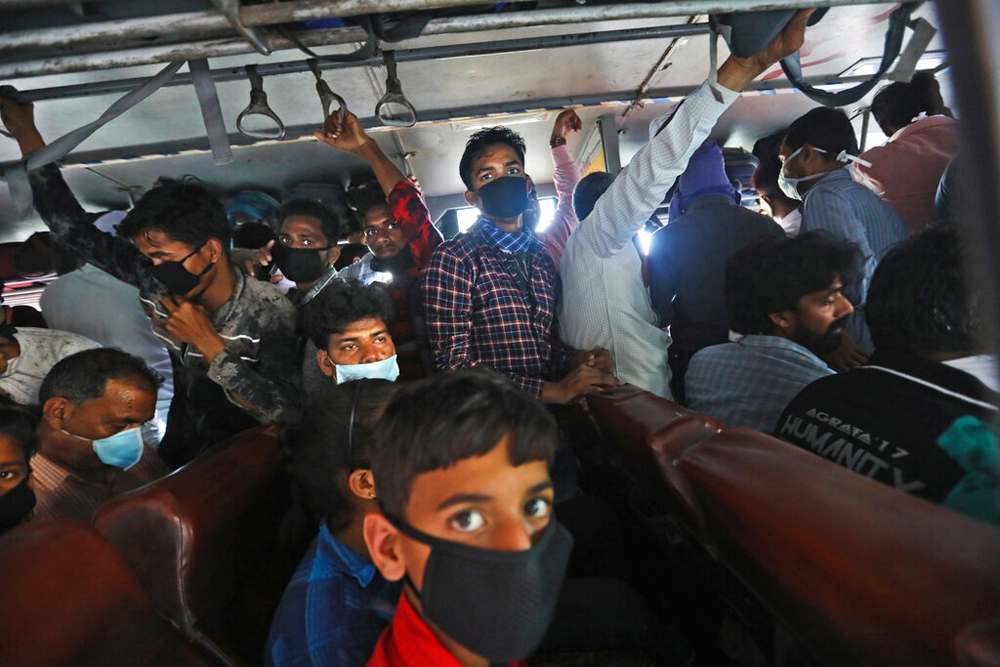 Daily wage labourers on a bus as they travel to their hometowns in New Delhi on Friday
(AP photo)
---
New Delhi
|
Published 27.03.20, 04:04 PM
|
---
The Union human resources development ministry on Friday postponed the national medical entrance exam, NEET, in view of the nationwide lockdown due to the coronavirus outbreak, officials said.
The National Eligibility cum Entrance Test (NEET), the marks of which are used for admission in colleges across the country, was scheduled for May 3.
The ministry's National Testing Agency (NTA) postponed the exam in view of the three-week lockdown as well as pending board exams for a few subjects.
Union HRD minister Ramesh Pokhriyal "Nishank" said the decision has been taken to avoid any inconvenience to students and parents who have to travel to various centres across the country to write the exam.
"In view of hardships faced by both parents and students in view of the Covid-19 epidemic, the NEET exam scheduled on May 3 has been postponed," NTA director-general Vineet Joshi said.
He added: "We are hopeful that we would get back to the normal situation relatively soon but for now various concerned ministries and examination boards are examining the scenario to evaluate situation that might necessitate any changes in schedule.
"As of now, the examination is proposed to be held in the last week of May. Exact dates will be announced later after assessing the situation," Joshi said.
Delhi exodus
Police forces across the country stepped up their vigil to ensure there was no violation of the prohibitory orders on Day Three of the national lockdown on Friday even as thousands of migrant workers who were massed in Ghazipur on the Delhi-Uttar Pradesh border and desperate to reach their homes.
Authorities were also working on ways to ease the hardships faced by migrant workers, who stare at loss of livelihood, trudging long distances back to their villages and also try to fix the bottlenecks in movement of essential supplies.
The migrant workers gathered at Ghazipur were sent to the Uttar Pradesh side of the border by the police in batches and they appeared prepared to walk long distances in case no help was forthcoming to ferry them in the form of public transport.
Amit Shah interacts with CMs
Union home minister Amit Shah spoke to some of the chief ministers and asked them to look into the issue of the mass exodus.
In an advisory, the Union home ministry asked state governments to prevent a mass exodus of migrant agriculture labourers, industrial workers and employees of the unorganised sector from their workplaces to hometowns.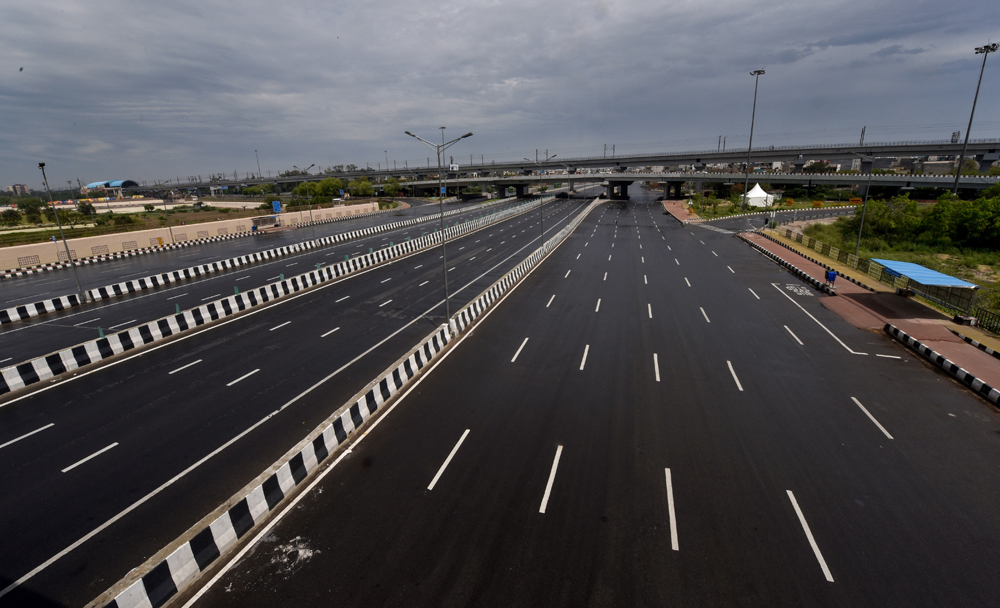 The advisory to all states and Union territories said they should also make arrangements for uninterrupted supply of essential commodities to hotels and hostels for working women so that they continue to live in existing facilities.
SpiceJet gesture
SpiceJet CMD Ajay Singh said the airline was ready to operate some flights from Delhi and Mumbai to Patna to alleviate the suffering of migrant workers, especially those from Bihar.
Modi asks states to enforce lockdown
Amid reports of the violation of prohibitory orders, Prime Minister Narendra Modi spoke to K. Palaniswami and B.S. Yeddiruappa, chief ministers of Tamil Nadu and Karnataka, urging them to enforce strictly the national lockdown and ensure the availability of essential commodities.
"Prime Minister Narendra Modi spoke to me and said that despite the lockdown in Karnataka aimed at controlling the spread of Covid-19, people are still coming out and commuting and instructed that proper bandobast is made. We have discussed regarding this," Yeddiruappa told reporters in Bangalore.
Ensuring proper supply
According to the department for promotion of industry and internal trade, it is regularly engaging with retailers and e-commerce companies to ensure that the supply chain of essential goods is not disrupted and various facilities continue to function smoothly.
Telecom trouble
Industry body Cellular Operators Association of India (COAI) alleged that telecom operators were facing issues in maintaining networks as their employees on duty were being harassed and even beaten by the police in some states.
The government has kept telecom services in the list of essential services in order to support work from home during the lockdown period.
Trucker shot at
Amid reports of movement of food delivery vehicles encountering problems with the police, a truck driver in Patna was shot at allegedly by policemen for allegedly refusing to pay bribe for his potato-laden truck to pass.
A senior police officer said three police constables were arrested and sent to jail.
Social distancing to the wind
Residents of several places threw the concept of social distancing to the wind by crowding at kirana stores and local markets.
Assam minister Himanta Biswa Sarma said the government would shut markets in Guwahati to avoid overcrowding after people jostled to get essential items despite the advice of social distancing in the wake of the Covid-19 outbreak.
In Madhya Pradesh, a Muslim cleric and 27 others were booked for defying lockdown restrictions and offering prayers at a mosque in Bhopal.
In Kerala, two Catholic priests were booked for breaching the restrictions by conducting mass at a Church.
The police said a 38-year-old daily wage labourer in Thrissur in Kerala committed "suicide" allegedly frustrated over not getting liquor and after struggling with withdrawal symptoms.
In Uttarakhand, raids were conducted at sabzi mandis and provision shops by the food and supplies department to check illegal profiteering following complaints that traders were overpricing essential items at some places taking advantage of people's compulsions, state officials said in Dehradun.