Mayawati to back Opposition coalition if made PM
The Opposition has more PM aspirants but the focus now is on keeping the flock together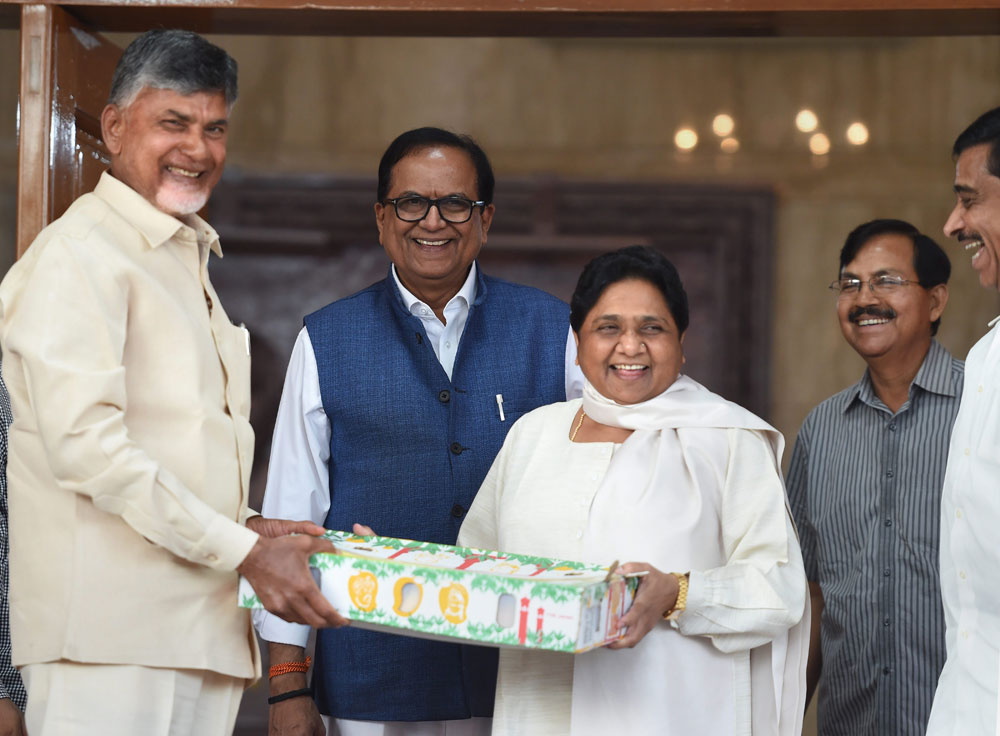 Andhra Pradesh Chief Minister and TDP president Chandrababu Naidu being welcomed by BSP president Mayawati at her residence in Lucknow, Saturday, May 18, 2019
(PTI)
---
New Delhi
|
Published 22.05.19, 09:31 PM
|
---
Mayawati is said to have told Andhra Pradesh chief minister N. Chandrababu Naidu that she would like the Prime Minister's job in lieu of support for an Opposition coalition if the election results throw up a hung House.
Multiple leaders in the Opposition said the BSP leader mooted this when he met her in Lucknow on Saturday. NDTV on Wednesday said she had indicated she would go with any formation that would offer her the top job.
Many in the Opposition see the expression of the wish as a pressure tactic. They insist that while her core constituency would like to see her as Prime Minister, going with the BJP at this juncture could be counter-productive to her politically. Her first preference, it is believed, would be the Opposition but everything hinges on the numbers.
If the NDA falls short of the 272-mark, Mayawati's calculation is that this would not have been possible but for the mahagathbandhan that she has stitched up with the Samajwadi Party in Uttar Pradesh.
She is also hoping for a better strike rate than the Congress. While the BSP's own numbers will be less than 36 as the party has only contested that many seats in Uttar Pradesh, the plan is to pitch the alliance as a single unit for a better bargaining position.
The Opposition has more aspirants but the focus now is on keeping the flock together.