Maya goes with Jogi in blow to Congress
She has announced an electoral understanding with the Janata Congress Chhattisgarh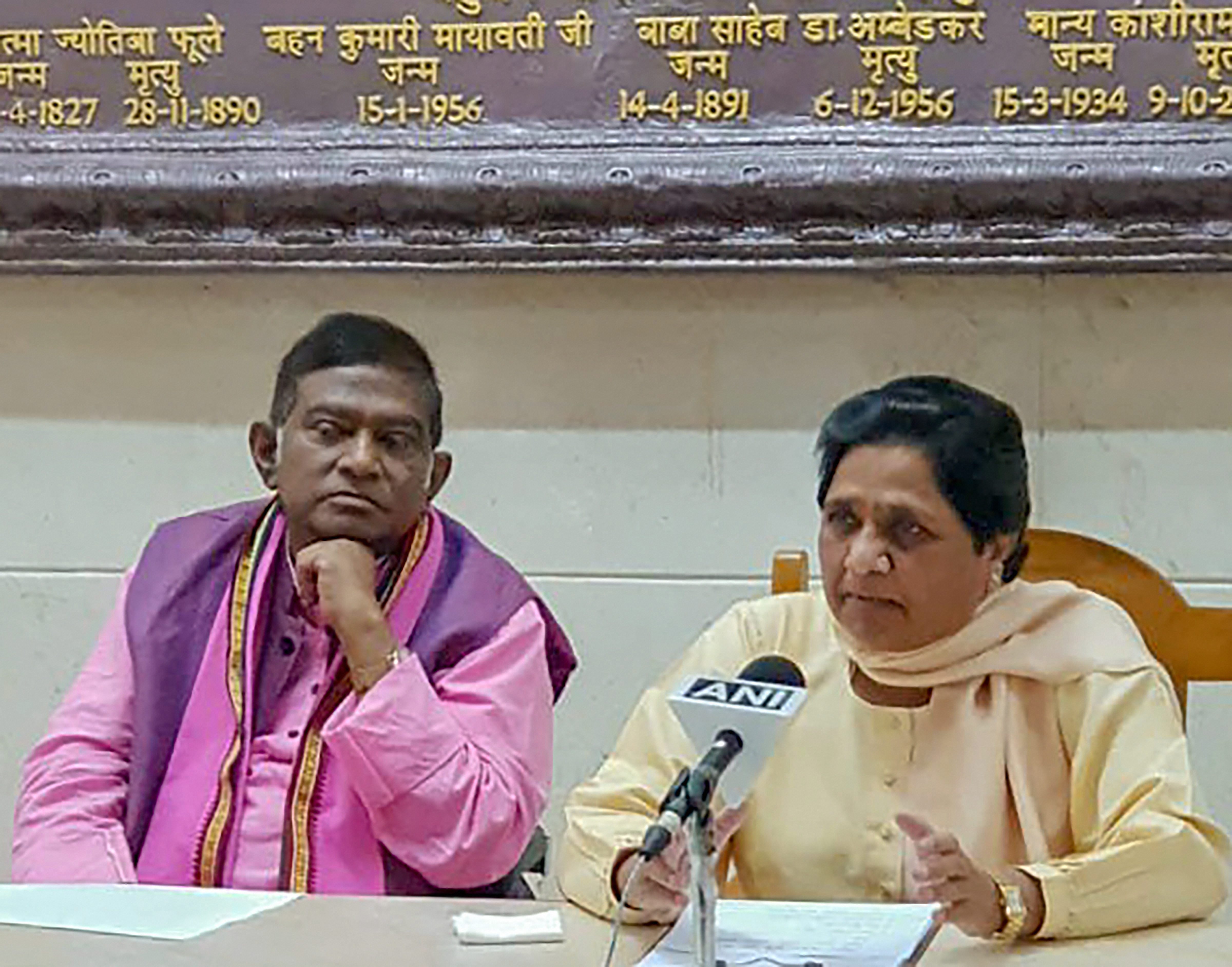 ---
---
Mayawati has announced an electoral understanding with Ajit Jogi's Janata Congress Chhattisgarh in a jolt to the Congress, which was hoping to align with her Bahujan Samaj Party for the coming Assembly polls.

This combine will have an impact in Chhattisgarh, where Dalit and tribal votes play a crucial role, and the decision might be a signal from Mayawati that striking an alliance with the Congress in Madhya Pradesh and Rajasthan would be difficult.
In Chhattisgarh, where the vote-share difference between the BJP and the Congress was 1.7 per cent in 2008 and 0.75 per cent in 2013, the BSP had polled 6.11 per cent of the votes in 2008 and 4.27 per cent in 2013. An alliance with the BSP would have tilted the scales in favour of the Congress.
Although central Congress leaders avoided attacking Mayawati, privately arguing that she was acting under "abnormal pressure", Chhattisgarh unit chief Bhupesh Baghel told The Telegraph over the phone: "It is good that two hidden allies of the BJP have come upfront. Their clandestine operations would have harmed us more. After all, it is the BJP which fields candidates in the name of BSP in most states, and Jogi is anyway funded by them."
Mayawati and Jogi announced the pact on Thursday, under which the BSP will contest 35 seats and Jogi's party the remaining 55. Jogi, a former Chhattisgarh chief minister, had quit the Congress after his son Amit was suspended for anti-party activities.
A bitter Baghel said: "We were in talks with the BSP; everything was going smoothly. Suddenly this announcement came. This is doubtless because Mayawati has come under pressure mounted by the central agencies like the CBI, income tax…. The BJP central leadership is desperate to prevent a BSP alliance with the Congress. We sincerely wanted to ensure the anti-BJP votes did not split. But we are happy there is an open third front in the election, no hidden sabotage."
But a Congress central leader said: "If this combine wins a few seats, it will be difficult for them to go with the BJP in case of a hung Assembly. Mayawati can play games under pressure but cannot go with the BJP openly. Her game will be over for 2019 if she aligns with the BJP. In Karnataka, too, she finally came with us."
Congress leaders believe that Mayawati's decision should not be seen as final in terms of future alliances as there are many imponderables between now and the general election. Mayawati's ability to handle pressure from the BJP will depend on the strength of challenge the Opposition can mount and Modi's popularity in the coming months, they say.