Matuas: nobody's people, everybody's votebank
It is poll season and every other political party is wooing the Matuas. What is the buzz in the community?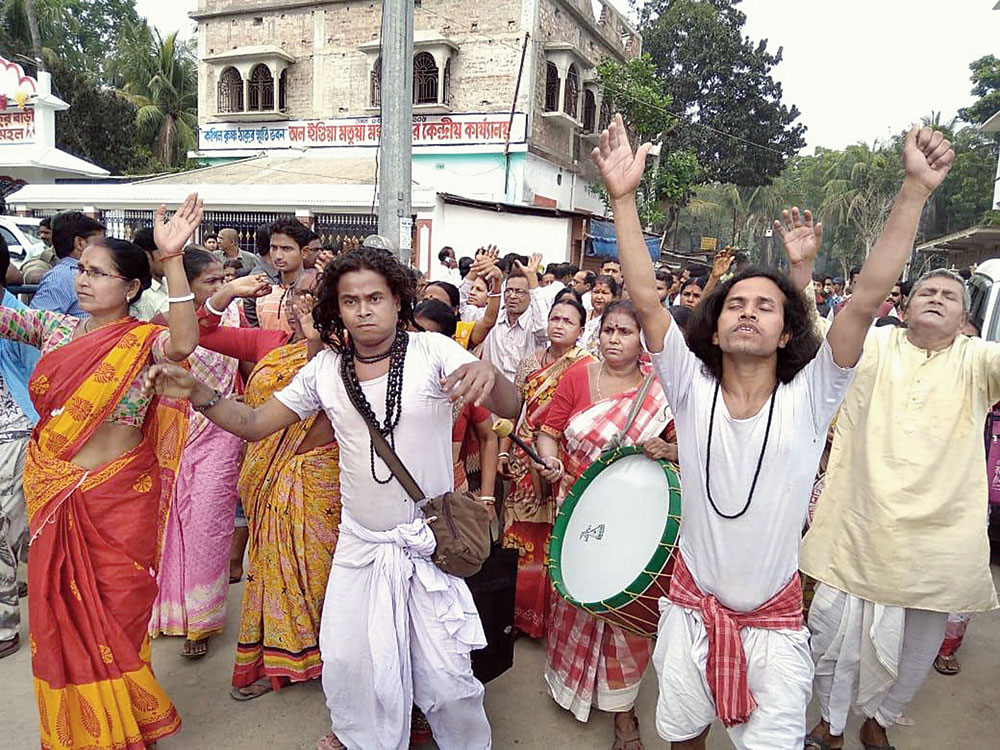 A Matua procession at Thakurnagar, which was founded by Binapani Devi and her husband, Pramatha Ranjan Thakur, in 1948
Sourced by The Telegraph
---
Published 16.03.19, 06:17 PM
|
---
On February 2, Prime Minister Narendra Modi launched the Bharatiya Janata Party's 2019 Lok Sabha campaign from Thakurnagar, 62 kilometres northeast of Calcutta, close to the India-Bangladesh border. The town takes its name from Harichand Thakur, a social and religious reformer who started the Matua movement among the backward Namasudra community in present-day Bangladesh in the mid-19th century.
According to Kapil Krishna Thakur, a Dalit political activist and writer, the Matua sect fought the caste system and Brahmanical doctrine of Hinduism. Their basic tenet — Hatey Kaam, Mukhey Naam — is diametrically opposite to the Sangh parivar's Hindutva that supports upper-caste dominance of the toiling Dalits.
Says Kapil Krishna, "It is closer to Marxism that focuses on the importance of hard work and self-emancipation. It is also an inclusive philosophy and you'll find Matuas among Muslims and other castes or creeds."
Thakurnagar was founded in 1948 by Pramatha Ranjan Thakur, the great-grandson of Harichand, to rehabilitate thousands of Partition refugees. "Pramatha Ranjan and his wife, Binapani Devi, sacrificed a comfortable life and settled down here," says Kapil Krishna. The mofussil soon developed into a seat of veneration for the Matua Mahasangha, an apolitical organisation. The Thakurbari or temple there has since become a pilgrimage for Matuas who migrated and settled in Nadia, North and South 24-Parganas, Coochbehar, Jalpaiguri and Burdwan. Matuas from Bangladesh and other refugee settlements such as Dandakaranya, Odisha, also visit.
That day in February, Modi had been invited to speak at the International Matua Mahasammelan and Dharma Sabha by Shantanu Thakur, the sanghadhipati (leader of the sect) of the All India Matua Mahasangha or AIMM. After addressing a rally of over a lakh people, Modi rushed to meet Binapani Devi, popularly known as Boro Ma. The 100-year-old matriarch, who passed away earlier this month, was ailing. A few months before that, the chief minister of Bengal, Mamata Banerjee, had visited her to confer upon her the Banga Bibhushan — the state government's highest civilian award. Shortly before this, the Trinamul government had announced its decision to form two welfare boards, one for Matuas and another for Namasudras. Banerjee had also announced a new university, named after Harichand and his son Guruchand Thakur, at an event marking the birth centenary of Boro Ma last November.
Banerjee's association with Matuas dates back to 2009, and she was appointed chief patron of AIMM by Binapani Devi next year. The Trinamul chief had realised the power of this community to swing votes in her favour in as many as 74 of 295 Assembly seats in the state. It is believed that this alliance helped Trinamul win the majority of Dalit seats in the 2011 Assembly polls and overthrow the Left Front government. Boro Ma's youngest son, Manjul Krishna, was given a Trinamul ticket from Gaighata in the 2011 polls, and was made a minister of state when he won. Kapil Krishna Thakur, the then sanghadhipati — not to be confused with the writer Kapil Krishna — and her eldest son, won from the Bongaon Lok Sabha constituency on a Trinamul ticket in 2014. Around 70 per cent of voters in Bongaon and Gaighata are members of AIMM. When Kapil Krishna Thakur died six months after his win, his widow, Mamatabala, won the seat in a by-election on behalf of Trinamul.
Matuas and their leaders have always been wooed by political parties. In the past, several Left Front leaders, including CPI(M)'s politburo member Brinda Karat, state secretary Biman Bose and former minister Subhash Chakraborty had visited Matua sammelans to seek support from over 2 crore Matuas.
A month after Modi's visit, on March 5, Binapani Devi died. Banerjee, who had organised her treatment and visited the hospital after her death, tweeted her condolence message. She wrote: "My condolences to her family & my brothers & sisters of Matua Community at this moment of grief." The PM tweeted: "We stand in solidarity with the Matua community in this hour of sadness." Last week, when Trinamul announced its candidates for the upcoming general elections, Mamatabala was nominated from Bongaon.
The political affiliations of the Thakur family have dramatically changed in the past five years. A bitter feud broke out between Boro Ma's younger son, Manjul Krishna, and Mamatabala over the legacy of AIMM. The rift turned political as Manjul Krishna and his elder son, Subrata, joined the BJP in 2015. The grapevine in and around Thakurnagar is that Shantanu, Manjul Krishna's younger son, will be pitted against aunt Mamatabala as a BJP candidate from Bongaon. "I have no plans to contest elections," Shantanu tells The Telegraph. "AIMM is an apolitical organisation and I am sanghadhipati. I am happy with this honour," he adds. But he doesn't deny his alignment with the BJP. He says, "For the past seven decades, our community has been deprived by successive governments. All political parties have used us as their votebank but have done nothing for our welfare. Though we have voting rights, we are not considered citizens."
Shantanu is talking about the law that deems that those who migrated after July 19, 1948, and do not have valid documents will be termed "illegal immigrants". Most Matuas belong to this category and if the National Register of Citizens (NRC) is implemented, Assam style, they would have to leave India or be sent away to detention centres. He says, "We met the Prime Minister with our demands, including job quotas, and he has assured us of all benefits. That's why he visited our event."
It is true Modi touched upon the Citizenship (Amendment) Bill or CAB 2016 in his February 2 address, but it was a brief reference, right at the end of the speech. His muted response to the bill that seeks to facilitate citizenship for non-Muslim immigrants from Bangladesh, Pakistan and Afghanistan possibly has to do with the resistance it faces in the Northeast, where the BJP is eyeing gains in the Lok Sabha elections.
Shantanu is nevertheless upbeat. He says, "The PM did announce [at Thakurnagar] that he'll give citizenship to refugees of our community who were forced to migrate from East Pakistan and later Bangladesh. This historic announcement will sway a sizeable portion of votes towards BJP; a tilt that started during the 2017 panchayat elections." According to him, there are at least 16 Lok Sabha constituencies in which 40 per cent of the voters are Matuas. He says, "There are five crore people in our community in India and Bangladesh; three crore live in Bengal." However, there are no census figures to support this claim.
Mamatabala doesn't believe that Modi's visit is going to make any dent in Trinamul's Matua votebank. She says, "He doesn't know anything about the Matua philosophy — it was all tokenism." She adds that if passed in the current state, CAB will be the ruin of the Matuas. "We are trying to send this message across the community. We are distributing leaflets and I will make this clear during my campaign," she says. Kapil Krishna, who has written seminal books on the Matua movement, says BJP has been creating an atmosphere of fear regarding citizenship within the community. He goes back 16 years, to 2003, when the Vajpayee-led NDA government surreptitiously passed the Citizenship Amendment Act. He says, "That Act identified all refugees, a majority of them Matuas, who arrived in India after 1948, as 'illegal migrants'." Kapil Krishna had organised several protests in Bengal and New Delhi in 2003-04. "The ruling Left Front failed to see the explosive hidden agenda even though we pointed this out," he says.
According to him, BJP created a Catch-22 situation to invoke fear and anxiety among Matuas and other migrants from Bangladesh. "They hacked the roots in 2003 and thereafter kept watering what was left of the tree. The earlier bill turned the Matuas into illegal migrants and the amendment [CAB 2016], pending before the Rajya Sabha, now assures them of citizenship. They [the BJP] are dangling a carrot, imploring Matuas to vote for them and promising they will bail them out from the perceived threat." Kapil Krishna believes all political parties, including the Leftists, have failed to take up the cause of Matuas .
Manashanta Biswas, a young researcher and professor at the Netaji Subhash Open University in Calcutta, is hopeful that educated youth among Matuas will be able to see through the hidden agenda and votebank politics. He points out that, according to the 2011 Census, the literacy rate of Namasudras (at 74 per cent) is higher than that of other castes and communities of Bengal (67 per cent). He says, "Identity politics or social engineering along communal or religious lines is not going to swing votes anymore."
Kapil Krishna, however, counters that literacy is not equal to education. "Also, there is a difference between consciousness and education. I can feel that the majority of the youth in the community is falling for the bait of citizenship."