'Mat karna!' Don't talk with Rahul even about motorbikes
Secret is out: Industrialists can't afford to speak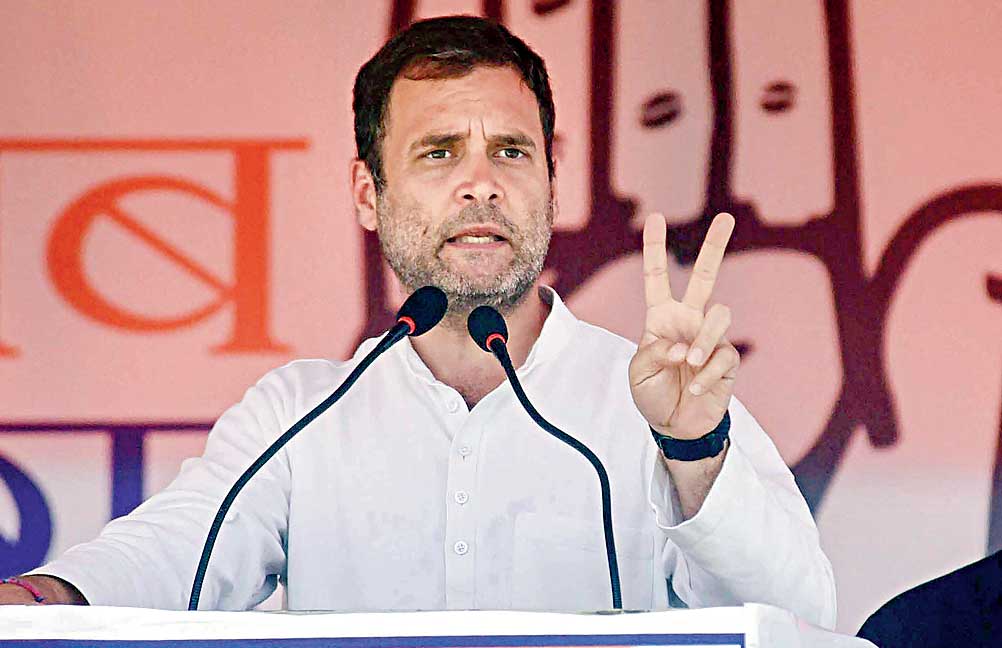 ---
---
The mantra to avoid non-ease of business in India: "Mat karna (don't do it)". Don't speak to Rahul Gandhi.
India's worst-kept secret has been placed in the public domain during a video conversation between Congress leader Rahul Gandhi and industrialist Rajiv Bajaj.
The message from the video, uploaded by the Congress on Thursday, was that it needed "guts" for an industrialist to openly talk to Rahul.
Rajiv Bajaj's father and veteran industrialist Rahul Bajaj had last November hit the headlines by publicly telling Union home minister Amit Shah that an atmosphere of fear pervaded Indian industry.
Six months down the line, when much has changed in the world, the fear factor appears to have survived unscathed.
An insight came while Rajiv Bajaj was lauding India's "openness" during the conversation, in the course of which he questioned the government's handling of the pandemic, saying it had "flattened the wrong curve" — that of the GDP rather than the coronavirus infection.
"We are very open as a people. I would say, we demonstrate more openness to understand, to learn. We are very open as a people, very open as a country. It may work against us sometimes," Rajiv Bajaj said. "This openness should never be lost, whether it is in terms of government or in terms of business."
Rahul responded: "One gets the sense that openness has reduced significantly over the last couple of years."
The Congress MP added: "I mean, I'll be candid with you. Yesterday, a friend of mine asked me, 'What is your next interview?' I said, 'I'm speaking to Rajiv Bajaj'. And the guy said, 'Oh, dum hai bande mey (The man has guts)'. So I said, 'What do you mean?' And he said, 'Well he's got guts to speak to you, right?'"
Bajaj responded: "I'll tell you my experiences... in fact, very similar to yours. I shared with someone yesterday that tomorrow at 12, I'm speaking with Rahul. And the first reaction was, 'Don't do it'.
"I said, 'But why not?'.... 'Mat karna, this can get you into trouble'. But I said, 'I may have said some things, perhaps a little too vehemently, but I've said it on TV channels. If that is a mistake, it's been done'."
Rajiv Bajaj has publicly questioned the government's management of the Covid-19 outbreak over the past few days, earning a reputation for boldness like his father.
Rajiv Bajaj continued: "He (the person he was talking to) said, 'No, it is entirely different to talk to Rahul Gandhi than saying something in the media'. I said, 'We are going to talk about business, economics, lockdown, what to do, how to move forward, technology, products. He loves motorcycles and so we'll talk about motorcycles etc'."
He added: 'Now, even these things can't be talked about? So that person maintained — that why, why take a risk? But yes, that is the general atmosphere and you know, my own father raised that point, in November, at The Economic Times award function, where the home minister was there, the finance minister was there.
"So, you know, one hears a lot about this. But I try to ask people why this should be so, because — at least so far — I have not faced any repercussions, so to speak, of this. But yes, what you say is true, this seems to be the general impression, which is sad because I think this openness is our strength and we must not lose it."
Rahul Bajaj, grandson of freedom fighter Jamnalal Bajaj, had told Shah at the November event: "We are afraid.... This atmosphere is definitely on our minds, but nobody will talk about it, none of my industrialist friends, I will say that openly.... An environment has to be created. A clean environment is very important.
"In UPA 2, we could abuse anybody, that is a different matter. You are doing good work but still we don't have the confidence that if we openly criticise you, it will be appreciated. I may be wrong, fine. But we all feel this way that, I cannot speak for everyone, but I should not be saying this. People are laughing, that go and get hanged…."
Senior Congress leaders have been complaining of pressure on industrialists to keep away from the Opposition.
In the video conversation, Rahul Gandhi asked Rajiv Bajaj: "Do you think this sort of mahaul (atmosphere) that you spoke about, of fear, damages business in India?"
Skeletons
Rajiv Bajaj, however, stressed that sometimes the reason for the fear may be that an industrialist has a skeleton in his cupboard.
"Look, nobody will invest unless he does so with enthusiasm and confidence. There is no doubt about it. The question is, if 100 people are afraid of speaking up, the first point is perhaps 90 of them anyway have something to hide," Bajaj said.
"See, we must also accept that in the last few years, towards... I would say UPA2 and NDA1, lot of skeletons have come out of the cupboard also. So businessmen are also not doodh ka dhula hua (pure as the driven snow), and so many examples we've seen of that.
"So, maybe, my view is that a lot of people don't speak — unlike, if I may say so, somebody like my father — simply because perhaps they can't afford to speak."
He added: "So, it may be fear, but the question is, fear of what? Maybe they have the fear of hiding something. Second, I would say, there are people — and I think highly of such people — who do not want to speak. Who simply do not want to because they cannot deal with the backlash that comes their way, you know. And a little bit I fall into that category.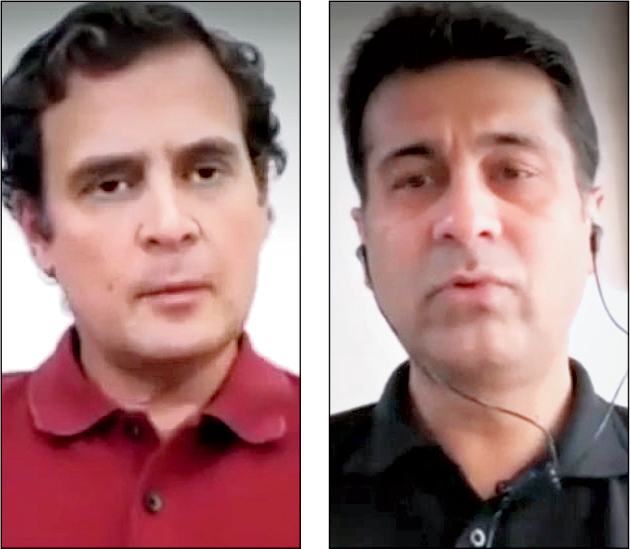 Pro-govt channel
"You know, there is a reason I'm not on any social media and without naming a couple of channels, I will say to you that even yesterday, I had an invite from the most prominent channel that is very pro-government, if I may say so, and I refuse to be on such channels because of the kind of stuff one hears on social media.
"The way one sees things conducted in panels on such channels is deeply distressing to anybody who is even remotely sensitive. So, I think, yes, in terms of being tolerant, in terms of being sensitive, I think, India needs to mend a couple of things."
Rahul and Rajiv Bajaj agreed on the need for direct financial assistance to the poor and the industry. Both admitted that a harsh lockdown was undesirable. Rajiv Bajaj insisted that nowhere else in the world were people being beaten up and humiliated for going out.
Rajiv Bajaj contended that nobody was saying there should be business as usual.
"Everybody is trying to find a middle path between these two extremes. We have ended up with the worst of both worlds. The virus still exists. But you have definitely decimated the economy. You flattened the wrong curve. It is not the infection curve, it is the GDP curve," he said.
Compassion
Rahul said the total lockdown had been devastating for the poor and had broken their trust in the system. He also underlined that the harsh lockdown had created fear about the disease.
"I call it a failed lockdown. We are the only country to open up when the disease is peaking. We should have looked for an Indian solution because of the poverty, the migrant labour problem, etc," he said.
"In India, if you want to do something, be compassionate. Be compassionate and listen. And the country will automatically tell you what it is desiring. So there are people right now screaming in pain, and the most obvious are the manual labourers, daily wage(earners).
"And maybe the farmers and MSMEs. So there is an empathy that has to be built into it, where the Indian citizen, whether he is big business, medium business, farmer or labourer, says we can sail through."