Mastermind of Agra bus hijack held after 'encounter'
Hunt on for remaining 11 accused that includes few transport department officials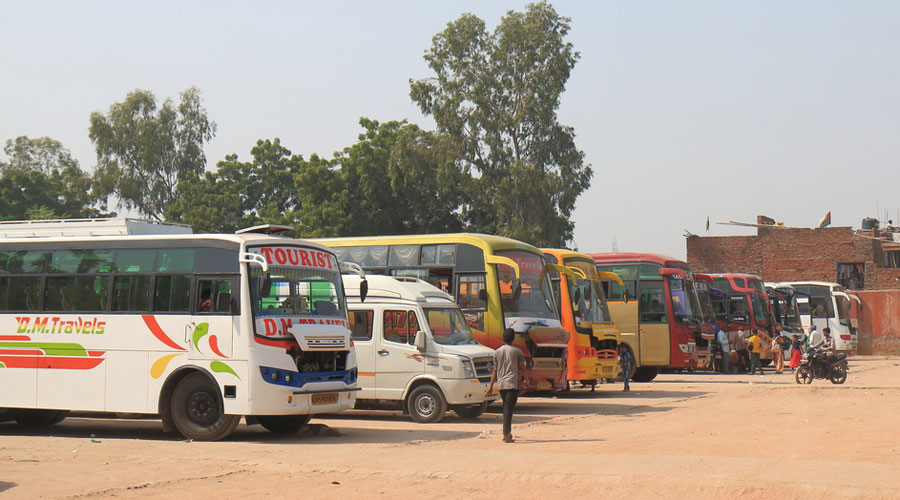 ---
|
Lucknow
|
Published 21.08.20, 02:09 AM
---
One of the four men who had hijacked a passenger bus in Agra on Wednesday was arrested on Thursday morning after a brief gunfight, police have said.
"Pradeep Gupta, the mastermind, was arrested during a police encounter near Chitrahat police station (in Agra)," Agra senior superintendent of police Bablu Kumar said. "He has suffered a bullet injury in his right leg. His associate Yatendra Yadav escaped. A police constable too was injured."
Kumar said Gupta was an agent at the regional transport office in Etawah. He had allegedly fired at the police after the motorbike on which he and Yadav were travelling was stopped at a checkpoint.
"We have identified 12 accused and begun the process to book them under the National Security Act," Kumar said.
Police sources said a hunt was on for the remaining 11 accused, who they said included a few transport department officials.
The bus was travelling from Gurgaon in Haryana to Panna in Madhya Pradesh with 34 passengers when it was hijacked on the national highway near Agra city on Wednesday morning.
The four hijackers told the passengers they were recovery agents of a private finance company and were seizing the bus because its owner Deepa Arora had not repaid the loan taken against the vehicle.
But Pawan, son of Deepa, told reporters no loan had been taken to buy the bus, belonging to a transport company that his father Ashok ran before dying of Covid-19 recently.
"The bus is registered in Etawah and we live in Gwalior, where we have been in isolation since my father's death," Pawan said.
"Some criminals associated with the Uttar Pradesh transport department had been trying to extort money from us for allowing the bus to pass through Etawah. Now they have hijacked the bus with passengers on board."
The hijackers allowed the passengers to get off some 20 minutes after the hijack and drove away with the bus. The passengers later persuaded a Jhansi-bound empty private bus to ferry them against a payment. From Jhansi, they took other buses home.
The hijacked bus was found abandoned near a dhaba in Etawah on Wednesday afternoon — apparently a result of the hijackers panicking after the police got active.
Officers said Gupta and Yadav had no past criminal record.