Many questions, no answer on Kashmir
The governor is not the last word on Kashmir; we want Delhi to give us assurances, said Omar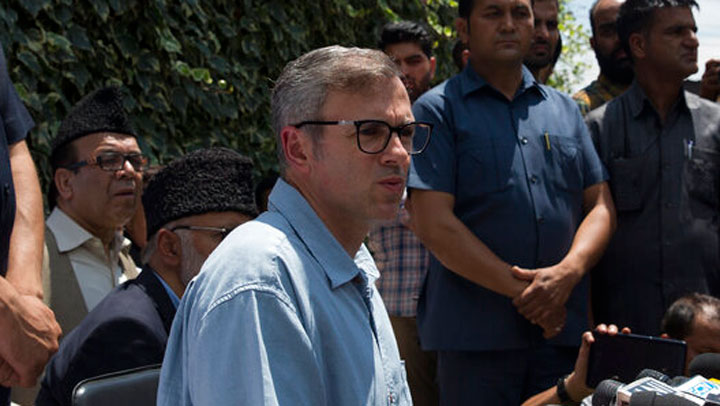 Omar Abdullah speaks during a press conference in Srinagar on August 3, 2019.
(AP)
---
Srinagar
|
Published 03.08.19, 08:39 PM
|
---
Kashmir has been pushed to another frontier of the unforeseen; nobody can tell where it can, or will, head from here.
The consequences of the Pandit exodus of 1990 haven't run their course yet. The implications of the abrupt guillotine on the Amarnath Yatra — the first time it has ever fallen on the annual pilgrimage — aren't going to stop echoing at the end of the season.
At the moment, Kashmir is even bewildered on what season it may be in. An old local friend, driven deep into the vortex of cynicism over the years, said sardonically that this could be the beginning of fall: "When you are on the precipice, fall is what most likely comes to mind."
But if this feels like another precipice, as it does to most Kashmiris you'd come by, what does it yield onto? Nobody seems to know. Nobody is telling. And what is being told, the people of Kashmir aren't willing to lend credibility to.
Former chief minister Omar Abdullah met governor Satya Pal Malik on Saturday afternoon and returned to bluntly say as much. "The governor is not the last word on Kashmir; we want Delhi to give us assurances."
Implicit, though, in Abdullah's demand was his failure to elicit any assurances when he sat face to face with Prime Minister Narendra Modi in Delhi just days ago. And he was probably at such wit's end, he was unembarrassed to reveal his frustration.
"I have so many questions and not a single answer," he tweeted on Friday. "I have met people who occupy important positions to do with J&K, not one of them is able to tell me anything and I've been CM for 6 years. Imagine the plight of your everyday Kashmiri who doesn't know what to believe."
A collective effort mounted on Friday night by Mehbooba Mufti, People's Conference leader Sajad Lone and others to coax clarity from governor Malik similarly failed.
If the political leadership of the Valley has convinced itself that New Delhi is laying the ground for radical measures — abrogating Article 35A from the Constitution, or trifurcating the state into Jammu, Kashmir and Ladakh — the powers are happy to let them twist in their torment. There has neither been affirmation of their fears, nor the relief of denial. They've been left to the torture of chasing the black cat that might be prowling their dark room.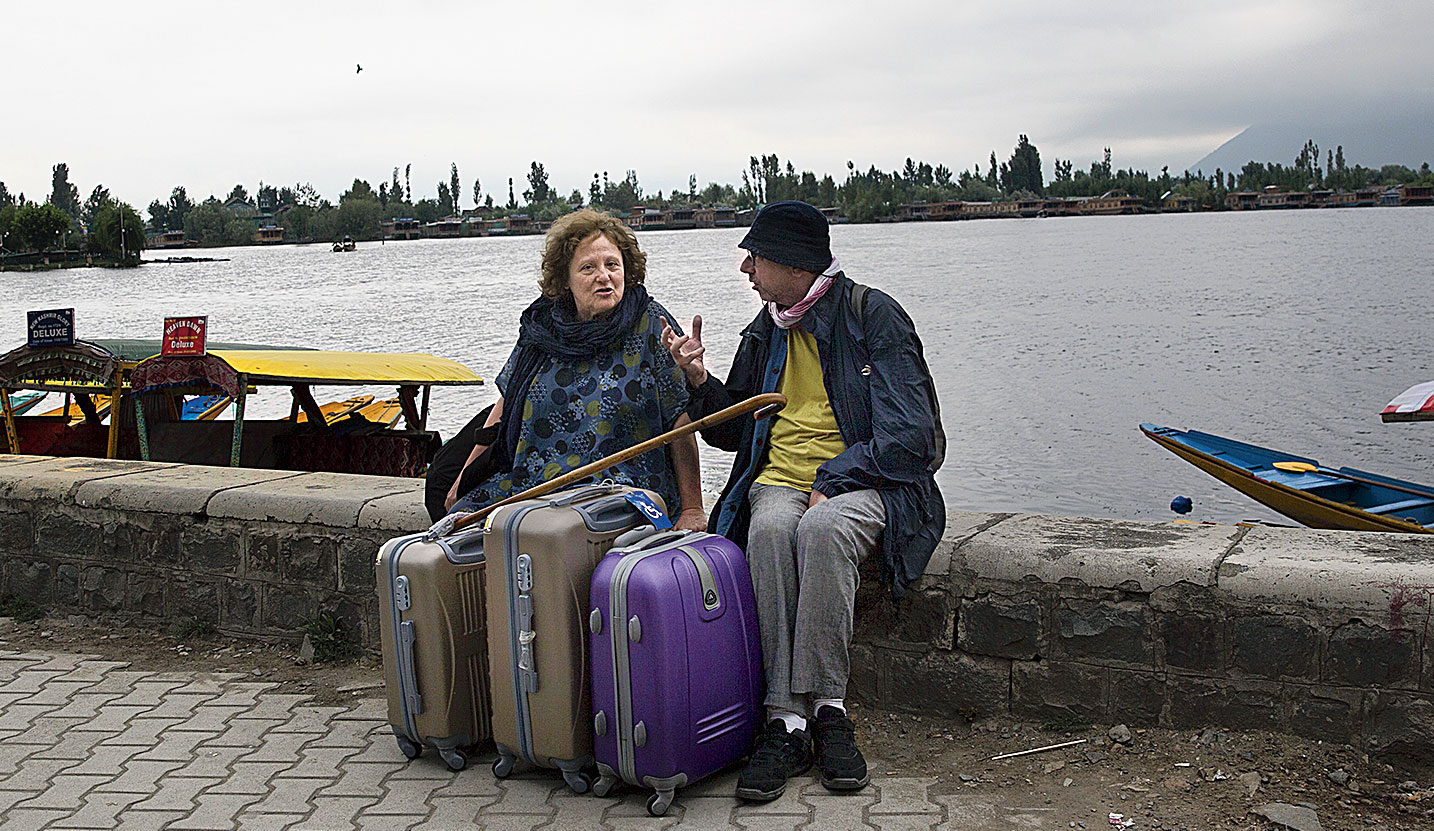 What are these formidable arrivals (of troops) and departures (of yatris and tourists) meant for? Nobody knows. What's this massive mobilisation of men and machines an arrangement for? Nobody knows. Why is Kashmir under a hail of advisories — to store and to safe-keep, to vacate and to vamoose, to, above all, not pander and panic?
There's an unprecedented downloading of boots on the ground. Don't panic. The Yatra has been abrogated and tourists funnelled out overnight. Don't panic. Students have been packed off from hostels mid-session. Don't panic. A high alert has been sounded and intel on a terror attack in
the works broadcast. Don't panic.
Khaki and metal-ware are choking into vantage crevices of the city and Valley districts. Don't panic. The armed forces brass is camped about. But don't panic. The Line of Control has again erupted with fire and fury; New Delhi and Islamabad have resumed their verbal warfare. But don't panic. Home minister Amit Shah may visit next week. But that can't be reason to panic. Or is it?
But what's happening? And why? Don't panic. Keep calm. Nothing's happening. Paraphrased, governor Malik has prescribed for frayed Kashmiri nerves a dose of Bollywood light: All is well.
But if all is indeed well, why have the wires from Kashmir been burning all week, and continue to?
"I cannot remember the last time so little was cited as reason for so much," a retired Kashmiri bureaucrat told me.
"They found a muddied gun, and probably some unexploded ammunition, and they ordered this exodus. What are we to understand from this? That the huge Indian state and all its formidable power and resources were panicked by that little thing? And were we to believe there is tangible input on impending terror attacks: that is routine in the Valley. Is that alone reason enough to trigger all of these planes and soldiers flying in and yatris being herded out?"
He sounded as if he was also asking those questions to himself, and wondering if there was something more to it.
Who's to tell? Kashmir has never countenanced an entity in New Delhi that has been voted to absolute power on the promise, among others, of scratching Article 35A out of the Constitution. Which is why, too, Kashmir is at an unforeseen frontier.