Maneka promises harass panel after #MeToo, BJP ducks
Her ministry will set up a five-member committee of jurists, including judges, to address issues raised by the #MeToo movement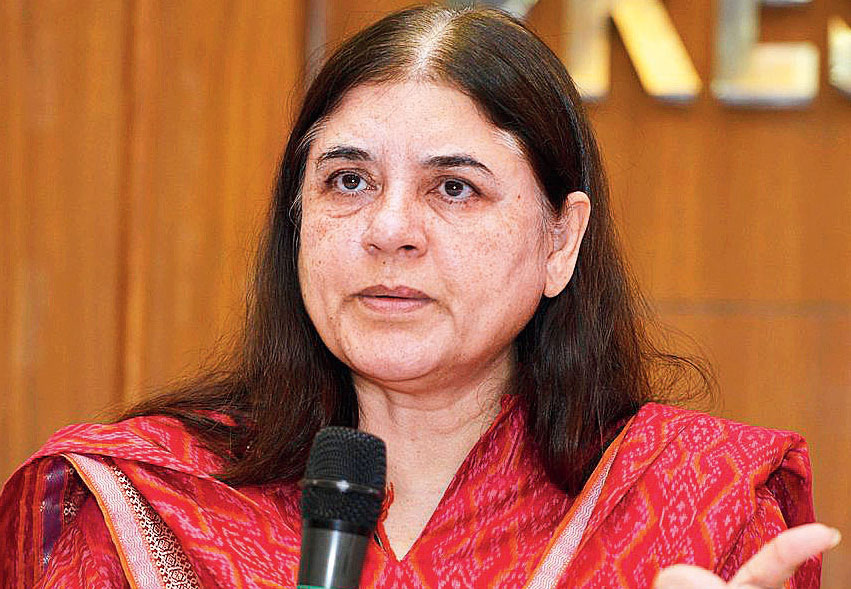 ---
New Delhi
|
Published 12.10.18, 09:56 PM
|
---
Women and child development minister Maneka Gandhi had to once again bite the bullet on Friday on the #MeToo front as the BJP sought to duck the fusillade coming its way for the delay in taking action against minister M.J. Akbar after more than a dozen women accused him of sexual harassment.
In what is being widely seen as an effort to show that the government is doing something to address the growing volume of testimonies of women who have had to deal with Akbar's "predatory" behaviour when he was an editor, Maneka said her ministry would set up a five-member committee of jurists, including judges, to address issues raised by the #MeToo movement, particularly mechanisms to deal with complaints that are several years old.
"The committee will look into the legal and institutional framework which is in place for handling complaints of sexual harassment at work and advise the ministry on how to strengthen these frameworks," Maneka said, adding that the government followed a policy of zero tolerance to such cases.
She also urged women across all sectors to come out fearlessly and report cases of any form of sexual harassment.
The announcement came on a day a CNN reporter alleged that Akbar had sexually harassed her when she interned with him at The Asian Age as an 18-year-old.
Later, railway minister Piyush Goyal looked the other way and swiftly walked out of a BJP media conference when asked about the party's continuing silence on multiple allegations of sexual misconduct against Akbar. Pressed, he said the junior foreign minister would speak once he returned to India.
"He will come back and speak," Goyal muttered as he rushed out of the conference hall saying he had a flight to catch. Asked when the minister was scheduled to return, Goyal said: "Sunday."
The stoic silence of the BJP and the government continued with insiders confiding that Akbar would be allowed to defend himself once he returned from his official assignment and then the Prime Minister would take a call on whether to sack him or not.
"Dropping M.J. Akbar is no big deal. He is dispensable. But what will happen if tomorrow similar charges are levelled against some other minister?" a BJP leader asked.
"Then the government will be under pressure to apply the same yardstick," the leader added, reflecting the BJP's dilemma.
BJP parliamentarian Subramanian Swamy, known to be a maverick, however, came out and sought to put pressure directly on Modi.
He said the Prime Minister should speak on the Akbar fiasco while firmly supporting the #MeToo campaign.
"Allegations have been levelled against him (Akbar) not by one but multiple women. I've already said that I support the #MeToo movement. I don't think it's wrong if they're coming out after a long time. The Prime Minister should speak on this."
Akbar is now in Malabo. On Wednesday official sources had said he would be returning from Nigeria on Friday. But on Thursday, they said he was in Malabo in Equatorial Guinea on official business.